BOOK REVIEW : Hirji on Growing up with Tanzania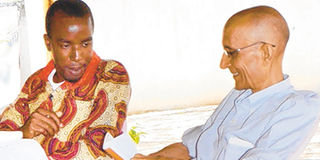 What you need to know:
By telling his story, Hirji takes the reader across the colonial and liberated Tanzania through its people, history and politics. The author is also providing a rare glimpse into an Ismaili Community with critical innocence throughout the book.
In Growing up with Tanzania a renowned Professor of Medical Statistics and Fellow of the Tanzania Academy of Science, presents a memoir woven around his happy but conflicted childhood to adulthood.
By telling his story, Hirji takes the reader across the colonial and liberated Tanzania through its people, history and politics. The author is also providing a rare glimpse into an Ismaili Community with critical innocence throughout the book.
Hirji seeks to tickle the reader while asserting his cultural values and heritage in a socialist society and emphasizes so much on education by humorously presenting mathematical problems and their solutions at the end of each chapter. After going through the book, you never look at mathematical problems, a subject that many people find difficult to tackle in the same way.
The author uses journey or movement to different places to as a stylistic device to symbolize growth at each stage. The memoir is divided into three parts, Part I is about the author's innocent Memories as he tries to understand a society going through transition from colonial period to Uhuru. Part 11 is titled Musings, revolves around the educational system and other important institutions and nationalization policies plus Mwalimu Julius Nyerere's ideological inclinations. In Part III, titled Spirals, the author presents a picture of a pale country that he could hardly recognise upon his return from overseas. He however, skillfully brings this out with great sympathy.
The journey through this great memoir will most definitely leave every reader wondering, as well as yearning to contribute something in shaping the Tanzanian story. The first chapters of the book provides an insightful description of Hirji's early days in Lindi, Southern Tanzania and its cultural setting as his father, Fathali Hirji owned a shop and worked as a truck driver.
Hirji's experiences growing up in Lindi, through primary school where he had encountered Indian teachers who taught in Gujarati present to the reader how there was segregation at that time. He writes, "Our teachers were directly recruited from India for the job. My first teacher, Vatsalaben, was a young, plump Hindu lady with long, braided hair. A grim frown was affixed on her face with the same degree of permanence as the shiny red dot on her forehead. She is the only primary school teacher I can clearly bring to mind. I think it is because she was a notoriously mean lady."
In 1961 when he moved to Dar es Salaam to join Aga Khan Boys School to complete his primary education, he presents to the reader how his teachers at the school laid the foundation of his lifelong bonding with Mathematics. He later on went to join Dar es Salaam Technical College for his secondary education where he attended a mixed race class. He narrates how this taught him humility since he was the only student of Asian origin in the class. It is how young Hirji manages to overcome the race barrier and embrace black Africans that is even more riveting.
Hirji later on joined the National Youth Service before proceeding to the University of Dar es Salaam in 1968 where he pursued a Bachelor's degree in Mathematics and Education. He explains his role as a young revolutionary activist at the university that supported Mwalimu Julius Nyerere's socialism and self-reliance philosophy. And that later as a graduate of the University of Dar es Salaam, the author is welcomed into employment by a struggling economy in 1971 as a Tutorial Assistant and later as an Assistant Lecturer in the department of Mathematics. He narrates how the first years of independence were hard and people were struggling. But most importantly, in all these, the reader shall, without a doubt, begin to understand that the author is presenting a joyous yet conflicted journey about the country. He later on pursues further studies overseas.
Hirji would later return to Tanzania to find a sharp contrast between the sixties and the modern Tanzania, which he describes with sarcastic tone, he also highlights the inconsistencies of the society and its people. But most importantly, the book opens the debate on the status of Tanzanians of Indian origin. Growing up with Tanzania will not only open the reader's eyes to the challenges that hinder Tanzania's growth, but also rekindle a fire in the reader to aspire to embrace unity and the nation's culture to remain relevant in centuries to come.
When you finish the book, you get to know the writer's family and their struggles as well and come to appreciate his true love for his country and his willingness to offer practical solutions if called upon. Through self-narration, Hirji has succeeded in providing the reader with new ways to view Tanzania through time and space.