Students get more practical lessons on agriculture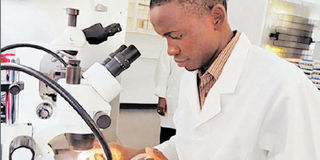 What you need to know:
Students Sharing their experiences at the end of their stay, they appreciated the time spent at IITA, which they said had enabled them to put into practice what they had learned theoretically in school.
Eleven undergraduate students from Sokoine University of Agriculture (SUA), Tanzania, spent five weeks at the International Institute of Tropical Agriculture (IITA) Eastern Africa hub office in Dar es Salaam,as part of their field practical experience, working alongside and learning from IITA researchers.
Sharing their experiences at the end of their stay, the students appreciated the time spent at IITA, which they said had enabled them to put into practice what they had learned theoretically in school.
Sesanyi Sesanyi, an Agronomy student, said he was attached to the IITA pathology laboratory and had benefited from working with the IITA aflatoxin research team.
"We learned how to prepare samples for mycotoxin and microbiological analysis, identification, enumeration, and quantification of the Aspergillus Flavus - the fungi that produces aflatoxin, and screening for aflatoxin. We also learned the principles of biocontrol and how Aflasafe works," he said.
Judith Mmasa, also studying Agronomy, worked with the soil laboratory team and said she had learned how to analyze soils for organic carbon, nitrogen, texture, phosphorus, and pH, and to use agronomic tools for data collection.
Victor Manyong, IITA-Eastern African hub Director, while bidding the team goodbye, congratulated them for completing their practical field learning at the Institute. He also appreciated the effort made by their supervisors at IITA in sharing their skills and knowledge.
"One of IITA's mandate for Africa, as we work with partners to transform Africa's agriculture, is to build the capacity of researchers in the continent.
Solutions for the challenges facing the agriculture sector should come from within," he said as he urged them to share the knowledge gained with others.
Interns share their take on their practical field experience at IITA.
Albert Henerico, BSc Agriculture, says "My stay at IITA allowed me to spend time in the laboratories where I learned how to conduct various experiments. The laboratories and the facilities here are very modern; I had never seen most of the equipments before. I also learnt a lot of things, but the most interesting was how to control aflatoxins."
For his part, Hassan Ally, BSc Agriculture General said that h learned a lot during his stay at IITA. "I was happy to learn about aflatoxin and how it can be controlled. I did not know much about aflatoxins before. I would like to pass on the knowledge on aflatoxins to the community starting with my family since my mother grows groundnut and cashew nut," he says.
Jasmin Ramadhan, BSc Food Science and Technology, says she was exposed to different analyses, such as how to analyze beta-carotene from orange-fleshed cassava, and how to determine starch in cassava as well as moisture content in maize and cassava flour and maize flour.
"The staff at IITA were helpful and cooperative and the working environment was conducive for studying and accessing learning resources such as the internet," she said.
Jumanne Justus, BSc Agronomy, said he was availed to new effects associated with aflatoxin. I was impressed with the process of quantification of aflatoxin contamination in maize and groundnut from the field and how to prepare Aflasafe.
"This knowledge will help me to educate others on the importance of good agronomic practices from harvesting to storage and also on factors which can expose their crops to aflatoxins and also, how they can protect their crops from aflatoxin," he speaks.
Cuthbert Leonard, BSc Horticulture said that being at IITA enabled him to learn more about the Institute and its research activities. He did not know much about IITA before.
"I learnt about aflatoxins and mycotoxins in general and their impact on health and I also learnt about Aflasafe, which is able to control aflatoxin contamination.
I will now work to raise awareness among many people on aflatoxin, its effects, and how to control it. It's good for farmers to understand more about aflatoxins and aflasafe.