What next for Nandy and Chibu?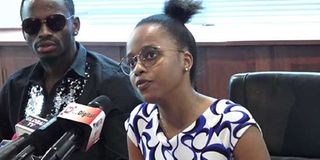 What you need to know:
In our local lingo, the so called scandals are commonly referred to as 'kick' to mean a publicity stunt that is meant to boost one's image and in most cases it is negative.
Dar es Salaam. Controversy and showbiz are inseparable; as a matter of fact you just can't tell which one feeds on the other.
In our local lingo, the so called scandals are commonly referred to as 'kick' to mean a publicity stunt that is meant to boost one's image and in most cases it is negative.
From breakups to acquisition of mansions and cars that are never real, celebrities have crafted how get the attention of their adoring fans thanks to the social media.
Last week closed on a high with singer Nandy the self proclaimed African Princess' naughty-nude-video with rapper Bilnas leaking.
The video almost brought down the internet as it became one of the most shared among the WhatsApp groups and instagram.
The source of the video clip remains a mystery as both parties deny any involvement in the spreading of the raunchy content into the public domain.
But even as their fans struggled to decipher the source both singers admit that they knowingly took the video sometime in 2016 but they did not in any way mean to make it public.
The two love birds were in a rather playful mood as they got cozy consuming what they only know, yet getting the public so concerned about their choice of publicity.
It was some stuff that was once made in the Big Brother Africa House or perhaps a clip that Hugh Hefner would have been happy to be associated with in his early days at Playboy.
They, however, say that it is a relationship that has long ended and that there was nothing between the two; they chose to blame thieves for their woes. She apologised in the most touching ways forcing some to empathise with her whereas there are those who slated her in equal proportions.
Some slated her for her choice of underwear, whereas there are those who thought the bae was crossing the moral borders.
It was one judgment after another with very stinging criticism mainly targeting the 'Kivuruge' singer as opposed to her playmate.
The 'African Princess' maintains that it was a flagrant violation of their privacy and that is why she had to seek clarification from Basata on how to deal with it. They too, found space in their hearts to forgive her.
But then as we were coming to terms Diamond Platinumz also posted another playful video on his wall with two separate women, whereas one of the women remains mysterious, the other is Hamisa Mobeto.
Though the date of the video's recording is unknown, it is believed that it is a recent one where Hamisa is seen in a playful mood with Diamond asking for child support.
In the other video he is seen emotionally kissing some unknown woman, an act that lasted for several minutes. Unlike Nandy, who claims she doesn't know who posted the video, Diamond aka Chibu posted the video on his personal wall an act that left his fan base torn apart with some vowing to boycott some of his products.
"@bellaire we won't be buying your drinks ….until your ambassador learns to respect women and society in general," one fan wrote.
But there were some who saw nothing wrong at all with the videos since all the parties involved had quite enough clothes on. The steamy video seemed to have incensed many as the minister whose docket handles arts quickly weighed in by asking the Police to take the two artistes for questioning pending further action.
Their accomplices Bilnas and Hamisa Mobeto too were grilled by the law enforcers to find out just how they had participated in the vice.
They were further summoned by the arts council who also grilled them for their actions and by press time word had it that the TCRA had also done likewise. Should the law find them guilty they could face jail terms or heavy fines.
By conservative standards which of course our society still is, these videos were in the violation of moral social codes of what you can and cannot show. Whatever is done behind the four walls should stay their.
However, from liberal perspective many could argue that there was nothing wrong with the images since all the parties involved had their clothes on. Arguing for or against has already become fodder to the social media with some saying that those who are against the videos are going beyond the video.
Some say it was an attempt towards pornography just like what Kim Kardashian did over a decade ago.
Eleven years after her sex tape with ex-boyfriend Ray J was released, the reality star says she understands the impact it had on her career. Would you be where you are had there not been a sex tape?" Oprah Winfrey asked Kardashian on Sunday's Oprah's Next Chapter.
"You know, I think that's how I was definitely introduced to the world," Kardashian, said of the sex tape, Today, Kim says she embraces the sex tape that jump-started her fame, as well as her 72-day marriage to Kris Humphries, as parts of her life.
To many celebrities this is a way of catching public attention, one that seems to have rubbed the authorities on the wrong side.