BRT project under review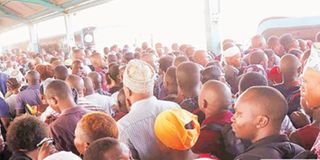 Dar es Salaam. The Dar es Salaam Rapid Transit Agency (Dart) has begun reviewing the bus rapid transit (BRT) project to find better ways of operating the system following challenges encountered in the first phase.
A key aspect of the review is to see how the government can collaborate with the private sector in the project.
Dart public relations manager William Gatambi told The Citizen that a study had already been commissioned with a view to coming up with guidelines on how the BRT project could be run under a public-private partnership (PPP) arrangement.
"The study will provide modalities of how to operate the entire BRT system under PPP," he said.
Mr Gatambi added that the study would also provide an answer as to whether the first phase of BRT would require one or more operators. Uda Rapid Transit (Udart) has been the sole interim operator since May 2016.
The feasibility study is scheduled to be completed in June after which the procurement process for operators who would work on a PPP basis with the government would start.
Mr Gatambi said Udart would also be able to apply if the firm would be favourably assessed in the review.
"We should bear in mind that the study will also review and assess the performance of the BRT's first phase since it started operations nearly three years ago with the aim of addressing all shortcomings," he said.
Dart has since May 2016 been looking for another operator to join Udart in providing services on the existing BRT network.
After a number of failures another operator was eventually identified. The firm was supposed to start work next month, but the procurement process was put on hold to pave the way for the review.
The government last year extended Udart's contract to allow the procurement process to run its course.
Udart operates about 140 buses, and the second operator will be required to deploy at least 165 buses in order to increase operational efficiency and make it possible for BRT services to be extended to feeder routes.
Udart currently operates on BRT routes from Mbezi and Kimara to Kivukoni and Gerezani. There is also a branch linking the terminal in Morocco and the Kimara-Kivukoni-Gerezani route.
Construction of the first phase of the BRT system was completed in December 2015. It comprises 21 kilometres of special bus lanes with 27 stations and five terminals. The entire BRT system is expected to be completed in six phases.