Chadema activist narrates ordeal after his abduction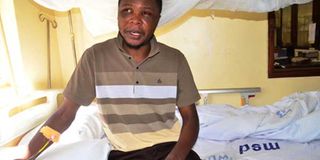 Mbeya. Chadema supporter Mdude Nyagali, who went missing  last Saturday, after he was allegedly kidnapped by armed and masked men, has described his ordeal as the search for his kidnappers continues.

The government critic who uses the name 'Mdude Chadema' on various social media accounts was found on Wednesday night in the bush.
Mr Nyangali was found at Inyala Village along the Mbeya-Tunduma highway in Mbeya in circumstances that raise more questions than answers.
Speaking at the Mbeya Referral Hospital, where he was taken for medical checkup, Mr Nyagali said he was kidnapped on Saturday evening, when he was leaving his office.

According to him, he saw a car with tinted windows parked outside his office for several hours. However, Mr Nyagali said he had no reason to worry because his office is located in a business area and adjacent to a police guarded bank branch.

Mr Nyagali said after about an hour a man got off from the vehicle and went to his office and asked him if he was selling mobile phone vouchers.

"After telling him, I don't sell vouchers, he went back to the car and as I was closing my office, three men got out of the car, one of them armed with a gun," he said.
He added: "They came straight at me and wanted to take my laptop and mobile phone. I resisted, but they eventually overpowered me."

Mr Nyagali said he shouted for help and when people including his siblings went to the scene, one of the 'kidnapers' scared them away with a gun. Mr Nyagali said 'the kidnapers' eventually fled with him. "When we were in the car they beat me using bottles until I became unconscious. When they were beating me, they warned me not to think they  were like the ones who kidnapped me in 2016. They said they would kill me," he said.
Mr Nyagali said he believed the motive behind the incident was his political activism.
"I hadly carry more than Sh20,000, so I don't expect someone to use a Toyota Land Cruiser worth more than Sh100 million to kidnap someone like me," said Mr Nyagali.
Mbeya Regional Police Commander Ulrich Matei confirmed that Mr Nyagali was dumped by unknown people.

According to Mr Matei, the investigation into the incident will be conducted by Songwe police because he was kidnaped in that region.
One of the people who picked him from where his 'kidnappers' had dumped him, Mr Anangisye Kwame, said when they picked him he was conscious and able to speak, but they were forced to send him to the hospital for medical attention.
On Sunday, the main Opposition party, Chadema, reported about the disappearance of Mr Nyagali.

News about Mr Mdude being found was first issued – via WhatsApp groups - by the councillor for Nsalala, Mbalizi, Mr Kisman Mwangomale.
Mr Mwangomale said he received a phone call from some people, who introduced themselves as residents of Mwakwenje, Inyala Village earlier on Thursday, informing him about the incident.