Magufuli wants more focus on marketing tourism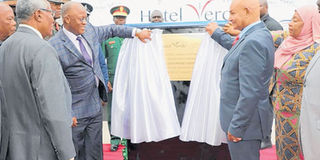 Dar es Salaam. President John Magufuli has expressed the need for Tanzania mainland and Zanzibar to focus on joint efforts to promote tourism which is currently the leading foreign exchange earner.
Dr Magufuli who was speaking in a live-broadcast event to launch a five-star hotel in Zanzibar yesterday said the current numbers of tourists visiting Tanzania which is a large country were not enough compared to small countries that were performing almost the same.
Tanzania mainland received 1.5 million tourists in 2018 while Zanzibar had 520,809 in the same period, according him.
"We should remember that a small island like Maldives Island which is around 298 square kilometres received 1.5 million tourists. Let us focus on growing this sector to the levels of Morocco and Egypt which receive nearly 10 million visitors per year," he said. "There is nothing wrong to have a special plane to fly tourists in Ngorongoro and Serengeti to Zanzibar or taking those who visit Zanzibar to other destinations in the mainland. It can help in marketing our destinations," he said.
In Tanzania mainland, tourism is leading in generating foreign exchange and brought in $2.5 billion in the year ending November 2019, according to the Bank of Tanzania.
In Zanzibar, the sector is reported to account for 80 percent of the foreign exchange and 27 percent of the economy (GDP).
In the yesterday event, the head of state launched Sh65 billion resort owned by Bakhresa Group of Companies which is expected to be an important pillar in the growth of the sector.
The 106-room hotel is built in 12.56 hectare area of which 10 hectares were reclaimed from the Indian Ocean.
The five-star hotel managed by South Africa's Hotel Verde contains six presidential suits and boat parking which can accommodate up to 48 boats together, according to the project representative Salim Aziz.
"We hope this will be one of the best attractions for tourists into Zanzibar and Tanzania in general," he said.
According to him, the hotel has so far contributed over Sh4.6 billion to the government of Zanzibar in the form of taxes.
Bakhresa who is one of Tanzania's prominent businessmen has also invested in a housing project at Fumba Town.
The President encouraged local investors to do more in the country and asked government leaders to ensure they nurture those who put their money into domestic ventures.
He said Tanzanians should not fear to start projects in Tanzania.
"You should not go out of Tanzania while opportunities are here. I also ask my fellow leaders not to discourage the locals who attempt to invest," said Dr Magufuli who described Bakresa Group chairman Mr Said Salim Bakhresa whose company invested in the hotel as the example of the patriotic Tanzanians.
"If we have more people like him, we will develop the country. Tanzania is safe and we welcome more investors. The government is committed to protect all investors whether local or foreign," he said. President Magufuli also warned the hotel project should not become an exit for illegal businesses including drug dealing in the country.
President Magufuli arrived in Zanzibar on Friday in a tour that will see him attending Revolution Day on January 12 to mark 56 years since the archipelago overthrown Arab-dominated Sultanate government.
The revolution paved the way for the union between Tanzania and Zanzibar to form Tanzania on April 26, 1964.
Launching of the hotel was one of the activities for yesterday after launching Sh2.628 billion Mwanakwerekwe School financed through a loan from the World Bank.
"Let's work hard so that we pay all these debts on us," said President Magufuli.