Tanzania Election 2020: Opposition parties demand repeat of General election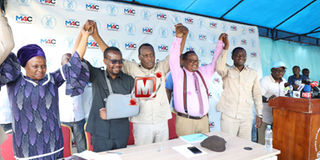 Summary
Also, the leaders called for a nationwide protest to push for the invalidity of the results which gave victory to the ruling party CCM's candidate, Dr John Magufuli, as president after having garnered 12,516,252 votes.
Dar es Salaam. One day after the National Electoral Commission (Nec) announced the presidential results, opposition Chadema and ACT-Wazalendo leaders yesterday issued a joint statement opposing the results and called for a new general election.
Also, the leaders called for a nationwide protest to push for the invalidity of the results which gave victory to the ruling party CCM's candidate, Dr John Magufuli, as president after having garnered 12,516,252 votes.
However, in a rejoinder, security officials warned the leaders of the protest plot, saying that the move would disrupt people's activities and give way to looting.
They said the political parties' leaders did not have permission to call for protests and that they would not allow them to do so.
Dar es Salaam Special Zone Police Commander Lazaro Mambosasa said that by announcing countrywide protests, the parties had already started breaking the law because they had not applied for permission from the police force for their intended mission.
"We will not allow them to go there. We will take strong action to ensure this is not achieved because when you encourage people to enter the streets, you will stop various activities as some groups may loot and cause harm to other citizens," he told The Citizen's sister paper Mwananchi over phone interview.
Reading the joint statement before various media outlets in Dar es Salaam on behalf of his fellow leaders, Chadema Chairman Freeman Mbowe said they wanted a new general election to be held as soon as possible.
"In our unity we believe that what happened on October 28, 2020 has no merit or legitimacy to be called a general election, but it is the usurpation and looting of Tanzanians' right to elect their leaders through democratic means ...," he said.
Mr Mbowe, who also ran in Hai constituency, said they wanted the disbandment of the National Electoral Commission (NEC) and the Zanzibar Electoral Commission (ZEC).
"We demand the immediate re-election and the creation of independent electoral commissions to oversee repeat of the General Election," he stated.
In conveying and voicing the demands, the parties called on their members, pro-democracy activists and human rights activists to participate in endless peace protests from Monday, November 2, 2020 until their demands are met.
"We call on regional, international, friendly institutions and the international community at large not to recognise the so-called General Election of October 28, 2020 and to take action against all those responsible for disrupting the entire General Election process," said Mr Mbowe.
Mr Mbowe said that at the ward level, the protests will be directed at the offices of assistant election supervisors; the regional level they will be headed to the offices of election administrators; while in Dar es Salaam and Unguja the protests will be headed where the NEC and ZEC offices are located.
The political parties' leaders also went on calling on regional, international, friendly countries and the international community not to recognize the October 28 elections and to take action against all those responsible for disrupting the entire General Election process.
For his part, ACT-Wazalendo leader Zitto Kabwe said the nation has been put in a position where they must stand up and accept the truth and oppose the lies being spread.
He claimed that the protest was called for the liberation of Tanzania.
"This is about the future of our country, if we agree with this, we'll be returning our country to a one-party system…"
He insisted that these were endless protests across the country.
"… and by the power of God, we will win this war," Mr Kabwe believed.
Mr Kabwe said it could be astonishing for them to agree with the results announced amid violations of election laws and regulations as well as the rigging of votes in polling stations across the country.
"We have agreed that no councillor or Member of Parliament announced winners from our parties will be sworn-in," he said.
Chadema's presidential candidate, Mr Tundu Lissu, stressed that the Constitution of Tanzania stated that the country's authority comes from the people through free, fair and credible elections.
"I want the people to ensure that this election is annulled and they get a new election that will be credible," said Mr Lissu, who in the declared results reaped 1,933,271 votes.
The two political parties once again cried foul over vote stuffing, saying the election malpractice happened during the period that some of their agents in certain places were denied access into polling stations.
Social media outlets were also awash with video clips earlier on the voting day, showing residents in some areas, who had allegedly seized a bag containing fake votes that had been cast. The Citizen did not independently verify the authenticity of the reports.
But, yesterday Zitto Kabwe reiterated that his party had seized thousands of 'fake votes' from various polling stations in his constituency, including from 3,000 that had been apprehended from Katubuka ward.
But NEC Chairman Judge Semistocles Kaijage has since told Tanzanians to ignore the vote stuffing claims as alleged by some candidates and as posted widely on some social media platforms.
"There is information on social media platforms claiming that there have been vote stuffing in Kawe (Dar es Salaam), Pangani (Tanga) and Buhigwe (Kigoma). These claims have not been substantiated. They also do not show which specific polling stations were involved in the reported claims," said Judge Kaijage.
Besides, he said, the claims have not been presented to NEC as required by law. "NEC urges Tanzanians to ignore them," he said.
Mr Mbowe said that while they wait for other election observers to give out their reports on this year's General Election, there were some that had also established the existence of loopholes in this year's elections.
"No matter what the results of the other observers say, we believe in what we have seen in this election, without forgetting that some of the most prominent observer institutions were not allowed to observe this election. However, there is one that has already released its preliminary report and confirmed the existence of such loopholes," he said.
On Friday, two observer missions for Tanzania elections issued opposing views of what transpired during the October 28 polls.
The East African Community observer team gave thumbs up to NEC, saying they conducted free and fair elections, but the Electoral Institute for Sustainable Democracy in Africa (EISA) report poked holes on the electoral process which they suggested did not meet the threshold of credible, free and fair elections.