Even cancer can't stop her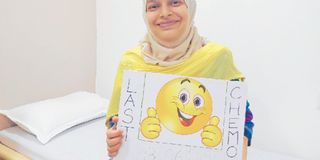 What you need to know:
Though the devastating side-effects of chemotherapy forced her to put her dreams and life on hold, she is now back on her feet and was brave enough to make that change in her life and inspire others capturing this year's theme of International Women's Day –"Be Bold for change", which falls next Wednesday. Today, with over two years of cancer behind her, Durriya has returned to work, she has picked up her pen and reclaimed her passion for writing books.
Though her health was deteriorating, "cancer" was the last word that Durriya Kapasi expected to hear. But with the December 2014 diagnosis of stage 3 Hodgkin's Lymphoma - a type of blood cell cancer that develops in the lymphatic system, her world suddenly fell apart. The scans showed that she was late as the cancer had already spread to her spleen. Though the devastating side-effects of chemotherapy forced her to put her dreams and life on hold, she is now back on her feet and was brave enough to make that change in her life and inspire others capturing this year's theme of International Women's Day –"Be Bold for change", which falls next Wednesday. Today, with over two years of cancer behind her, Durriya has returned to work, she has picked up her pen and reclaimed her passion for writing books.
Born in Dar es Salaam to Shabbir Kapasi, an Optometrist at Elite Opticians, Durriya did her primary school at Aga Khan. She got marriedat 19 to Zaheer Abbas after completing her secondary school at Al-Madrasa-Tus- Saifiyah.
"I met my husband online, " she recounts.
Although going to India was a scary thought for her, love for her husband knew no distance. Her father also had objection because of the distance between India and Tanzania, and she still needed to focus on her career, to take over his profession. He later on agreed to let her follow her heart.
Though the 29-year-old Durriyya frequently travels to Dar-es-salaam to meet her family and friends, the thought of being sick in a distant land was not a pleasant one but her husband and mother in law plus her 8-year-old son were very supportive through it all.
"My mother in law is like a mother to me. She makes me all my favourite things and stands by me in hard times. My husband has always been my best friend, and a guardian angel. I lack words to describe his love for me. I was a princess at my father's home, but a queen at my husband's home," she excitedly explains.
Initially after coming to India, she use to read books and take notes in her diary until she discovered Wattpad.com, a free online portal for storytelling.
"I thought of giving my writing a try in an open platform? That's when I wrote my first book She is Still my Sister using my small phone Samsung Galaxy Y," she narrates adding that the book received great approval online and that is when she realized her passion for writing. "I wrote my second book again on Wattpad, Lydia the pet communicator, after noticing the conditions of stray animals in India," she states.
Her second book won Watty awards 2013. That is when she got confidence to write her third book for print. She only wrote a few chapters before her life took a drastic turn.
"It stopped. I started to slow down because my health was deteriorating. I used to fall sick often, the doctors could not find out the reason. I used to have constant flu and indigestion, until one day I found a swollen lymph node on my neck," she explains.
Since she visited several hospitals and doctors could not come up with proper diagnosis, she opted for alternative treatment for one year but her health steadily deteriorated. She was rushed to Apollo Hospital, Ahmedabad and the news wasn't good. "Things went worst for me. I was then hurried to Apollo Hospital, Ahmedabad, where I was diagnosed with Hodgkin's Lymphoma. A type of blood cancer- stage 3," she reveals. According to the World Health Organisation, Hodgkin's Lymphoma is a blood cancer of the lymphatic system, which is part of the immune system. As Hodgkin's lymphoma progresses, it compromises the body's ability to fight infection.
Though the next few months were an emotional roller coaster for Durriya, her oncologist and his team were very confident and supportive. They told her everything with sincerity. She had to take 12 doses of chemotherapy for 6 months in an interval of 14 days.
"I was bowled over and terrified, but my oncologist assured me that I will be okay. He even said, "You can do it, because you are smiling even now while talking to me, I could see the confidence in his eyes," she recalls.
Though she was very tense at the beginning, she knew she had to fight with whatever she has. "There is nothing called impossible, and if others can do, why not me?" she declared adding that, " I started this battle with more power and faith in God. During my treatment, I became closer to God. Cancer opened my eyes, and I took it as a gift from God later on."
Her hair started to fall off and her husband had to shave her. It was such a scary phase that she even dreaded going to the mirror but later on accepted her look.
Support and Tanzanian patients in India
Durriya joined a Hodgkin's' lymphoma support group on facebook. In the group, she saw the confidence in other cancer fighters, how they used to cheer themselves during the treatment and how they came out victorious. This gave her more confidence.
"I knew I would be there too. I read many survivors' tales and inspiring stories. I would recite Holy Quran and do prayers while sitting on bed to relax my mind, " she narrates.
During her treatment at the hospital, she met many Tanzanians who used to cheer her up. They had come for treatment so she would guide them since she could speak in both Kiswahili and Hindi.
"As a citizen of Tanzania, it was my duty to guide them because I knew the language, both Kiswahili and Hindi, " she says.
Luckily for Durriya, her parents, in-laws, husband and son were always there for her.
"My parents came to meet me during the treatment. My husband assured that I would get a first class treatment, so he didn't think or talk about the cost of treatment," she states adding that the husband had to quit his job to take care of her.
Even her 8-year-old son learnt a lot of things to do on his own since Durriyya was too exhausted that she could hardly talk to him. Her mother in-law had to step in and take care of the child. He used to tell me, "Mom get well soon please, I miss the lunch box you make. Just put for me butter on my bread." That's when it struck her that the child is affected by her sickness. He also dropped academically but took care of Durriya in his own ways.
While describing the treatment, Durriya heaps praises on the friendly doctors and nurses for taking good care of her.
"The doctor's assistant became like a mother to me. The nurses and I became friends," she says.
During the fourth dose, chemotherapy got leaked through the vein in her fist as a result of her hand getting severely damaged.
"I couldn't use it anymore; it hurts even today after 2 years. So I had to put a chemo port through surgery on my chest for the other 8 doses. I had to do blood tests twice a week to check how my body was coping with chemotherapy and whenever my leukocyte count was low, I used to get injections to boost my white blood cells. Those injections were the worst to have, the body pain was akin to labour pain. As a result you could be disabled for lifetime, but God saved me," she states adding that she fought 12 rounds of battle in six months-- of 12 doses of chemotherapy.
Her ever supportive spouse told her, "See you are a boxer, a fighter, you will have scars but you will only be a winner if you come out of it. Go to the boxing ring, fight every round and come out as a star. You know you can do it."
She says the encouragement from her spouse kept her together, but on the last round, 11th of the12th chemo sessions, she felt like she couldn't do it anymore. She was too exhausted and could barely walk around. But then she pushed herself with all the little strength she had left.
"I couldn't leave the game incomplete and I did it. I came out as a winner. On my last chemotherapy, the whole cancer ward cheered me," she proudly announces.
Lifestyle change and diet
A year after completing her treatment, her body started picking up bit by bit.
"I took proper care of my diet, exercise and tried to stay happy. I carefully followed my doctor's instructions throughout. The key to win a battle like cancer is: Mind over body," she states.
She also warns that most of the things on the internet are hoax as her doctors told me not to believe anything online, except what they advice at the hospital. "I was told it's okay to eat everything but in limits. Our bodies need daily detoxification and cleansing, for that we need to drink lots of water and avoid foods that cause gastric problems like spicy foods, oily foods and junky foods. Do exercises, be happy and avoid stress. Stress makes things worst. I suggest at least 4 litres of water daily," she states.
She goes further to advise other cancer patients to be positive and to take one step at a time. She says medicine works better when the mind is positive. She also advises the patients to take their medication in time and eat nutritious foods which are easy to digest though all cancers are different.
"Please listen to your doctors and follow their advise. You can also join support groups to meet people who understand and inspire you,'" she states.
A year after her treatment, she started catching up with basic chores slowly and even visited her family in Dar-es-salaam for 3 months.
"My parents and sisters took great care of me there too. My family, relatives and friends were so happy to see me doing well and fighting fit," she recalls.
While trying to be adjust to normal life, she thought about her dreams and realised she had to hit the ground running. She immediately embarked on her third book that she had to abandon midway after the diagnosis.
"I felt a sudden maturity in my writing. My perspective had changed, my way of thinking and seeing the world was different. I realised how it is to have a second chance at life," states Durriya.
She realised God gave her a better thinking ability, better senses, and a very good health. She was much stronger in every aspect now. " I'm moving on in life much faster than I thought."
Durriyya is also a Creative writing guest teacher at a local primary school and a Wattpad community ambassador who love writing fantasy genre.
"I completed my book confidently and prepared myself to approach the publishers. And surprisingly in my first attempt, I got a 'yes' from the publishing house, Half Baked Beans. My book Once Upon A Genie will be released this month.This will be her first book out as paperback, and sold all over India and through online shopping sites. And she has not forgotten Tanzania as she plans to launch her book in Dar-es-salaam a few months after its release, and if opportunity arises would translate the book in Kiswahili.
Today, Durriya has no evidence of cancer in her body but continues to do regular tests to ensure cancer is at bay. And to other cancer patients, this is her parting shot; " Never give up on your dreams. Nothing is impossible if you have made your mind to do it."
According to Dr Crispin Kahesa who is Physician Epidemiologist and the Director of Cancer Preventive Services at Ocean Road Cancer Institute, Hodgkin's Lymphoma is among top ten cancers in Tanzania and its treatment is based on the stage of the disease and intention of the treatment. He points out that most patients assess the disease based on symptoms such that by the time they come to the hospital, it is already too late. "This is why we encourage screenings every now and then."
Dr Kahesa explains that preventive measures of cancer cut across since risks are shared so advises people to increase physical activities, limit their time in the sun, eat nutrient laden food with lots of vitamins, avoid tobacco and reduce alcohol consumption. He also points out that stress and tension doesn't help in the recovery process but hope helps in boosting immune. He opines that the role of psychology should not be used as a substitute but as a supplement to treatment.