BQ Contractors: Plenty of the reasons why Top 100 worth our while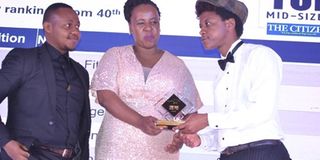 What you need to know:
Winners of the first edition of Tanzania's Top 100 Mid-sized companies' survey, BQ Con-tractors Limited have the belief Tanzania has a lot to offer as in entrepreneurial growth.
Winners of the first edition of Tanzania's Top 100 Mid-sized companies survey, BQ Contractors Limited have the belief Tanzania has a lot to offer as in entrepreneurial growth.
According to BQ Contractors deputy managing director, Silas Bura, the local content policy in the oil and gas sector is something that home grown firms must strive to benefit from, and they are happy about it.
He reveals that the company has been growing despite facing numerous challenges including finance, expertise and equipment. Bura says he believes the policy will help the company to increase its revenue streams.
He says BQ Contractors' turnover has grown five folds since 2011, attributing the growth to the company's overall win in the inaugural 'Top 100 Mid-sized companies survey' in 2011.That glory came with renewed trust and confidence among the company's clients. BQ Contractors Limited deals in mechanical, civil, building and electrical engineering. The company has also ventured into the oil and gas sector.
"The oil and gas sector has a lot of competition, and projects are few and far between. Many prefer the services of foreign firms. But I can say that, after winning the Top 100 Mid-sized Companies award, we also won the trust of our clients and we are now getting more client confidence in the market, and with the local content policy in oil and gas, we remain very optimistic that things will grow from good to better," Bura said.
He says that, since winning the Top 100 Mid-Sized Companies award, the company has managed to clinch about 40 large and medium projects, including some in the oil and gas subsectors.
This year, the company also received the coveted ISO 9001:2015 (Quality Management Ranking). "In business, this is a vital certificate as it gives the firm a chance to participate in virtually any tender local and international.
Getting this was our strategy to make sure we do not retrogress. This certificate is not easily available, and it can take anything up to two years to achieve it," he cemented.
He adds that the company started operating as a small and medium enterprise (SMEs) in the country, employing only two engineers, five technicians and 20 permanent staff. But, after winning the Top 100 Mid-Sized Companies Award in 2011, BQ Contractors Ltd now employs more than 300 staff, including those on temporary contracts.
The company plans to increase the number of staff to alleviate the challenge of unemployment, especially engineering graduates who need jobs and field training so that they can gain necessary skills and experience.
The success of Top 100 Projects
"When we decided to participate in the 2011 inaugural Top 100 Survey nobody knew that we would become overall winners but, we are thankful that the competition has continued to grow. The Top 100 brand is very important in business growth – and it's not easy to become the overall winner.
"He adds: Puma advertised a tender for transporting oil from deep-sea to its depot onshore, for which many foreign and local companies participated. Our offer was high, but Puma told us they wanted us because we had won the Top 100 brand. So we agreed to reduce our bid by 2 per cent.
Immediately after the Top 100 win in 2011, many projects started to come the BQ Contractor's way. They won an average of two contracts per year, the company is currently implementing a project for Tanzania Petroleum Development Corporation (TPDC) worth $3.5 million.
Constructed from 2011 to 2012, the project connected the supply of natural gas for domes-tic and industrial use through a pipeline from Ubungo to Mikocheni in Dar es Salaam.
The company won another TPDC tender to connect three kilometers of a natural gas pipeline from Mnazi Bay to the Dangote Cement factory worth $3.752 million. BQ Contractors then went on to win a tender involving the ongoing Standard Gauge Railway project (SGR) to construct houses in the Ilala, Soga and Ngerengere areas, a job that was successfully completed.
Indeed, the company is look-ing forward to participating in the next SGR tender to build similar houses along the Morogoro- Dodoma railway line.
For its part, the Pan-African Energy has given BQ Contractors master agreement for their services in its natural gas systems. BQ Contractors has also secured mega deal to construct Tanzania Bulk Product Measurement Project Contract for Design, Supply, Installation and Commissioning of New Flow metering systems for Petroleum Products and Edible Oils at Dar es Salaam, Tanga and Mtwara ports.
Other stakeholders are The Permanent Secretary, Pres-ident's Office of The United Republic of Tanzania, Endress + Hauser Instruments International AG, Panafrican Energy Tanzania Limited (PAET), Tan-zania Petroleum Development Corporation (TPDC), Tanzania Port Authority (TPA), Dangote Cement Limited Tanzania (DCL) etc.
The list goes on, Tanzania International Petroleum Reserves Limited (TIPER), Unilever Tea Tanzania Limited (UTTL), Puma Energy Tanzania Limited, Yapi Merkezi, Oryx Energies Tanzania(OOGL &OGTL), Cashewnuts Board of Tanzania, Arusha City Council, Arusha Urban Water Supply and Sanitation Authority, Total Tanzania Limited, Tanzania Electric Supply Company Lim-ited (TANESCO) and Tanzania Zambia Mafuta (TAZAMA) Pipelines.
The company's future plans
Currently, BQ Contractors' revenues are growing at an average of 20 per cent per year, with the target being 25 per cent in 2021. This is projected on the back of the company's various development strategies, including appropriate use of the local con-tent policy.
Its future plans are to expand more by shifting from being a company owned by a single family as well as increase transparency in its financial affairs to boost the faith of clients in its operations. The firm also looks beyond the current financial challenges by focusing on new funding sources, including from commercial banks.
Conceding that financial issues remain a major challenge for BQ Contractors Ltd, he said the company will continue to emphasize joint venture pro-jects, partnering with foreign and local companies in seeking to jointly participate in major construction deals.
Challenges and the way forward
Silas Bura says, the construction industry in Tanzania faces a lot of challenges, led by financial woes, followed by lack of expertise and equipment. Many of the construction companies are family-owned, he says.
Bura notes that this some-times creates distrust among local financial institutions, especially the banks, to readily extend credit to them. He says there is a real need to adopt systems that would help small companies to secure loans as a matter of course.
His father founded BQ Con-tractors about 24 years ago, the beginning was tough. He started the company by relying on savings. His operational approach was in such a way that he never enjoyed his money, for he had to reinvest almost all the money he received after completing a contract.
"I resigned from the Croatian firm in 2007, having worked for it for over 20 years. I then joined my wife in running BQ Contractors Limited. We invested over $100,000 in the company with which to finance initial pro-jects," says Bura's father.
Silas Bura, the son of John Bura -founder of the BQ Con-tractors Limited who pursued his Bachelor Degree of Business in Australia, returned home after his studies to reinvigorate the company that was developed and thrived under the steward-ship of his father.