Africa bets on solar mini grids to fix electricity access gap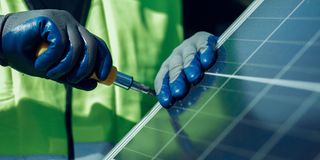 What you need to know:
Solar-powered mini-grids could be the key to connecting 265 million people across Africa to electricity by 2030
Nairobi. Twenty-one low-income countries have been earmarked as beneficiaries of the Africa Minigrids Programme.
Solar-powered mini-grids could be the key to connecting 265 million people across Africa to electricity by 2030.
Funded by the Global Environment Facility, the Africa Minigrids Programme will work with the United Nations Development Programme, African Development Bank, and national governments to install mini-grids powered by solar batteries in remote parts of the continent.
The programme has also launched a bid to attract US $65 billion in private capital that will speed up its extension beyond the first phase. Angola, Sudan, Ethiopia and Somalia are among the countries set to benefit from that first phase; 21 low-income countries have been identified as beneficiaries. If its plan is successful, the programme will connect 265 million people to electricity by 2030.
"Improving access to clean energy in remote areas has so many benefits — it directly improves the quality of life, creates job opportunities, particularly for women, and reduces carbon emissions," said Global Environmental Facility CEO Carlos Manuel Rodriguez at COP27.
Over the next eight years, approximately 110,000 mini-grids will be installed. These will electrify more than 200,000 schools and clinics and over 900,000 businesses.
"Green mini grids are not only key to closing Africa's energy access gap, they can also provide a critical impetus to socio-economic development in rural areas, boost climate resilience and displace carbon-intensive fuel sources," said Dr Daniel Schroth, Director of the African Development Bank's Department of Renewable Energy and Energy Efficiency.
The World Bank is among those touting the benefits of mini-grids. In a recent report titled 'Mini Grids for Half a Billion People, the organisation called for closer collaboration between governments and industry players to tap into green mini-grid opportunities. These low-cost alternatives to traditional electricity grids have the potential to reach hundreds of millions of people in remote and underserved populations.
And with the current slow pace of electrification across Africa, the World Bank estimates that 670 million people will remain without electricity by 2030.
"Now more than ever, solar mini grids are a core solution for closing the energy access gap," the World Bank's Vice President for Infrastructure Riccardo Puliti said.
At a high-level event dubbed "Energising health: accelerating electricity access in healthcare facilities," during the first week of COP27", the World Bank announced plans to triple its investments in solar electrification, targeting 100,000 health facilities by 2030. So far, the global development financier says it has invested $1.4 billion in solar mini-grids across 30 countries.
The International Renewable Agency is another influential body throwing its support behind mini-grids. The organisation says it will pump US $1 billion into a new initiative to electrify health facilities, food storage and agricultural infrastructure using solar power.
The Africa Minigrids Programme is planning a host of national dialogues to identify the best ways to deploy the mini-grids.
It will also work with countries to enact policies and regulations that enable large-scale private investment, creating sustainable conditions for renewable energy mini-grids.