Prime
More men in Mara turn to medical circumcision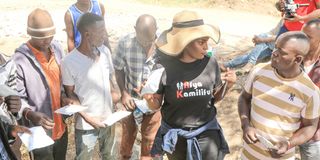 When it comes to retaining traditional practices, Mara Region is known for retaining its traditional male circumcision practices, which, unfortunately, come with a lot of health dangers, including over bleeding, untimely deaths, and the spread of HIV, as the majority of these circumcisions are done with the same single unsterilised knife on different men.
As part of the traditional beliefs, the men who then die as a result of overbleeding are not even afforded a proper and decent burial in their villages. Their dead bodies are simply discarded in another village.
The next village members will take the body and discard it in another village, which will do the same until eventually the body is thrown away so far that it can never be found.
The reason for this is that there is a belief that when a man dies from excessive bleeding after circumcision, burying that body brings a curse upon the village.
A study conducted in 2021 by the government titled Traditional Male Circumcision Practices Among the Kurya of North-eastern Tanzania and Implications for National Programmes showed that there was a high regard for traditional male circumcision as it is not just a way of upholding cultural practices; it is also associated with bravery since anaesthetics are not used during the procedure.
Voluntary Medical Male Circumcision (VMMC) was not strongly encouraged about 12 years ago due to traditional backgrounds.
One of the reasons was that VMMC uses anaesthetics to suppress pain, according to medical experts.
The HIV infection rate in Mara Region has gone down from 7 percent to 3.2 percent over the past five years, thanks to government's investment in VMMC services with support from the United States through the President's Emergency Plan for AIDS Relief (PEPFAR) and the Centres for Disease Control and Prevention (CDC) in Tanzania, under the implementing partner, Amref Health Africa Tanzania.
This year PEPFAR commemorates its 20th anniversary, and the commemoration took place in Mara Region to highlight the impact of PEPFAR on the prevention of mother-to-child transmission (PMTCT), voluntary male medical circumcision, and community and facility HIV testing services (HTS), including the social network strategy.
The VMMC Technical Advisor from Amref Health Africa Tanzania, Dr Peter Sewa, says Amref implemented a five-year project called Afya Kamilfu as part of its efforts to reduce HIV infection rates through male medical circumcision and the prevention of mother-to-child transmissions.
"It is scientifically proven that VMMC reduces the risk of HIV transmission by 60 percent. The initiative in Mara aims at accelerating the achievement of the current 95-95-95 treatment strategy by 2030," says Dr Sewa.
The joint United Nations Programme on HIV/AIDS (UNAIDS) launched the 95-95-95 treatment strategy in 2014 to set a target to diagnose 95 percent of all HIV-positive individuals, provide antiretroviral therapy for 95 percent of those diagnosed, and achieve viral suppression for 95 percent of those treated by 2030.
Fasnes Mwashitete, a nurse at Murangi Health Centre in Tarime District, is among the beneficiaries of PEPFAR.
She was trained as a VMMC service provider. Fasnes says the community was initially reluctant but things changed with time.
"The majority of men were not comfortable with the idea of having women as part of the VMMC programme, because they believed they wouldn't heal if they were attended to by a woman. Some believed the cut skin was used for witchcraft in the fishing and mining areas. They wondered what the hospital did with their skin," she says.
The nurse shares that with time, the men realised that VMMC was safe as people were no longer overbleeding, losing lives, or at risk of contracting HIV as the procedure is safe as it's done using properly sterilised medical equipment.
They obtained this knowledge through education at village meetings, and in fishing and mining areas.
According to Dr Zabron Masatu, the Regional Medical Officer in Mara, VMMC services support kicked off in Rorya District by assessing the HIV infection rate, which was the highest in the region at 6.2 percent in 2014. A total of 62,089 men in the region have been reached.
"Since October 2021, under the support of PEPFAR through the CDC, Amref Health Africa Tanzania has been supporting all nine councils in Mara Region," the doctor says.
Dr Masatu says that, as per the National Operational Manual for Sustainable Voluntary Male Circumcision (2020-2024), the region is set to reach 114,850 clients by 2024.
From the District Health Information Software 2 (DHIS2) data source, a total of 94,048 men have received service since 2020, leaving a deficit of 20,802 clients to reach the operational target by 2024.
Juma Msenda, a Form Four student at Gorong'a Secondary School in Masanga Tarime, fled home in 2014 as his family prepared for his traditional circumcision ceremony.
He sought shelter at the Bikira Maria Mama wa Tumaini Health Centre in Masanga, Tarime.
The Roman Catholic Health Centre provides shelter to girls and boys fleeing circumcision and supports them in study and capacity building in various income-generating activities.
"I have been living here for more than five years now. I am given shelter, food, and clothes. The centre also pays for my school fees. After class, I help with garden work," says Msenda.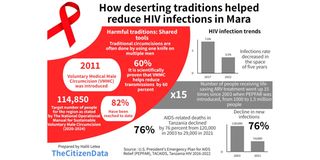 His dream is to become a doctor, so he will continue to educate his society about the dangers of traditional circumcision and the impact of female genital mutilation.
Juma is happy now that his father lets him visit them at home, although he is still not happy with Juma.
Dr Ngwegwe Damas, the HIV Coordinator in Serengeti District, says PEPFAR's support for VMMC services has helped increase the number of static sites.
These are centres providing male circumcision services, which are in place to make the service available to more men.
He says that in Serengeti District, some of the local leaders who used to be against medical circumcision are now commending the government's efforts to hold celebrations for boys who undergo medical circumcision, just like is the case with the traditional practice.
"Families take up to a year to prepare for the traditional circumcision season. Previously, the community did not accept boys and men who underwent medical circumcision. Thanks to PEPFAR, now the celebrations start at the hospital, soon after circumcision," says Dr Damas.
He says the programme reaches different areas through outreach services and that it has managed to reach more than 42,000 people in more than 15 villages.
A total of 3,704 clients were circumcised between January and March this year.
Mr Leon Chacha (not his real name) says back in the day, several boys were circumcised using the same knife.
"With time, the government, through Amref, educated us about the health dangers of sharing a knife. Then we started sterilising the knives in hot water. Today we use one knife per person," he says.
He adds: "Previously if one over bled, we feared taking them to the hospital; but now we do take them to the hospital for treatment. And for the boys and men who choose to go for medical circumcision, there are always celebrations soon after circumcision."
Dr Aniseth Elias, the Chief Medical Officer at the Murangi Health Centre in Tarime, says that through VMMC services at the hospital, they have been able to engage a lot of men in the fishing and mining sectors.
They usually take VMMC services to the mining and fishing areas, where men spend most of their time engaging in income-generating activities.
Cleopatra Dhaje is part of the success story in Mara Region.
She is a community outreach volunteer under the Afya Kamilifu project by Amref Health Africa Tanzania.
Her role in the project is mobilising, educating, and reaching the targeted high-risk population, like those in the mining and fishing camps.
She works closely with people in her community, encouraging them to do HIV self-testing and conducting talks on behavioural change to prevent HIV/AIDS spread.
Cleopatra has demonstrated remarkable achievements towards increasing access to health care services through one-to-one and group sessions that have impacted the increase in case identification.
Through this, more than 36 clients have been identified through oral HIV test kits dispensed to clients for self-testing or assisted by providers.