Prime
World Patient Safety Day: Healthcare workers around the world sharing experiences in keeping patients safe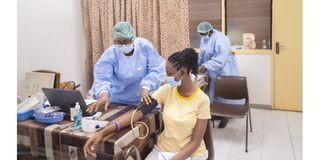 By Shimbo Pastory, Frances Gunn, Nestory Kasheshi, and Victoria Lyimo
All over the world, the safety of patients is at the heart of healthcare. With their well-being prioritized, healthcare workers facilitate patients' recovery into good health through careful and ethical use of medical skills. However, to keep the patients safe, healthcare workers need cooperation from the patients. The purpose of World Patient Safety Day advocacy is therefore to raise awareness and reduce patient harm. This year the theme is 'Engaging Patients for Patients' Safety.'
All patients, regardless of age, status, gender, illness, or physical fitness, are vulnerable. In this context, their 'vulnerability' is situated in the reality of them being 'capable of being wounded' ('Seeing our patients' vulnerability and our own,' Harvard Medical School, 2017). In view of reducing the possibility of wounding patients through prescriptions, misdiagnosis, compromise of boundaries, negligence, infrastructures, etc. patient protection policies are implemented in all healthcare settings globally.
Conversing with different medical practitioners and public health experts we garnered a substantial lot of helpful tips relevant to our local situations. We will focus more on the patient–practitioner engagement and how it can foster the safety of the patient who is the beneficiary of the service.
When considering the importance of patient engagement from a public health perspective, the evidence is clear that the cumulative effect of lots of individuals taking small steps to engage with healthcare and improve their own health has a significant impact on population health.
It is crucial therefore that barriers to effective engagement with healthcare are challenged.
For example, accessibility to health care appointments should be considered carefully.
Can some lower-level healthcare be offered within communities rather than from regional clinics thereby reducing the costs in both money and time associated with engagement? Is communication from health services clear and understandable to all, irrespective of language spoken or levels of literacy?
We can further ask: Is the healthcare delivered non-judgemental around individual values and beliefs? And crucially, are the health workers delivering the service empathetic, approachable and respectful? While everyone has responsibility for their health, given the wider benefits of improved health, it makes sense for healthcare organisations to make services as easy to engage with as possible.
Numerous reasons could make encounters between patients and medical practitioners futile.
This happens at all levels of healthcare. Communication between patients and practitioners is key. However, it should be an exchange of trust for the good of the patient. The patient needs to share necessary information truthfully if the absence of such information can alter the course or target of treatment. This is the first step of playing safe.
There is also a problem of secrecy and deception, hiding underlying medical conditions, diseases, exposures, or medications. Many do not disclose to practitioners their statuses regarding HIV, AIDS, Sexually Transmitted Diseases (STDs), Sexually Transmitted Infections (STIs), substance abuse, smoking status, level of Alcohol consumption, lifestyles, and others which are necessary for effective diagnosis and treatment.
Locally we also have problems arising from dubious superstitions over disease and medical conditions which are scientifically recognized.
This endangers many lives as patients are not taken to hospital on time. Many tell doctors that their illnesses are mysterious, instead of explaining how they feel.
Parents and guardians are responsible for the health and well-being of their children. Children are sometimes unattended when their illnesses appear to be mild.
Parents are to react appropriately by taking them to healthcare centres. Meanwhile, this comes alongside the duty to safeguard them. There is a complex intermix here of the vulnerability of children and of patients.
As such, timely and responsible engagement with health services is crucial in supporting their health and development.
When children have health complexities but are not brought consistently to planned healthcare or reviews it leads to a worsening of health, a clear indicator of child neglect. In these circumstances, healthcare workers can encourage parents to engage with health services to protect and promote their children's health.
The healthcare sector improves daily at pace with the fast-advancing technology. Although the contribution of technology to health is highly appreciated, for patients technology can minimize their safety.
While the internet is a good thing, it is a dangerous doctor. Patients nowadays go to the hospital with a diagnosis in their minds.
This impedes the effort of practitioners in carrying out proper diagnosis. For safety, the internet should not be the sole authority in health concerns as many diseases present similar symptoms.
Some people are adamant in their ideas and can reject the diagnosis of professionals because of internet ideas or traditional explanations which can be deadly. For instance when asked, "How are you feeling?" and the patient answers, "I have malaria."
Patients' safety is holistic and all-encompassing. It is diversified into physical, psychological, social, emotional and environmental safety. Healthcare workers are trained to provide this holistic care. There is a shortage of healthcare workers, but the handful that is there is delivering standard service.
By inference, patients' safety reflects the diligence of healthcare workers, panoramically contextualized in relevant academia, medical ethics, instrumental competence, experience and cultural awareness. In rural areas, most healthcare workers have low qualifications (certificates and diplomas), but their services are standard and humane. These workers are on the frontiers, giving primary (basic) health care services.
Particular practice cadres are overseen by their organizations, which helps to checkmate negligence and breaches of standards. Tanzania Nurses Association (TANNA) and Tanzania Nurses and Midwifery Council (TNMC) are licensing as well as disciplinary bodies. The Medical Council of Tanzania (MCT) regulates the competence, registration and licensing of doctors. These bodies uphold and implement the ethics of healthcare practice and respond to violations. All this is done to keep patients safe.
Ethical competence is built on autonomy, beneficence, confidentiality, privacy, and non-maleficence. Patients' safety in Tanzania has improved because providers adhere to key healthcare ethics.
There are complaints from time to time, but they are minimal. Good stories that tell of the sacrifices of healthcare workers do not often trend.
Despite improvements in patients' safety, there is a challenge of negative attitudes towards healthcare workers.
This often comes from patients, such as being negative, rude, hasty, demanding, demeaning, abusive, negligent, toxic, apathetic, deceptive, entitled, or uncooperative. In attending to these, healthcare workers are pushed to deliver the bare minimum.
It is an ethical demand that patients respect healthcare workers and treat them with dignity.
There are also habits by which patients endanger their own lives, or which sweep away hopes for recovery to health.
Among those is self-prescription even with medicines that should be prescribed by professionals after proper diagnosis, stopping the dosage midway which may cause bacterial or viral resistance, and using herbs and traditional concoctions disproportionately, which can be poisonous to the body.
Equally, patients ought to disclose to practitioners their actual health profile and any other medication they use and refrain from drugs and alcohol while on medications.
There is a huge shortage of healthcare workers for dispensaries and health centres, especially when compared to the population coverage. Workers in interior areas are also limited in professional support to ensure proper diagnoses and prescriptions.
Shimbo Pastory is a journalist and student at Ateneo de Manila University, Manila, Philippines; Frances Gunn is a Service Manager in Children and Families at NHS Scotland and a doctoral researcher at the University of Stirling, Scotland. Nestory Kasheshi, MD practices at Sahlgrenska University Hospital, Gothenburg, Sweden; and Victoria Lyimo is a nurse specializing in public health (MPH) at the University of Dodoma, Tanzania.