How Lola redefine her place in creative space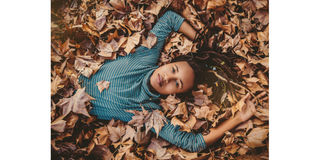 Summary
After succeeding in the beauty pageant industry, Lola now wants to focus on her music and promote more of her fashion designs
Singer, fashion designer, and video vixen Lola Mziwanda declared that she will no longer participate in the pageant industry after winning Miss African Golden Tourism last year in Nigeria.
She came to that decision because she wanted to focus on her music and promote more of her fashion designs.
"I have won two big titles in my life: Miss Tourism Zanzibar in 2020 and Miss African Golden Tourism last year. I feel like I have paved the way for other women with tattoos to be able to participate without being judged or pointed fingers on how we look. It is now time for me to focus on my music and fashion designs," she said.
When she said she wouldn't be able to participate, she wasn't lying. I had trailed her for the past ten days in social networks, and music videos were always busy on her projects.
Before we get ahead of ourselves, you might be wondering who Lola is. Nseka Tinka, popularly known as Lola Mziwanda, has become a desirability for many sore eyes, not only for her striking body and eye-catching stylishness but also for her body tattoos.
You know global pop artist Kehlani? Well, Lola is creating her own unique appearance for the Tanzanian and African audience. With more than ten tattoos on her body, most of them represent dark experiences in her life, such as harassment, sexual abuse, and heartbreak, while the rest are about peace and love.
She has made a name for herself in the industry, where many use her as a commercial model, in adverts and on music videos as her side gigs.
The 26-year-old, raised in Moshi, developed her passion for the entertainment industry at a young age while she was in the ordinary and advanced levels at St Peter Secondary School in Uganda.
"I fell in love with the arts at an early stage; I remember I even spent my days out of school just to attend events," she says.
Besides, Lola's tattoos and dreadlocks are among the things that are notable when you see her for the first time.
The reason why her dreadlocks are that long is because she took care of them back in school, wearing a hijab to hide them until now.
She says she loves the Rastafari culture and everything it represents, which is why she has kept her dreadlocks all these years.
Lola's spotlight in the industry started as a video vixen. She appeared in different Bongo Flava music videos, including 'Naua' by Lony Bway, Tunashine by Rapcha, and Conboi.
Prior to being a vixen, she was a hip-hop artist with a bunch of songs that had different tastes and vibes. From Amapiano to Singeli and the old taste of Bongo Flava
With six songs in her catalog, 'Hiyo Kitu', 'Magorofa', 'Mambo vipi', 'Gimmie dat, 'Vibe, and 'Shobo', Lola is yet to reach the kind of audience she desires.
Reflecting on the pageant industry, Lola says she has never dreamt of becoming 'Miss' but the exposure and her passion for traveling encouraged her.
"I never had a dream to be a model, but when I started modeling, people liked what I did, so when the opportunity of participating in Miss Tourism Zanzibar came, I was moved to participate because I like to travel and to connect tourists with my country. So that's where my journey started," Lola explains.
Her appearance astounded the judges when she was competing for Miss Tourism Zanzibar and Miss African Golden Tourism.
She says some judges wanted to disqualify her because of her look, but her confidence in explaining her tattoos earned her the spot.
"Tattoo is an African culture; our elders have been tattooing themselves for many years, but now they have been modified; they have become more modern, but it is our culture, and we must embrace it," she says.
She further added that the beauty industry must change how people view tattoos. Instead of imitating western countries, the pageant must do things in accordance with Tanzanian culture.
"Our beauty industry should be based on our culture, just like tattoos and how we feel about ourselves. It's time to stand as we are and not copy others," she elaborates.
As a fashion designer and stylist, Lola creates outfits for artists and fashionistas.
Her fashion design goes by the name Jolo Bags, a collaboration with one of her friends, Gujo, who joined their names to form Jolo Bags fashion design.
The design is eye-catching and has a different vibe, which is not very popular in most fashion designs, but it's there to stay and slay.
"It all started when someone contacted me through my Instagram page, asking if we could create something together. From scratch, we created a fashion that is unique and different," explains Mziwanda.
Speaking about confidence and being a go-getter, Lola encourages other younger generations to believe in themselves. It's important to go for the truth; unless you do that, most end up doing something weird in their lives.
"Younger women need to learn more by themselves and not wait to be thought of by other people." "Self-learning is what is needed in most of our cases to reach our potential goals in life and to be able to participate and work as one generation where we support each other," she explains.