Prime
How Ndoto ya Kalista is giving young single mothers a second shot at life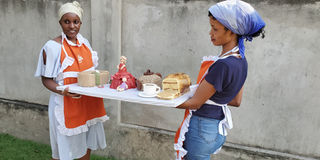 What you need to know:
Young women whose life goals and dreams were cut short by early pregnancy are given a second chance to realise their goals through the Ndoto ya Kalista initiative
Kalista Christopher's dream to become a chef was cut short by an unintended pregnancy in 2017.
She was working at a mobile money shop after finishing her ordinary-level secondary education when she found out she was pregnant.
Chances that she would pursue further training after pregnancy were slim given that she was raised by a single mother following her parents' separation when she was a child. 
And like they say, misfortune doesn't strike once. Kalista's baby's father, who had promised to support their child, disappeared from her life without a word, leaving her to raise their child by herself.
That is how Kalista, 26, became a single mother. Left with a baby to take care of, Kalista felt lost and without direction.
Her fate influenced her cousin Scolastica Mwambete to come up with a project to help girls like herself, who had been forced into single motherhood by circumstances.
"Many young people, especially girls, have their future prospects ruined by unplanned pregnancies. Because of this, many live in poverty," says Scolastica, a 31-year-old mother of one who decided to support single mothers through an initiative called Ndoto ya Kalista (Swahili for Kalista's dream).
The initiative serves as a forum for single mothers to discuss their experiences while learning to bake.
According to Scola, Ndoto ya Kalista is about bringing single mothers together and teaching them how to bake cakes, through which they share their stories.
The shapes of the cakes they bake depict their life experiences.
"The objective of the project is to reflect on what my cousin Kalista went through. She got pregnant and didn't know what to do because her parents had separated. She had been raised in a situation where getting help after a pregnancy was hard. All her dreams went down the drain after she became pregnant," shares Scola.
The Tegeta Nyuki resident says that Ndoto ya Kalista is about giving young single mothers hope, courage and the strength to move on.
"I believe there is no time or need to cry because what has happened has happened, and the way forward is to embrace the moment and be ready for a different chapter of your life," says Scola.
The six-month initiative that kicked off in June this year is not just about designing cakes; it also gives single mothers who have lost hope room to share their own stories.
Sponsored by the Norway and Swiss embassies through the Feel Free grant implemented by Nafasi Art Space, Ndoto ya Kalista targets single mothers in Dar es Salaam and Tanga regions.
After the three-month first phase implemented in Dar es Salaam, the project will move to Tanga where the second phase will be implemented.
Apart from learning to bake, the beneficiaries were also equipped with pottery, drawing, and painting skills.
They needed the skills to be able to bake cakes that creatively depict their lives.
Among the reasons that Ndoto ya Kalista was born was to bring to light the predicament of single mothers caused by inadequate reproductive health information, a desire for material gain, familial obligations, and peer pressure.
The beneficiaries are expected to act as ambassadors for other women through cake baking.
"We are used to seeing different shapes of cakes prepared for celebrations, but have you ever seen cakes made to tell the story of life? That's what Ndoto ya Kalista aims for, where every single mother shares their story through their cake designs.
Thanks to the Ndoto ya Kalista project, Kalista, who is the mother of a five-year-old child, is hopeful that her dream to become a chef will soon come true. She is no longer ashamed of what happened but rather looks forward to a bright future.
"I didn't plan to have a baby at the time I did. My mother was so mad at me that I decided to go stay at Scola's house. Getting pregnant was like a nightmare. I felt I had failed my mother, who was jobless and struggling to raise us," Kalista recalls.
She has since learnt that an early pregnancy shouldn't be the end of life and one's dreams.
"The baking skills I have acquired will help me start my own cake business," says a hopeful Kalista who is currently working as a tailor.
Josephine Mayila, 25, a single mother of one son, is another Ndoto ya Kalista beneficiary.
"I joined the Vocational Education and Training Authority after secondary school but things didn't go as I had planned. I started a small business selling fresh juices. I lost everything after I got pregnant. My uncles had promised to get me a better job but they changed their minds after I got pregnat. I went through a difficult time, especially after the man who impregnated me married someone else," shares Josephine.
Like was in Kalista's case, the pregnancy meant she could no longer pursue her dream to become an expert in information and communication technology and fashion design. Her hope was renewed when she joined Ndoto ya Kalista, for she had an interest in baking.
"I am happy because I had for a long time dreamt of baking my own cakes to sell along with fresh juice. I wish I had the equipment to put my plans into reality, especially given that it's hard finding a job these days." She advises single mothers not to lose hope because everything is possible if one focuses on their goals.
Felista Mgomela is hopeful that life will change for the better after acquiring baking skills through Ndoto ya Kalista.
She got pregnant while working at a hotel in Zanzibar, and as expected, her baby daddy vanished into thin air.
The 24-year-old was selling cosmetics when she learnt about the project and hopes she will be able to open a business in which she will be designing cakes depicting customers' stories.
Parenting is not easy, and it becomes harder when you are single and jobless, and this is where Ndoto ya Kalista comes in.
According to Scola, there are many struggling single mothers out there, and only a few made it to the first phase of the project.
September 16 (tomorrow), marks the end of the project's first phase to be concluded with a creative cake art and storytelling exhibition to be held at the Nafasi Art Space Centre in Dar es Salaam.
The project beneficiaries will showcase their cake art made in different shapes depicting the bakers' life experiences.
The single mothers will use cake sculptures to tell their life stories, their dreams and what they have been going through.
The exhibition will provide the space to discuss as a community the issues of dreams, upbringing, and family.
It will be an opportunity for parents to learn how to protect their daughters from early pregnancy.