Navy Kenzo: Finding balance between love, music and parenting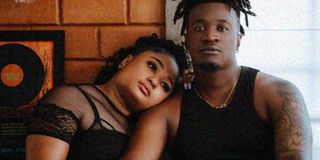 Summary
A long-time couple is hardworking, creative & in love, all at the same time.
Have you ever seen love through songs? No, I am not talking about lyrics sung about affection, I am talking about singers who display the actual feeling as they sing about it at the same time.
I saw this through Aika Marealle and Emmanuel Mkono who collectively form Navy Kenzo. The duo are also known as Aika and Nahreel.
In one of their most recent performances of the latest song titled 'Manzese' at Kendwa Rocks Hotel during November's Full Moon Party in Zanzibar, the two owned the stage with all of the hit songs that were dramatically played.
The chemistry between the two of them is beyond words. The sync of their eyes not only locked on one another, their bodies were also teasingly touching one another affectionately.
Aika and Nahreel met in India where they were both studying at Punjab College of Technical Education. Aika was studying Business Administration while Nahreel was taking Computer Applications. They fell in love and a future of music unfolded before their eyes.
Their music journey began when the two came back to Tanzania after earning their Bachelor's degrees. They joined Nahreel's friends named Ola and Igwee and together formed a group called Pah One. In 2008, they parted ways with the other two and formed Navy Kenzo.
"We did a few songs with them but it did not work out," Aika explains, adding that there was a contradiction later that made it look like there were two groups inside the bigger group.
"Later on we said 'okay, it's fine. You do your thing, we do ours'. The two of us sat down to create a name of our then newly formed group that we wanted to identify as well as to carry 'an African' element in it, that was when 'Navy Kenzo' came into play,"
The two lovebirds explained that Navy means a group of people sailing and Kenzo is a Japanese word that translates to wise people.
Since then, Navy Kenzo has blessed fans' ears with different feel-good tracks that would turn any floor into a dancing floor such as 'Katika', 'Kamatia', 'Morning', 'Usinibwage', 'Only one' and 'Game'.
"In the beginning, I was writing the songs and Nahreel was creating the beats. As time went on, I learned how to record on my own. Now, he makes music beats and everyone gets in the studio at their own time. This began when I started sneaking in the studio and Nahreel noticed how creatively free I became when I recorded in the absence of other people," she says.
With Nahreel growing up as a producer from the age of 14, he started singing after fans had asked him 'why do you not sing' due to the creative melodies he used in the songs he produced.
"Whenever I would create beats, I would always put melodies. I could put them into instruments and then turn it into singing, so every time I would create a beat I would sing to it before its completion. I started to question the reasons I do not sing. Later on, I decided to officially become a singer. At first I was nervous because I did not trust myself but people close to me encouraged me to keep going," he says.
After they parted ways with the other members of Pah One, the duo faced a challenge in reintroducing themselves as they were being questioned on the reason why they were no longer with Igwee and Ola.
"We decided not to respond to the 'why' question, but just created music while exploring ways to develop our group," says Aika.
As artistes, Nahreel details that they both strived to develop and overtime, they were able to change different things such as their sounds, lyrics and appearances.
"Our relationship has impacted our work in a lot of ways. With art, a good story always sells so even with our work, people are always stunned that a long-time couple is hardworking and creative and in love, all at the same time. We are the best things that happened to each other," Aika says.
Side by side, they have built a family with two sons named Gold aged five and Jamaica, who is three-years -old. Through their work, Navy Kenzo have also built a house while their music has gained new audiences across Africa and the world.
"When we were starting our group, we set goals and witnessing them coming to life is truly fascinating. We wanted to take over Tanzania, East Africa and the world and we did just that. In 2017, we made a world tour, which was a dream come true, of a number of countries including Ethiopia, Egypt, Australia and Congo," recalls Nahreel.
He adds that "As of now, we want everything on the side of music. We aim to grow the number of our audiences by branding our music in places it had not penetrated before."
Manzese, a song that celebrates a love story that was born in a place with the same name, was written by Aika and Francis Jacob, Aika's assistant writer.
"The word 'Manzese' was inspired through the sample beat and in the beginning of the song, you can hear background voices saying it. I'm not certain if they meant Tanzania's Manzese but we created the song based on that. The beat was created by a French producer named Alvin and when I received it, I flipped it a bit, added some melodies and then Aika and Francis came through with the lyrics," Nahreel says.
As of now, the two music-lovers duo are preparing to launch an album that has been in the kitchen for a while.
"We will be announcing the release date sometime in December," hints Aika.
While commenting on Tanzania's music industry, Nahreel says it is a growing scenery, however, it is not aggressive enough to compete at a global level.
"Tanzanian musicians spend most of their times on unnecessary things for the sake of short time fame that is believed to bring traffic in their works without understanding that they could make such efforts to recreate their personal brands and make even more hit songs that would grow their wallets and make our music industry more competitive than it barely is," Nahreel says.