Samia must dismiss these worthless tourism officials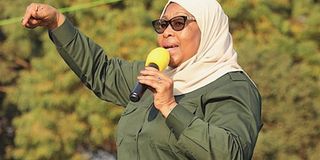 What you need to know:
The Royal Tour I repeat is foreign-inspired. And Samia has definitely played her part in marketing Tanzania overseas. It is unacceptable though for Tanzanians with worthwhile ideas to be treated so poorly by the same government at the expense of a foreigner.
Only some weeks ago did I share an idea on how I believe Tanzania can go some way in attaining the tourism numbers it much desires. The government has set a target of five million tourists by 2025. My article was intended as an attempt to appeal to our tourism officials who for the most part had been indifferent to put it mildly when I reached out to them. By putting pen to paper, it was another way of sending a message to the respective authorities.
In all my pains, I've been guided by the spirit of ex-US President John F. Kennedy, who exhorted his countrymen and women, particularly the youth, 'to ask not what your country will do for you, but what you will do for your country.'
This powerful message was repeated by our father of the nation, Julius Nyerere, in 1995, during the commemoration of Labour Day.
Beyond that, on 2nd of May, 2022, an editorial in the government-owned Daily News, aptly summed it up: "We, the sons and daughters of Tanzania, must be proud of the beautiful, resource-rich country the Almighty God blessed us with.
"We, the people of Tanzania, must support President Samia's quest to make the most out of what we have in this country in achieving socio-economic prosperity.
We must join hands in further promoting and marketing out our unrivaled tourist destinations, domestically and globally. Our country's gain is every Tanzanian's gain.
"We share common goals, so we must work shoulder to shoulder as we march towards inclusive and sustainable growth.
Yes, we need better roads, we need a better learning environment for our kids and we need better healthcare services.
We can only realise all these with a strong economy.
"It is well within our reach; we have what it takes to make Tanzania a great country that every person on earth would like to live on.
Go Tanzania go, go Samia go!"
On that beautiful patriotic note, I'm very sorry to state here patriotism is virtually non-existent in the government of Tanzania. That's the unvarnished truth!
If anything, what The Royal Tour has done is to most painfully uncover that.
Without mincing words, I'm sick and tired of many of our tourism office-bearers talking up The Royal Tour at every opportunity as if nothing else worthwhile exists or can exist.
The Royal Tour I repeat is foreign-inspired. And Samia has definitely played her part in marketing Tanzania overseas. It is unacceptable though for Tanzanians with worthwhile ideas to be treated so poorly by the same government at the expense of a foreigner. That is most demeaning! When will the African be treated with dignity? These small fellows need to learn from Bob Marley on the need to 'emancipate their minds'. Charity begins at home we are always told.
My plan for destination Tanzania was primarily centred on Mount Kilimanjaro, which is undoubtedly the biggest feature of our tourism landscape.
I had specifically in mind the towering East African marathoner by the name of Eliud Kipchoge. Kipchoge has his slogan called "no human limits". As a sports lover, I was so intrigued at the prospect of seeing Kipchoge's performance high up on the mountain. Just imagine how the world's media would descend on Kilimanjaro for that period.
It would be a guaranteed slam dunk!
My first point of contact was the minister of tourism at the time. Astonishingly, he told me it is was a good idea but that I should look for sponsors. Really? A whole minister as they would say in Kenya, telling me to seek sponsorship instead of first trying to properly understand the concept and how to join hands.
The minister would go on to advise that I push it along the lines of the Kili Marathon and all the other local marathons. That is the typical low-level mindset of our ministers and the rest of our officials.
They just can't think big.
I'll add that in thinking of Kipchoge, I knew of his environmental passion and how the mountain has challenges in that regard.
Fortuitously, President Samia met up with Kipchoge at COP26 in Glasgow in November 2021. Everything could have been settled in Glasgow. Those existing anti-Kenyan voices would have been silenced for the greater good of the EAC. To borrow from a former columnist for The Citizen, Kasera Nick Oyoo: "We have this penchant for owning Kilimanjaro and doing nothing with it but getting offended when someone produces something touching on the Kilimanjaro, something we do not do."
This is Tanzania for you. We are lagging terribly behind even a tiny country like Rwanda in pushing grand ideas.
The Rwanda Development Board that incorporates tourism is completely at another level. In my considered view, a big part of our problem is that many of our tourism officials tasked with promoting tourism have never been tourists themselves - that is within Tanzania itself and our neighbouring countries.
I won't go to further places like Victoria Falls in Zimbabwe or the other Southern African states.
I struggle to ever remember reading something by a local tourism expert that stimulates the mind. It is just another job for most of them. I wonder did they even study tourism in the proper sense and internalise it? Someone obviously well schooled can't display such attitudes.
I recently heard the South African tourism minister reveal at their annual tourism Indaba in Durban that they received four million visitors from African countries in 2022. What real plan does Tanzania have for the continental market or even East Africa that we have some protocol agreement with?
Who will answer for the country not attaining the 5-million mark in 2025?
These officials are a serious liability for Samia and deserve to be sent packing.
In the meantime, despite all the frustrations, my patriotism drove me to try and establish a connection with the office of another sporting great called Usain Bolt from Jamaica. It would be awesome indeed to get the world's once fastest man going up Kilimanjaro. Which country wouldn't be thrilled at that prospect? Even sweeter, imagine Bolt teaming up with the fastest African man called Omanyala to set records on the mountain. Bolt's office wants to hear more but I'm at a tragic loss on what to do. Should I just bury the dream? Anybody with the ear of Samia or a way forward please help.