Tanzania seeks to tap into Chinese tourism market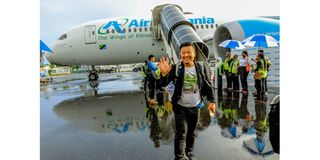 What you need to know:
The minister for Natural Resources and Tourism Mohamed Mchengerwa has urged Chinese travel agents visiting the country to bring in more Chinese tourists to Tanzania
Arusha. Tanzania seeks to take advantage of its long-standing cordial relations with China to attract more tourists from the Asian economic powerhouse's outbound travel market.
China is the world's largest source of tourists, with about 150 million Chinese traveling annually to various destinations across the world.
Tanzania receives only a fraction of Chinese tourists, with the Tanzania Tourist Board (TTB) projecting that around 45,000 tourists from China are expected to visit the country by the end of this year.
But the Natural Resources and Tourism Minister Mohamed Mchengerwa says that should change. He wants more efforts to be made in order to attract more and more Chinese tourists to come and sample Tanzania's diverse tourist attractions, from wildlife safaris to pristine beaches.
"Why is it that only a few Chinese visit Tanzania annually yet we have a long history of cordial relations?" he queried when he was receiving a group of Chinese travel agents and journalists at the Arusha Airport here on Wednesday. About 40 travel agents are in the country to assess iconic tourist sites in the northern circuit.
According to Mr Mchengerwa, the travel representatives of travel agencies currently in the country come from leading firms in the Asian economic giant, which handle about 40 million outbound travellers annually.
"Efforts must be made to tap into this huge market. We need visitors from China to boost our tourism sector," he said after the agents landed in Arusha.
In recent years, the government has devised a strategy to market its tourist attractions to emerging economies in Asia, including China. Such efforts include the introduction of direct flights to China and aggressive marketing campaigns that have been coordinated by the Tanzanian embassy in Beijing and other stakeholders.
Air Tanzania Company Limited (ATCL) manager for Arusha and Moshi Salim Salim said the national carrier has made a 50 percent discount for air tickets to China.
Currently, ATCL operates three direct flights between Dar es Salaam and the commercial southern city of Guangzhou. The flights were suspended at the height of the pandemic. They were expected to resume on May 11, 2023.
The familiarisation visit of travel agents from China, accompanied by scores of journalists, began in Zanzibar on Friday last week.
The Zanzibar Commission for Tourism (ZCT), which hosted them, lauded the initiative, saying it would open Tanzania to the Chinese market.
According to Ms Hafsa Mbamba, ZCT executive director, this was the first group of travel agents from China since the outbreak of Covid-19 in December 2019.
During their stay in the country, they will be exposed "to our culture, heritage, beach tourism, and other various attractions that will enable them to promote them when they go back to China," she said.
She added that Tanzania will continue lobbying the fast growing and lucrative Chinese outbound travel market, aiming to attract Chinese tourists to visit its historical sites and wildlife parks.
The deputy permanent secretary in the ministry of Natural Resources and Tourism Anderson Mutategwa, said the government was putting in place measures to boost the tourism sector.
These, he said, include upgrading various facilities, especially the transport infrastructure and hotels and lodges.
The Natural Resources and Tourism ministry says inbound tourists from China alone would boost the country's target of five million visitors by the year 2025.
The five million visitors' target a year would generate $6 billion as projected under its Third National Five-Year Development Plan (FYDP III) spanning from 2021 to 2026.