Terror fears in TZ: Do we need Plan B?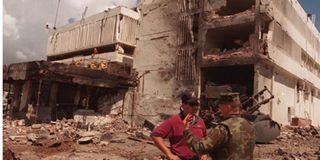 What you need to know:
The report by the Intergovernmental Authority on Development (Igad) says Al-Shabab, like the Islamic State militant group, is increasingly recruiting young men and women from countries beyond its power base, including Tanzania. Other countries are Kenya, Ethiopia, Djibouti and Uganda.
Dar es Salaam. A recent report says East African countries face increasing threat from Somalia-based Al-Shabab militants.
The report by the Intergovernmental Authority on Development (Igad) says Al-Shabab, like the Islamic State militant group, is increasingly recruiting young men and women from countries beyond its power base, including Tanzania. Other countries are Kenya, Ethiopia, Djibouti and Uganda.
The report titled Al-Shabab as a Transnational Security Threat says terrorists "exploit weaknesses to operate across the region's borders." It adds that Al-Shabab is clearly no longer an exclusively Somali problem, and requires a concerted international response.
The report wants East African nations to shift assessments about Al-Shabab, which has shown resilience in the face of setbacks in recent years. Until recently, Tanzania and other governments of East African nations had played down the regional threat posed by the Al-Qaeda affiliate, rarely sharing intelligence or coordinating counterterrorism campaigns.
In fact, the report says that Al-Shabab has a presence in Tanzania, Kenya, Ethiopia, Djibouti and Uganda.
The group has also maintained its ability to recruit young women, who have previously played key roles in cross-border attacks. Female couriers, the report says, "routinely travel across East Africa on behalf of Al-Shabab, building and sustaining transnational networks."
Several Tanzanians have been arrested in recent years for alleged links with Al-Shabab terrorists. While others were arrested on the way to Somalia to join the group, others were found in possessing of Al-Shabab training manuals.
In October 2013, 11 people were arrested in Mtwara for allegedly taking part in Al-Shabab sponsored guerilla training. They were nabbed on Mt Makolionga in Nanyumbu District after a public tip-off.
They were found in possession of 25 digital video discs featuring Al-Shabab training manuals. In the same month, three Tanzanians were arrested inside Somali by the Kenya Defense Forces. They were said to be heading towards Al-Shabab camps.
And in March 2015, a 19-year-old Tanzanian girl was arrested in Mombasa, allegedly on her way to joining Al-Shabab terrorists in Somalia. Seven months later, six more Tanzanians were arrested in the Kenyan border town of Garissa.
They were found in possession of weapons and were said to be heading to Somalia to join Al-Shabab. That is not all. Two years before that, in November 2013, about 69 people running an Al-Shabab child indoctrination camp were arrested in Tanga.
Tanzania has also been a preferred route for foreigners coming into the region to join Al-Shabab. But despite being a safe haven for terrorism recruitment, Tanzania has avoided major sporadic terrorist attacks. The country had its fair share of attacks, however, between 2012 and 2015.
A series of bomb attacks in Arusha targeting a Catholic church, an opposition political rally and some tourist facilities. Several people were killed and dozens in suspected terror attacks but no group ever claimed responsibility. Some churches have also been burnt in Dar es Salaam, Tanga and Kagera.
Around the same time, there were several attacks on churches, clerics and tourists in Zanzibar. One priest was murdered while another was left with injuries. There were attacks on tourists also, yet again no terror group claimed responsibility.
A major attack took place on August 7, 1998 when the US embassy was blown up by Al-Qaeda terrorists killing 11 people and injuring scores of others.
The country has also been used as a preferred route for terrorists going into Somalia. In June 2012, Emrah Erdogan, a German national who had joined Al-Shabab was arrested at the Julius Nyerere International airport.
In July 2013, British terrorism suspect Hassan Ali Iqbal was arrested in Kyela, Mbeya Region, as he tried to cross into Malawi. Tanzania was in international headlines once again in March last year after revelations that an notorious executioner of the Islamic State, Mohammed Emwazi, also known as Jihadi John, had attempted to join Al-Shabab militants in Somalia through the country. He was nabbed at the Julius Nyerere International Airport and bundled back onto a plane back to the UK by airport security operatives. The terrorist had come using a tourist visa claiming he was on his way to the Serengeti.
Security authorities in the country say they are keenly following the trend, and are prepared for any possible attacks.
In an interview with Political Platform recently, Police Commissioner of Operations and Training, Mr Nsato Marijani, said Tanzania's defense and security forces were adequately prepared to fight terrorism.
He said: "The country's security organs are strong and well-organised in combating terrorism and all other criminals posing threat to the country's peace and security."
There have been concerns over the absence of a counterterrorism unit within the security forces. The Police Commissioner allayed any fears saying there was a well-established network exchanging intelligence with regional and global partners.
"Our forces are well-connected with regional and global partners to face and arrest all kinds of threat that we may face as a country. Therefore, there isn't any need to form the anti-terrorism unit in the country," said CP Marijani.
A 2014 report by Andre LeSage of the Washington-based National Defense University titled The Rising Terrorist Threat in Tanzania: Domestic Islamist Militancy and Regional Threat, says capacity building for local intelligence-driven law enforcement and support for intelligence and security service and the Tanzanian Police Force should be given a priority to enable them to fight terrorism.
"If the overall police system is incapable of enhancing its performance in the near term, then efforts should focus on building the capacity of a small, highly professional antiterrorism unit that can address imminent threats," the report, which was meant to advise American policy makers on the scale of terrorist threats that Tanzania face, said.
Given the potential for al Shabab or even domestic militants to launch low-tech but extremely deadly attacks similar to the Westgate shopping mall attack in Nairobi, rapid response security capabilities and emergency services need to be developed the report said.
"The Tanzanian justice system and national financial regulatory bodies need to be further strengthened in order to effectively handle counterterrorism-related prosecutions," the report reads in part.