Royal tour documentary's success: Think of urban tourism as well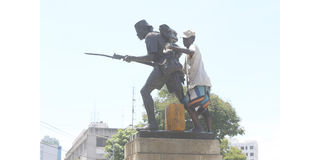 Summary
Urban tourism could be a major source of money for both public authorities, and businessmen, large or small. Nevertheless, it has not gotten the attention it deserves.
It has been reported recently that in the year 2022, the tourism sector in the country received a big boost from the Royal Tour documentary in which President Samia Suluhu Hassan decided to feature.
The documentary has had a ripple effect in the tourism sector with recent statistics by the National Bureau of Statistics (NBS) showing a sharp rise of tourists to 1,175,697 visitors between January and October, last year, compared to 716,741 during the corresponding period 2021.
The growth has mainly been in Tanzania's traditional tourist attractions in the game parks and mountain Kilimanjaro. There is a sector of tourism that needs nurturing and promoting: that is, urban tourism.
The global World Tourism Organisation (UNWTO) defines urban tourism as "a type of tourism activity which takes place in an urban space.
Urban/city destinations offer a broad and heterogeneous range of cultural, architectural, technological, social and natural experiences and products for leisure and business".
In his book, Urban Tourism: The Visitor Economy and the Growth of Large Cities; Christopher Law distinguishes between primary, secondary and additional elements in a city's tourism resource. Primary elements provide the main reasons why tourists visit cities. These include cultural heritage.
According to UNESCO, cultural heritage includes artefacts, monuments, a group of buildings and sites, and museums that have a diversity of values including symbolic, historic, artistic, aesthetic, ethnological or anthropological, scientific and social significance.
Here one could add historical buildings, streets and neighbourhoods, open spaces and gardens and cemeteries.
Cultural heritage has to be preserved, and, unfortunately, urban areas in Tanzania have the sad record of demolishing, converting or neglecting much of such heritage.
In Bagamoyo, for example, much of the old town, constructed during the Arab and German periods, is collapsing every passing day. Even part of the mission buildings that were nationalised, are in a sad state of repair.
Dar es Salaam, the largest urban area in the country, is endowed with traditional, Arabic, Indian, German and British architecture, but many of the German and British residential and office buildings have long ago succumbed to the bulldozer.
The bungalow, which used to dominate senior government officials' residential areas during the British era is slowly but surely disappearing from such neighbourhoods as the Oysterbay, particularly since the government sold these properties to sitting tenants in 2005. Most have now been replaced by high rise apartments, reflecting the high land value of this area.
Dar es Salaam still retains some important monuments, the most renowned of these being the Askari Monument. The current figure on the monument is not the original one, that used to depict the German Governor, and that was replaced after World war 2.
Churches and historical office buildings do still exist along Sokoine Drive, Samora Machel Avenue, but many more buildings have long been demolished and replaced by "modern" glazed walls buildings. These include the iconic Light Corner building along Samora Machel Avenue. Among the culprit demolisher of historical buildings is the National Housing Corporation.
Moreover, it can be noted that some of the older nationalised buildings that were placed under the NHC and are still standing, are in a poor state of maintenance and repair.
Historical open spaces and gardens have either been converted into buildings or are a fraction of their former glory, having been chopped off now and then.
Mnazi Mmoja Grounds, planned during the German period but cleared during the British period, is but a fraction of its former size, and it now includes institutional and private buildings.
It is of interest to note that while some of us think that demolition of old buildings is modernisation, authorities in the developed world have instituted stringent regimes to protect, not just old buildings, but entire neighbourhoods as well.
Some of these neighbourhoods may have been built in yonder years when motor vehicles were unthinkable. They have been conserved with their narrow streets/lanes sometimes complete with the ancient street surfacing. Nobody is dreaming of changing their character materially so as to accommodate modern transport requirements.
Conserving historical buildings is not just about preserving culture and social identity, it also makes economic sense.
Urban tourism for example could be a major source of money for both public authorities, and businessmen, large or small. A good number of tourists that flock to Zanzibar on a daily basis are, to a large measure, attracted by the preserved, and historical, Stone Town.
Urban tourism has not gotten the attention that it deserves. Tourism is hinged on conserving the cultural heritage. While the responsible Ministry and Local Authorities can do something about this, it may be an appropriate moment to think of a Royal Tour, this time focused on urban tourism.