Sauti Sol and their emoji journey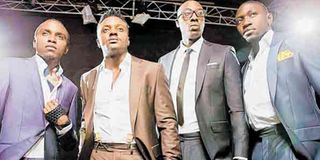 What you need to know:
By all accounts there were others who had come before them and many of their kind were struggling to sustain themselves in the market.
When Sauti Sol first broke through as a boy band almost 10 years ago, they were just that, a boy band that was struggling to make a mark.
By all accounts there were others who had come before them and many of their kind were struggling to sustain themselves in the market.
Young men like them who tried their hands in music were very comfortable with doing playbacks and could hardly dream large.
The names then in the Kenyan industry were Wahu , Nameless, Jua Cali, Prezzo, Amani and several others.
Ten years later, they have become one of the most sought after band in Africa who have toured widely with several compositions to their named in the process winning several awards to match that success.
Their Lipala dance got US President Barrack Obama dancing while on a state visit to Kenya the country of his father's birth
This month they came up something that only Sauti Sol can do an emoji video to one of their songs which took them a record time to produce
Award winning afro-pop group Sauti Sol have disclosed that producing the world's first ever emoji only music video took almost six months to fix the pieces together.
The video of their newly released single, Friendzone, is a WhatsApp themed, emoji-only (lyric) video.
"This is the first EVER emoji only lyric music video in the world. It took us almost 6 months to develop and execute," the group posted on their social media pages.
The emoji lyric video is the first of a three part video release for the song Friendzone. The song has been well received among their fans and even on the airwaves.
Speaking about what influenced them, Bien said; "Right now somewhere in the world, there is always someone in the friend zone and there is someone trying to get out of the friend zone."
"As part of our majority we try to sing songs that make people happy but we also tell people stories. Songs that people can relate to. People use emoji's in our everyday lives, they are slowly replacing them with the actual words," added Savara.
Sauti Sol has had quite a history in their decade of music, in July 2012, Sauti Sol released a self-titled extended play, a collaborative effort with South African rapper and record-producer Spoek Mathambo, who produced the EP in Nairobi and Johannesburg.
The music video for its lead single, 'Range Rover', was shot at the Hembrug in Zaandam, Netherlands, in an old ammunition factory that is now an official cultural heritage site popularly referred to as "the cathedral".
Sauti Sol's recognition continued to rise in 2012, as they were nominated for and won the Most Gifted East African award at the 2012 Channel O Music Video Awards for their song "Shukuru" with Tanzanian rapper AY.
On 29 April 2014, the band released "Nishike". Its music video caused uproar in the media due to its steamy content, and ended up getting banned from most local TV stations.
Baraza later expressed his anger with the ban, stating that he refuses "to be a secular artist boxed by society to restrict my freedom of expression."
They received a nomination for the Best Group award at the 2014 MTV Africa Music Awards, but eventually lost out South African group Mafikizolo. The music video has received a 2014 Nomination as East Africa's Most Gifted Video by Channel O Music Video Awards [28]
After "Nishike", Sauti Sol released their third studio album, Live and Die in Afrika. The album, released online on 21 November 2015, was available to Sauti Sol fans globally for free download (48 hours) as an early Christmas present.
The album was released under their imprint label Sauti Sol Entertainment as a self-produced work by Sauti Sol for Sauti Sol. This was introduced by a spin-off Lipala dance competition run on Instagram that sparked an online dance movement in Africa and across the globe.