A lot more needs to be done to protect mothers' lives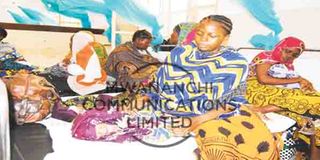 What you need to know:
Tanzania is said to be among the most dangerous places in the world to give birth. About 8,000 women die during childbirth every year.
Imagine this; A nurse using plastic bags instead of gloves to assist a woman in delivery, or a nurse helping a mother deliver, while using a hurricane lamp for lighting. How about four women in labour sharing a hospital bed and many others sleeping on the floor in a maternity ward? This is the reality in our public hospitals.
Tanzania is said to be among the most dangerous places in the world to give birth. About 8,000 women die during childbirth every year.
Although Tanzania is far from achieving Millennium Development Goal (MDG) number five which focuses on reducing maternal mortality by half as we approach the MDGs deadline, the country is classified as making progress towards maternal health. Maternal mortality rate has declined from 578 deaths in 2004/05 to 432 deaths per 100,000 live births in 2012.
The main direct causes for maternal deaths are haemorrhage, infections, unsafe abortions, obstructed labour and hypertensive disorders to mention but a few.
But as the government works to help women and their babies survive, a lot still needs to be done to make Tanzania a better place to give birth.
Government's efforts to have a dispensary in every village and a health centre in every ward in a bid to curb maternal deaths are commendable. However, having health facilities in place is one thing and having them fully equipped is another.
Public health facilities in the country face a lot of challenges, which greatly contribute to maternal and child deaths. These challenges need to be tackled to reverse the trend.
Taking Amana Regional Referral Hospital, in Dar es Salaam and Mtenga Dispensary in Rukwa Region's Nkasi District as examples, this article highlights challenges in both urban and rural health facilities.
Amana Regional Referral Hospital
Overcrowding is one of the major challenges at Amana Hospital. The maternity ward with a capacity of 242 beds handles more than twice the number of women it is supposed to handle. Two mothers share a bed when the flow is normal and when it is high, three mothers share a bed while others sleep on the floor.
Between 100 and 120 women deliver at the hospital daily. Because of this, mothers spend between four and six hours at the hospital after delivery for monitoring instead of the standard 12 to 24 hours, to give room for others.
A nurse who spoke on condition of anonymity since she is not the hospital's spokesperson said the hospital, which used to have a smaller maternity ward had to build a larger one to accommodate the increasing number of expectant mothers. However, this did not solve the problem because the hospital has since been receiving more mothers.
"The situation will remain the same even if we increase the number of floors," she said.
According to her, expansion of dispensaries and health centres in the peripherals has helped a lot in reducing the number of women who would otherwise be seeking service at the hospital. Before expansion, all the women in the district used to deliver there.
Generally, a nurse delivers up to 30 mothers in a shift. "Sometimes it really gets hectic and you would think you are watching a movie. You have mothers giving birth at short intervals with only one nurse to assist them," said a doctor who preferred anonymity.
There are times when one doctor handles 12 operations in a shift.
Amana hospital has two labour wards and each is manned by three nurses per shift instead of six because of manpower shortage. Two nurses manage each ward when there is a crisis.
Shortage of medical supplies is another challenge facing public hospitals. These usually come late and when they do, they normally are not enough. To curb the shortage, mothers are advised to bring their own supplies like surgical gloves, cord clamps, surgical blades, cotton and syringes.
Currently, the maternity department, which used to have its own operating theatre depends on the general theatre, which it shares with three other departments. The maternity theatre's operating lamp needs to be replaced but given government procedures, it might take long to get a new one.
In Nkasi District, a dispensary in Mtenga Village serves people in seven villages. A small brick building with a rusted corrugated iron roofing is the dispensary's ante-natal and post-natal clinic. This used to be the doctor's house before he moved into a better one.
The waiting room can only take in a few people at a time so most people wait outside on the grass to be served. According to Elisia Konyoka, the reproductive and child health care official in charge, the place is normally crowded.
Ten women deliver at the dispensary every week on average. A total of 238 women delivered at the facility between January and July this year. Unfortunately, the dispensary's labour ward is a small room with only three beds. There is neither an ante-natal nor a post-natal ward in place.
The nurse says they would be comfortable with an ante-natal ward, a labour ward and a post-natal ward, all with four beds each.
Through efforts of the local community, construction of a 19-room maternity ward is underway at Mtenga dispensary. Women who deliver at the dispensary contribute Sh 10,000 to the course while locals contribute their labour.
Mtenga dispensary, which does not have a laboratory also lacks most of the necessary equipment needed in a labour room. These include a blood pressure machine, an oxygen cylinder, a drip stand, a sterilizer machine, an examination coach, baby cots and an incubator.
At this dispensary, they use a stove to sterilize equipment. Nails on the wall serve as drip stands and when a baby shows no sign of breathing after birth, the nurses help it breathe by gently pressing on its tiny lungs since the dispensary has no oxygen cylinder.
Like is the norm in public facilities, one of the requirements here is for women to go to deliver with their own gloves. However, there are times when nurses are forced to use plastic bags when a woman comes without gloves and the dispensary has none. At the time of my visit, gloves had been out of stock for two weeks.
"This is very risky, but we have no choice," said a nurse.
Power is another challenge here. The dispensary uses solar energy but at times nurses use hurricane lamps when delivering mothers at night for better lighting.
Thank God the nurses have been trained on the kangaroo mother care method, which helps keep premature babies warm in the absence of an incubator. The kangaroo method is a way of holding a baby that involves skin-to-skin contact.
While the dispensary struggles with its own challenges, the residents too face challenges in accessing healthcare. Transportation is one of them. For example, there is only one bus that serves the people of Matala Village, nearly 11 kilometres from Mtenga dispensary. It is a two-hour walking distance if one misses the bus.
In emergencies, the option is to either hire a motorcycle or borrow a bicycle to get to the dispensary.
Those who have been in Rukwa Region long enough say things have improved as far as infrastructure and transportation are concerned. Allice Tambala, regional reproductive child health coordinator says things used to be worse.
Allice says many areas in Rukwa are hard to reach. In some areas, women travel 170km to the nearest health facility. "It's really a problem. Sometimes women are forced to walk long distances in emergencies," says the nurse.
According to her, it is easier for those living at the border with Zambia to go to deliver in Zambia. In Kilambo cha Mkolechi in Nkasi District for example, the easiest way to get to the nearest health centre in Wampembe is by canoe through Lake Tanganyika.
"Rukwa is in the peripheral," said the nurse. She said in Wampembe, Nkasi, there is poor communication such that when an emergency arises, they use police radio call to reach the regional medical officer in Sumbawanga who in turn calls the district medical officer in Nkasi to inform them of the emergency.
Despite these challenges, more women are delivering in health facilities unlike in the past when they preferred delivering at home, assisted by traditional birth attendants (TBAs).
Thanks to maternal health advocates, today men are highly involved in reproductive health matters such that they accompany their wives to the clinic during pregnancy. They also ensure their wives deliver in a health facility.
TBAs no longer assist women to deliver unless circumstances so dictate. They are instead encouraged to advise women to attend clinic and escort them to a health facility to deliver when they are due. When they do so, they are awarded in return.
Between January and July, only 11 women had been delivered by TBAs. Health facility delivery in Nkasi District is 87 per cent, according to Josepha Josephat, district reproductive and child health coordinator.
Alice said there is a lot of improvement in the region's health sector thanks to efforts by government and other partners. Today there are emergency operating theatres in rural facilities and more are still under construction.
"We thank Benjamin Mkapa Foundation who have built four operating theatres in the region and employed workers for our hospitals. Unfortunately some don't stay long due to the poor work environment," said Allice.
These efforts have seen the reduction of maternal deaths, which used to be very high. In 2008, when Katavi Region was part of Sumbawanga, maternal deaths stood at 177 deaths per 100,000 live births compared to 138 deaths per 100,000 live births in 2013.
Some deaths used to go unreported at community level until Africare trained community health workers in 2012, who now report deaths in their areas.
Last year, Rukwa recorded 51 maternal deaths.
Despite efforts by government and development partners to improve the health sector, a lot still needs to be done to ensure no woman dies giving birth and no child dies within hours of entering the world.
This will only be possible if the challenges above are tackled and if the presidential candidates fulfill their promises to improve the sector when they come to power.