Audrey: French national climbing Mount Kilimanjaro for DRC peace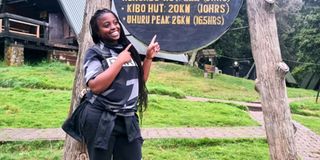 What you need to know:
With so much hate in the world, Audrey's mission was to make it to the top of Kilimanjaro to spread love and peace.
Audrey Mutima is a French national with a Congolese lineage. Born and raised in France, she was always reminded of her African roots.
"My mom always tells me, 'know your roots', she said.
With her job as a digital nomad, currently based in Canada, she could work from anywhere in the world, and that's when she chose to travel across Africa.
She went to Ghana for a wedding and met friends who had travelled to Tanzania and climbed Mt Kilimanjaro.
That's when she decided to make it her mission to fly to Tanzania and climb the highest mountain in Africa.
For Audrey, the motive was more than to conquer the snow-capped mountain; it was to raise awareness about the plight of the people of her ancestral home, the Democratic Republic of the Congo.
With so much hate in the world, Audrey's mission was to make it to the top of Kilimanjaro to spread love and peace.
While in Canada, she reached out to her friend who had been to Tanzania and connected her to the safari guide, and they kept in touch talking about her upcoming trip to Tanzania. The tour guide she chose is a local Tanzanian.
"I strictly wanted to use a locally-owned company and give the business to a local company."
"I feel Africa in my blood," she asserted. After she landed at Kilimanjaro International Airport (KIA) in Moshi Region, she went to her hotel and later met with the guide who was to lead her on an expedition up the mountain.
"The guide explained to me about the mountain sickness and a few rules to abide by during my journey up the mountain," she remembered.
The climb to the peak was largely peaceful and was a solo climb accompanied by just one guide and two porters. "Sometimes I like to take a solo trip and be on my own. It's good to have friends who can push you through, but I wanted to be alone on this trip," she said.
That's why, for the Kilimanjaro climb, she just wanted to do it on her own.
The motivation also came from her little nephews, who had climbed the mountain, and if they could do it, she would definitely do it as well.
She was assured that the experience was amazing, and she was excited to take it upon herself to summit the mountain.
At the heart of her mission to climb the highest peak on the continent was to address the gift and the curse her ancestral country was going through.
"In the DRC, we have so many minerals, gold, and everything else, so other countries are fighting for our resources, and that is why there is so much violence in some parts of our country. I wanted the world to stop being silent about it," she passionately said.
The DRC has been fighting off insurgents, and their government even accused neighbouring Rwanda of being behind the rebels, undermining the country's sovereignty.
For Audrey, climbing Kilimanjaro was to show the world that Congolese people can do anything they set their minds to and awaken everybody to care about what is happening in the DRC.
"Everyone has to be concerned about what is happening in my country. It is not only DRC friction with Rwanda; there are other countries across the world that are invested in the unrest for their benefit," she said.
Climbing more than 5,000 metres above sea level in different types of terrain is no easy feat, even for the most physically fit athlete.
So, Audrey prepared herself with a big nap before starting her assertion and took medicine just in case she fell sick.
She initially wanted to take the Machame route, which would take eight days to climb and is preferred by people who would like to take their time and patiently climb to the top.
But Audrey decided to take the five-day route, which meant she would have to climb much faster.
"I wanted to climb for five days so I could then go to Zanzibar, and I think that was the wrong choice," she said.
At first, all seemed well, as she documented her climb on social media, thanks to the recently installed wifi connection on the mountain.
She would share the videos with her mother every step of the way. But later, as she was close to the summit, she would experience mountain sickness, and the headache was unbearable.
"I felt I should just take paracetamol or something, and I will feel better," she said.
Her skin became pale, and she started to vomit. As she got sicker, her guide got concerned and told her to abandon her journey and turn back. Audrey vehemently refused the idea.
She felt she would let her country down; she shared her video as she was getting sicker, and her mother in France was alarmed and asked her to turn back.
"My mom asked me, 'do you want to die my daughter', she said with laughter.
"But I was determined to get to the summit no matter what," she added. She would later hallucinate, and as it got worse, the guide had no choice but to turn her back. "I felt very disappointed," she said.
But Audrey is not discouraged. She went to Zanzibar and later to Dar es Salaam.
She plans to visit Mikumi National Park in the coming days before going back to Canada, as she vows to come back to climb Mt Kilimanjaro again.
"I would like to go back to climb Mt Kilimanjaro again in February next year. I want to work a lot, save money, climb again, and put my DRC flag at the summit to show the world what we Congolese are capable of, while also advocating for peace in my mother's country," she said.