PROFILE : Computer wizard who is dreaming big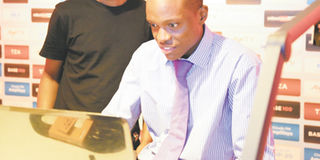 Summary
The Information and Communication Technology (ICT) guru in the making is already the proud owner of an ICT solutions company known as idodo Enterprises Ltd (idodoe).
Basil Lyayuka just turned 24 on 19th December and there are all signs that the future is bright for him.
The Information and Communication Technology (ICT) guru in the making is already the proud owner of an ICT solutions company known as idodo Enterprises Ltd (idodoe).
The young entrepreneur is a web and mobile applications developer whose name, unfortunately remains hidden behind the beautiful designs he creates for both small and big companies.
idodoe Ltd deals with software designs and development and it is Basil's dream to see the company grow into a big enterprise one day. He eyes the global market, when idodoe becomes as popular as the likes of Google Inc.
Just like the American multinational technology company, Apple Inc. Basil's company, idodoe is named after a mango specie, Dodo. The I is the digital prefix while the e stands for enterprise.
Despite having never been to university, the form six leaver has been doing impressive work in the ICT sphere and has therefore gained popularity in web design and mobile apps development.
In May 2013, Basil's work received regional recognition when his company was selected among the best top 40 promising ventures in East Africa.
The recognition followed an entrepreneurs' boot camp which was organised by an international institution, Global Innovation through Science and Technology (Gist) and a local incubator for the ICT start-ups, DTBI.
Basil's creative works include the famous Millard Ayo multimedia website that has in recent years gained a lot of popularity among social media fans, especially the youth. He is also the brain behind Isaac Maro.Com, a health-content website which is also popular in the city.
Unlike most tech savvy youth, Basil never trained in ICT. His success is a result of what began as a passion to 'play' with computers, as he puts it.
When he was in form one in 2006, he had almost all the materials for computers including books and accessories at his disposal, thanks to his brother who was then studying Computer Science at the University of Dar es Salaam.
"Initially, I wanted to become a pilot and therefore I used to like science subjects. I would all the time be busy looking for a broken radio or telephone to repair," he says.
It is the availability of computers at his home that made Basil change his mind. His ambition shifted to computers. That time, his father owned a laptop and his computer science student brother had a desktop computer.
His love for computers grew even more when he joined St Anthony Secondary School. The school had a computer subject and a computer lab.
"I used to lead in the computer subject exams. I used to beat students from other schools too, like whenever we did joint exams with Loyola and Shaban Robert students," says a proud Basil.
When Basil joined Mbezi High School for his A-level studies, he started using his computer knowledge to make money.
For one to make money in the industry, one needs to possess either software or hardware skills or both. Basil has both. With the skills he acquired informally, the shy young man had to come up with an idea on how to earn money to enable him complete his high school studies.
He was facing alot of family challenges that time, which he says contributed to his poor performance in the final exams.
To make money while he studied, Basil established an online shopping website idodoeShop to enable people to buy products and services through the internet.
However, this did not work out as he had assumed given that online shopping was perceived as a western thing at the time (in 2013).
"The online shopping website didn't work as I had envisaged. The idea wasn't received well due to the purchasing culture, low capital and the fact that at that time, not everybody understood my idea," he says.
At the end of his Form Six studies in 2013, Basil had bought equipment worth about Sh3 million, mainly a computer and a few accessories.
Apart from performing poorly in his final exams, Basil had no interest to pursue higher education. He rather concentrated on managing his business through his company that he established in 2012. Then he was operating his online shop, idodoeShop, whose performance was not good.
The business struggled for two years until early this year when he decided to close the online shopping business as he generates more capital to operate it efficiently.
"The business was meant for easy searching of products and services in the country as it would help many Tanzanians use minimum time for shopping. They would also have their goods delivered rather than having to go to the shops physically," he says adding; "But, it did not flourish as I had imagined. The business was instead cash draining as it required a moderate team for data entry across the country and transport for products delivery."
Basil had to concentrate on provision of IT solutions specifically on web development, a business that has recently gained popularity due to the high demand of blogging and digital content marketing.
He says in his online shopping initiative, investment stood at 90 per cent but the revenue was just 10 per cent. In the web development business things are vice versa. The energy and cash involved stand at 10 per cent while the gains stand at 90 per cent.
The average income he earns from the business ranges between Sh3 million and Sh6 million per month. This is twice the average income a graduate earns per month.
"My dream is for my company to go global and be as famous as the likes of Google or Facebook," Basil says revealing that his capital currently stands at Sh12 million.
Does he plan to further his knowledge through a university degree or diploma? Basil's answer is no. Not in the near future.
For him, every day he learns new things in the industry. He always reads books, online content, attends mentorship programmes and seeks advice from successful business people.
"The knowledge I have gained in the field of computer science so far is enough. If I were to compare it with the university degree you are talking about, I would say it is equivalent to a Master's degree. I don't think I can go back to school to waste three years studying while I can use the same time to develop my business further," he argues.
Commenting on the business environment in the country, Basil has a bone to pick with government. He blames bureaucracy when it comes to business development. He says delays in registering companies and taxes are a stumbling block to the development of new businesses.
His advise to those entering the business is to read widely on market trends so that they can come up with the best products, which will help them boost sales and develop their companies.