Prime
Story of a serial investor and avid traveller Tim Staermose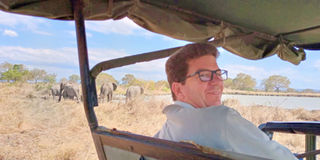 What you need to know:
The  Tanzanian-born Danish investor and tourist says the tourism market in Tanzania is boundless, and there is still much room to grow.
Dar es Salaam. There is a big difference between investing and trading in stocks. If you are in to make a quick buck trading, don't call yourself an investor. That was one of the memorable statements during our 25-minute sit-down with Tanzanian-born Danish investor, Tim Staermose.
I knew of Tim when I stumbled upon one of his informative tweets on the widely contested acquisition of Tanga Cement Company. He would tweet his views and follow through with stories that we ran in The Citizen.
But besides tweeting about investment in Tanzania, Tim, whose Twitter handle is @Globalvaluehunter, has stayed true to his name by traveling across Africa and the world looking for investment opportunities.
"I like to invest in stocks that are easy to understand, such as banking and beer," he said.
What caught my eye the most is his extensive travel across Tanzania. On his profile, there is a picture of tents set up overlooking the magnificent Mt Kilimanjaro. Investment is about timing, and so is safari.
A minute late during a safari drive, and that cheetah you flew all the way to see will have vanished. Just at 3:00 pm on the dot, Tim walked into our interview on time as agreed and sat down to a cup of coffee. "I was born in Tanzania in 1973. My father was from Denmark; he came to Tanzania as a volunteer," Tim said. But tourism brought him back in 1982 when he came on holiday, a little too young to remember the whole experience.
However, he remembers coming back to Dar es Salaam where he was born, and going to Ngorongoro Crater. As an adult, he came back in 2018 to climb Mt Kilimanjaro. It was during this trip that he sought to have his birth certificate legalised.
He came with his old birth certificate from Muhimbili National Hospital (MNH), and the Danish embassy helped him secure a new one. At the time, Tim had been living in Hong Kong for 25 years, investing in the stock market across the Asian market and writing about it.
While in Dar es Salaam, he came to know about the Dar es Salaam Stock Market (DSE), and at the time, stocks were selling cheaply. Tim knew this would be a great opportunity to come in and invest.
He came back with his family and met with companies he was interested investing in, such as Twiga Cement and NMB Bank. But he also wanted to show his family Tanzania's natural beauty and took them to Serengeti and Ngorongoro for a splendid family safari.
His friends in America implored him to ascend Mt Kilimanjaro, and he joined them. This was the first time his wife visited Africa, and she fell in love with the place. "A lot of the news you read about Africa in the Western press is nonsense," Tim stated.
He came back in 2019. This time with his friend from Singapore for business, and again he couldn't resist going on safari, but this time in the more remote southern circuit in Selous and Nyerere National Park.
"There are not many people there, and it is a little more wild," Tim chimed in. Tim, who recently went to Ruaha National Park, loves visiting the southern region for it has the aura of the "hidden" Tanzania, less visited, so less congestion and more in touch with nature. "I guess if it's your bucket list trip and you have a short amount of time, it makes sense to go to Serengeti," he expressed.
The northern circuit parks are closely located together, and their proximity to the highest mountain in Africa is an obvious advantage. However, for Tim, his safari choices are more like investments. He likes to go where no one is looking and where it's out of the ordinary. The southern circuit national parks and tourist attractions provide just that.
In October 2020, Tim and his family went on safari in the southern parks, and since then, that has been his number one choice when deciding where to spend his time close to nature. "You can see the animals more easily there," he reasoned. Tanzania is blessed with more tourist attraction sites than the commonly known ones, and now there is a deliberate action to persuade tourists to venture further down to the Iringa and Mbeya regions, as well as to Kigoma for the chimpanzee sanctuary visits.
The African wild dog population in Ruaha National Park, just like the rest of their population across the country, is dwindling. They have been listed as an endangered species. "Normally, wild dogs are very good hunters, and their hunting success rate is more than 90 percent," Tiim stated. But according to a park ranger Tim met while in the wilderness, he says wild dogs need a much bigger environment to hunt because they like to keep to themselves. However, the deadliest threat to their existence is human land encroachment.
Tim, a global value hunter, doesn't hunt animals aside from shooting a video of them or taking a picture or two. But he is a hunter of opportunity in the vast, complex investment world. "I look for value investments where I can deploy my capital and get a good return," he mentions. Tim is the one to bargain for every deal, even his flight ticket.
He waits until there is a good deal in place to purchase one. In his words, "I am known to like the finer things in life, but I never pay full price." Tourists coming to Tanzania often pay a hefty amount of money to visit our parks, and the price usually hikes due to a lot of middlemen who get commissions along the way. Tim says the best way for a tourist to spend the least on safari is by booking months in advance, as it can help with planning. But what he does for his friends is getting last-minute tickets and discounted hotel rooms that have not been booked. His friends who visited Tanzania benefited from this method and were able to stay two nights in Serengeti at a discounted price on a last-minute deal.
Other ways include going directly to the safari operator and cutting away the middlemen who would have priced it up. More efficiency in our tourism that will root out unnecessary middlemen will ensure more money stays in the country and help the local tour operators and the economy. With the help of the internet, this is very achievable.
Tim started investing in Tanzania, and now he has moved to more countries across the continent with his ears alert to any potential opportunity. "My principle is always the same. I am looking for a company that has honest management in an industry that is easy to understand, such as banking, cement, or beer, with good returns," he says. And that has paid off well for him, as in the case of Twiga Cement, where he has seen exponential gains. The serene peace Tim feels when he is in the back of the safari car in the middle of the wild helps calm his mind and subconsciously plan his business ventures or what to write in his next article. Getting out to nature also helps with the mental side.
Tim's most memorable time on safari was during the new year of 2022. His wife wanted to see the elusive cheetahs in Serengeti, and on the second day of the safari, their guide found three cheetahs on the hunt. "We found three cheetahs who were also brothers, and we followed them for three hours as they were hunting," he remembers.
The cheetahs kept jumping on the trees near their car and even going under the car. That was the most exciting time they had. Tim still wishes to visit Mahale Mountains National Park to see the chimpanzees, but he is waiting for his kids to grow older to make that journey. For a Tanzanian-born individual, his Kiswahili still needs a lot of work, and hopefully, between his travels and work, he will be able to add a few Kiswahili words to his vocabulary.
As a worldwide investor, Tim advises young Tanzanians looking to get into the investment field to practice patience. "Most people want to make money in a hurry, not only here but everywhere in the world. One needs to learn to be patient," he insists. Investing is a long-term game. Find a good company, invest in it, and in the next five to ten years, your money will have grown significantly if you made the right choice, he said.
Tim is an avid wine collector. He has tasted a few wines and he likes the taste. He gifted a bottle of Tanzanian wine to his stepfather who came for a safari in Tanzania from Australia, and when he asked his friends back home to guess where the wine came from, most guessed it came from Northern Italy. "Tanzania has the same soil conditions as Veneto, Italy, and some of the people, especially the nuns who started making wines in Tanzania came from Italy, so their technique could be similar," he reminded me. It is fascinating what one can find out from just a sip of wine. None in that wine tasting group could have guessed that the wine came from Tanzania, and our country is not known for its wine. Maybe that is one area that we can truly embrace and improve as a wine-tasting destination, like the reputation South Africa has acquired.
The tourism market in Tanzania is boundless. There is still too much room to grow. Tanzania is uniquely positioned to have an edge over the rest of the countries on the continent that offer similar services. Direct Air Tanzania flights from the United States, Europe, or Australia can greatly improve the number of visitors we receive through tourism and even attract more investors.