This is how Tanzanians celebrate Eid ul-fitr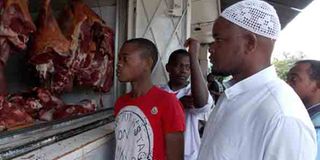 What you need to know:
Eid al-Fitr translates from Arabic as the "festival of breaking the fast" and involves a range of celebrations as friends, family and the entire Muslim community come together.

The exact date of Eid is yet to be determined as it depends on the lunar cycle but we know it is likely to be on one of two days at the end of June.

Every year across the globe Muslims gather together to celebrate Eid as the month-long fasting of Ramadan comes to an end.
Eid al-Fitr translates from Arabic as the "festival of breaking the fast" and involves a range of celebrations as friends, family and the entire Muslim community come together.
The exact date of Eid is yet to be determined as it depends on the lunar cycle but we know it is likely to be on one of two days at the end of June.
May be by the time you are reading this you are celebrating Eid at the same time.
So what are your plans for this Eid? If you haven't decided anything yet, how about seeking forgiveness from people you have hurt in the past?
Don't you find it worthwhile to step out of your comfort zone, and say 'sorry' so that you can celebrate the festival with love and joy?
Perhaps you are wondering why forgiveness is important. The answer is simple.
"After Ramadan, your sins towards Allah are forgiven, assuming your Ramadan is successful, but your sins towards human beings aren't," says Imam Yahya bin Salem of Masjid Idriss in Dar es Salaam city centre.
"You see, the concept of repentance teaches us that there are two kinds of wrongdoings."
He mentions them as those towards God and those towards the creations.
While to the former, you simply ask forgiveness to God, the latter, Imam Salem says, "You also have to ask forgiveness to the ones that you have wronged."
So asking forgiveness from each other during Eid is, according to him, to "complete your Ramadan, in a sense."
Asking forgiveness from each other, is one among the things that are in the to-do list of many Muslims who prepare to celebrate Eid ul Fitr.
Others in the list include waking up early and praying either at an outdoor prayer ground or a mosque.
Many Muslims dress in their finest clothes and adorn their homes with lights and other decorations.
Special foods are prepared and friends or relatives are invited to share the feast.
Gifts and greeting cards are exchanged and children receive presents.
Eid ul-Fitr is a joyous occasion but its underlying purpose is to praise God and give thanks to him, according to Islamic belief.
"Asking for forgiveness is my unavoidable obligation particularly on Eid," says Ally Harith of Bagamoyo, Coastal Region.
Speaking on how he has prepared to celebrate the annual celebration, Harith says he will travel home to meet friends and relatives since it has been long since he met them.
"Celebrating Eid without the presence of my parents is like not to celebrate it at all," says Harith.
This year's Eid will be a little bit different to Harith saying that it comes at a time where he was able to survive a life of turbulence being a jobless after quitting his former job.
"So it comes while I have secured a new job which is more paying than the previous one," he says adding,
"And that being the case I have a million reasons of thanking God for this Eid," says Harith who is a Language teacher at Baobab Secondary School.
Jamila Jayesh, 40, also thinks that forgiveness is very important during Eid.
"Eid is happiness for all believers, and being happy means forgiving," says the mother of three.
Aisha Khelef, 35, says, "Anyone who wronged me I have forgiven as I prepare for the Eid."
This to Ms Khelef is even before being asked by a person who wronged her.
She says she also beg for forgiveness to anyone whom she thinks, "I have consciously or unconsciously wronged."
According to The Independent, Eid will take place on either 25 or 26 June.
As the Islamic calendar is based on the lunar cycle, the day is set when a new moon is sighted – but there is no exact definition of what this means.
There is little agreement within the faith about whether the moon must be spotted with the naked eye or not and whether it should be seen in the country where the celebrations are happening.
As there are either 354 or 355 days in the Islamic year, the day that Eid falls on in the Georgian calendar changes annually.
Ms Fatmah Kureish, 35, says she has already arranged her plan for visiting her relatives and neighbours to bring them closer and help them start a new chapter of life.
"Just shaking hands during Eid is something that can sweep away a long time enmity or grudges," she says adding,
"When a person is happy, it becomes very simple to forgive."
M'barouk Mohammed, 26, will spend very little time for visits on the coming Eid as this year's came at a time his newly married wife gave birth to a baby girl.
"This Eid will be a bit different from the past where I had a tendency of spending a lot of time paying visits to my relatives, neighbours and friends," says the Fuoni resident in Zanzibar.
"Although the economic situation is unfriendly, with some of the products' prices shooting, I will try as much as possible to be with my family," says the new father.
He says he will spend a great deal of his time with his family though he will spare some time to go around and greet his relatives and neighbours.
One among the common tradition during Eid is the giving of Zakat al-Fitr, charity given to the poor at the end of Ramadan.
"The Arabic word Fitr means the same as iftar, breaking a fast, and it comes from the same root word as Futoor which means breakfast," says Imam Salem.
Speaking on the significance of the charity, Imam Salem says, "The significant role played by Zakat in the circulation of wealth within the Islamic society is also played by the Sadaqat al-Fitr."
However, Imam Salem says, in the case of Sadaqat al-Fitr, each individual is required to calculate how much charity he and his dependents should give. They then go into the community to find those who deserve such charities.
"Thus, Sadaqat al-Fitr plays a very important role in the development of the bonds of community."
Ms Luluwa Salum, 30, a resident of Pasiyansi, Mwanza is well prepared for giving her Sadaqat al-Fitr.
"It is the only way of getting the rich to come in direct contact with the poor," says 30-year-old Salum adding, "and the poor are put in contact with the extremely poor."
She says she is not from the rich community and that is not an excuse for her for not to give Sadaqat al-Fitr.
"It doesn't matter how poor I am, there are still needy people who could benefit from my giving."
She says she will invite friends, neighbours and relatives to her home so that they can come to join them in the celebration of the Eid.
"That act of sitting together as relatives and friends really makes me happy and I enjoy a lot during Eid," says Ms Luluwa.
"I'll buy gifts for my family and neighbours so that they can mark their Eid well," says 23-year-old Zumaya Said of Sinza, Dar es Salaam.
"To me, gift is a good thing, not only for children but also adults and I have been doing it repeatedly on every Eid," she adds.
When asked which kind of gift she has prepared, Zumaya said a lot, "from sweets, clothes, gadgets and toys for children."
According to Imam Salem, the phrase commonly used by Muslims to wish someone a nice Eid is "Eid Mubarak", which is Arabic for blessed Eid.
"Those who are celebrating will greet each other with this phrase throughout the day."