Happy and sad boxes initiative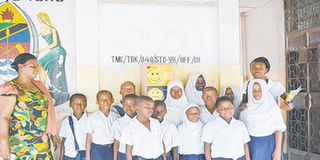 Summary
But this is not always the case. In most cases, children are not given the right to express themselves but are instead ordered around.
Raising a confident child with a bright future ahead of him doesn't just end by giving them essential needs. It also means giving them the right to speak and to be heard just like every other person.
But this is not always the case. In most cases, children are not given the right to express themselves but are instead ordered around.
It is for this matter that Michael Kehongah, the director of C-Sema,a registered firm operating various life changing projects in Tanzania providing avenues for children to speak, came up with an initiative dubbed Happy and Sad Opinion Boxes that invites children to write their concerns. 
What they are required to do here is simply answer this question; "Tell us why you are happy or sad."
The initiative aims at promoting child participation, besides providing an avenue for abuse reporting and also linking children and caregivers with frontline child protection services.
Mr Kehongah says the initiative was an outcome of the findings in a 2009 survey on Violence Against Children (VAC) that revealed a magnitude of sexual violence experienced in childhood.
The study was guided by a Multi-Sectoral Task Force (MSTF) consisting of government ministries and partners from social welfare, the police and legal system, education and healthcare sectors, the United Nations and civil society.  
The study was coordinated by UNICEF Tanzania with technical guidance and assistance provided by the Centers for Disease Control and Prevention's (CDC) Division of Violence Prevention, and Muhimbili University of Health and Allied Sciences (MUHAS). 
Funding for the implementation and coordination of the survey was provided by the United Nations Children's Fund.
The findings revealed that nearly three out of every 10 females aged between 13 and 24 reported experiencing at least one incident of sexual violence before turning 18. 
Matters were not different for boys as one to seven boys reported experiencing the same before turning 18.
Kehongah said the situation was even worse when almost three-quarters of both females and males reported experiencing physical violence by a relative, authority figures such as teachers, or an intimate partner prior to the age of 18. 
"The vast majority of this abuse was in the form of being punched, whipped, or kicked," he says.
In view of this, Kehongah thought it would be a good idea to introduce a programme that would give children a platform to either report or share their happy or sad moments without fear of being reprimanded by the people who can trust them.
Kehogah says they did a pilot project in Temeke Municipality which in the first year of 2012 received a total of 582 happy opinions and 441 sad ones.
According to him, 21 of the opinions were mental violence cases, which were referred to the district social welfare office at the Temeke Municipality for further action. 
The initiative has been a success with almost 30 schools in Temeke District having adopted it. And according to Kehonga, plans are currently underway to scale up the initiative countrywide. 
He said the initiative is currently implemented by Temeke Municipal Child Protection Team in collaboration with C-Sema. 
In another development, Tandika Ward Education Officer Beatrice Nyange, said that the initiative has been well received by the government after it was able to unearth major challenges faced by children in schools as well as at home. She said that the initiative has helped children to feel more comfortable at school thereby reducing the number of children who were absconding to avoid having to face challenges that were disturbing them. 
Explaining about the challenges, she said that the worst scenarios that came to their attention via the boxes, included sexual molestation as well as coming to light that some schools lacked adequate sanitation facilities that were a huge challenge for the schools and the children in particular.
"The opinion boxes have brought to our attention major challenges facing our children in schools," she said.
She explained that through the boxes the government received the messages and is working on them.