How English clubs prepare pupils for higher education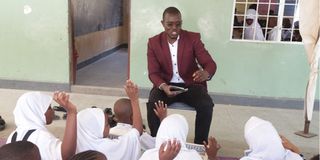 Summary
For Tusiime Primary School, an English language club was established in 2021 as a strategy to help pupils master the language
Most schools in Tanzania create ways and programmes to enable their pupils to speak English fluently, with the intent of giving them an overall understanding of other areas of life that are better explained and taught in this particular language.
For Tusiime Primary School, an English language club was established in 2021 as a strategy to help pupils master the language.
An English teacher at the school, Mr Padere Tadeo, created the club as a way of promoting English as well as preparing pupils for higher learning.
"As a department of English, we thought of the best way we could prepare pupils for higher learning, and that was when the idea of having an English Club came up. In reality, most pupils find joy in speaking Swahili because it is familiar to them. This is the language they grew up speaking."
However, being an English primary school, even parents and guardians want their children to speak English. Mr Tadeo says it takes a lot of creativity and consistency to make pupils perceive English as an important language to learn, as it truly is.
The English department began seeking different ways that would indirectly raise interest in students to not only join the club but also to learn and speak English.
"We understood that it takes more than 'speak English' signs across the school as well as verbal reminders to make the students speak the language. We had to come up with several strategies that incorporate English in a manner that would enhance self-expression and confidence in pupils when they speak the language," Mr Tadeo explains.
The English teacher also developed several other strategies, including debate sessions, poem recitations, and public speaking.
"We usually come up with great topics that gather different views; through these topics, we get a topic that the pupils can argue about in English. In such moments, it is always great to see when they have different perspectives on the topic and each side wants to be right."
As for poems, the teacher adds; "We get them from the internet or from other schools. We read the poems to the pupils and make them understand what they are about before reciting them at the assembly."
In public speaking, some of the club members are usually chosen to talk about a certain topic at events that are usually coordinated by different corporate organisations.
The most recent one was Mwananchi Communications Limited's Rising Woman event that took place on March 8 this year at the Super Dome in the city. The pupils from Tusiime wowed attendees with their confidence and command of the English language.
"We also make them dramatise in English to help them get fluent in the language," adds Mr Tadeo.
According to him, the progress made by the pupils is evident in the way they carry themselves at school and in their parents' feedback.
He says the impressive progress is a result of the club's strategies. Through the club's activities, the pupils get lost in the activity at hand without knowing that such activities play a role in making them more fluent in speaking the language as it is intended," Mr Tadeo says.
Mr Tadeo further explains that he has noticed great changes in the pupils' English language mastery, thanks to the club.
"They have gained the confidence to speak to anyone. While they have not reached the level that we want them to, they are making strides in mastering English. This also reflects in their performance in other subjects that they learn in the language because they are now able to understand the subjects easily."
Mr Tadeo advises other schools that do not have English clubs to creatively develop them because they have a direct impact on pupils' performance in English-taught subjects.
He says that schools should give pupils a reason to learn the language, which can be done by creating English clubs. Such clubs, he says, get pupils occupied in a manner that raises their curiosity and knowledge around different important things," he details.
Petra Paul, a 12-year-old pupil at Tusiime Primary School who is in Standard Six, says the club has helped her gain confidence and that she is now more expressive to fellow pupils, teachers, and her parents.
"I joined the club early this year." It feels good and exciting not only when I speak English but also when I engage in activities that involve speaking English," she says.
Fatuma Mbula, also a 12-year-old pupil at Tusiime Primary School, joined the club around March this year because she was eager to learn how to speak English.
"I could not communicate in the language. I used to admire how the club members would confidently present at the assembly in front of the entire school. I wanted to be like them, and here I am," she proudly shares.
Brayden Mollel, a sixth-grade pupil aged 12, joined the club to gain confidence and elevate his class performance.
"While I ended up achieving both, I also developed an interest in poem recitation. I find poems to be very intriguing, from the way they are created to the way they are recited. It feels great being part of the team that recites poems in front of the school," he details.