It's never too late to make new year's resolutions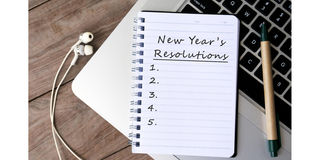 Summary
Although many fail to achieve them, experts say making resolutions is a good idea even if you don't keep them, for it comes with plenty of positive effects.
Making New Year's resolutions is like making a pact with oneself. It's akin to saying, "Here we go again," which is embraced by an ambitious mindset in the hope that the new year will be smoother than the previous one.
Four women have unveiled their 2023 resolutions and their plans for achieving them.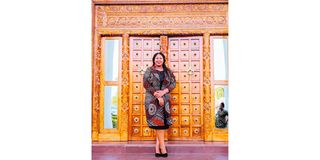 Anabahati, the Female Future Programme Coordinator at the Association of Tanzania Employers, plans to make healthier decisions in 2023 that will enable her to closely navigate her goals. Her focus is on improving her finances and relationships with her family and friends.
"I aim to live in the moment and not rush through life. If anything, the past years have taught me that life becomes more meaningful when you are present than when you are caught in the loop of rushing for the future," she unfolds.
Anabahati explains that planning for the future comes with enlisting goals that one wants to achieve. She emphasizes that it is important to enjoy the process of working through them while enjoying the little steps one makes. "When you are working towards your goals back to back, you have to learn to slow down and take a look around once in a while," she says.
Anabahati's intends to become more economical in the sense that that will help her save money. She says a woman's protection is a little money of her own, and so she plans to make sound and informed financial decisions that will push for her financial improvement.
"For a very long time, I have been aiming to achieve financial freedom, and I am not there yet, but I know that with improved and well-informed decisions, this is achievable." She has involved friends who will help her keep her commitment to her goals.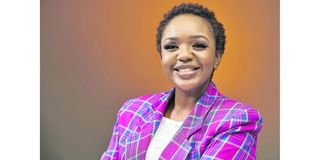 For Doreen, making New Year's resolutions feels like opening a new chapter. She perceives it as another chance to live life in an improved way. Before she welcomed the New Year, Doreen, who is a product manager at a bank and a content creator, had already made a vision board highlighting her goals for this year. This was influenced by a book she read titled; 'The Millionaire Next Door: The Surprising Secrets of America's Wealthy," written by Thomas J. Stanley and William D. Danko.
The book taught her that most successful people make plans that guide them to success. "Through that book, I learned that no one becomes successful without having a plan to see them through their achievements. A plan in particular states the things they have to do to get where they want to get in life."
The vision board helps her see and remember the things to focus on every day because it is hung in a visible place that she glances at every day. "I have been a content creator since 2020; it started as a hobby and, with time, developed into a side gig. Through this, I get to share my life in the hopes that someone in the world will learn a lesson from the contents I share," she explains. She set a goal of 10,000 Instagram followers last year and exceeded it by 5,000. This year, Doreen wants to reach 50,000 followers by the end of 2023, and she is planning to get there by practicing consistency in content creation as well as sharing content that is transformational and impactful.
"The point is to create an environment where social media increases my income, and with more followers, that is very possible," she explains. She is already making money through her side gig, as she is currently working with about three brands to create content for them.
Doreen has been setting yearly resolutions for the past three years. In the past years, Doreen used to make a lot of resolutions, however, she had not built a friendly environment that aligned with her goals to make them achievable.
"I have failed to achieve my resolutions in the past years, and this has taught me that instead of making goals, one should set resolutions that align with their system in a manner that is doable," she explains. Her other resolution is to get in shape, and she plans to lose five kilos. Doreen has already started working out and has also enrolled in swimming lessons. "I am keen on how my body makes me feel, and with my current BMI, I have to at least shed five kilogrammes." I have started maintaining a fit schedule to make sure I achieve that this year," she says.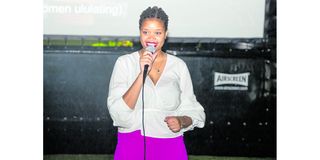 2022 was a learning curve that defined Mariam's life, especially her career. Through her role as a communications manager at Tai Tanzania, she has learnt that life is about learning and unlearning things. She envisions 2023 as yet another awesome year, and she has categorised her resolutions into three parts; faith, finances, and career growth.
"I want to work on my relationship with God and become an ambassador through his words. I have released a children's ebook titled 'I know who I am' that guides children to their relationship with God."
She also plans to resume her content creation journey about her faith and day-to-day life, which she stopped doing in January 2022. "I was studying and working full time at Tai, and with time, I turned a blind eye to content creation," she explains.
Mariam also plans to expand her financial knowledge through reading books and budgeting her income while saving at the same time. A former sports person, Mariam plans to start working out in order to be physically and mentally fit.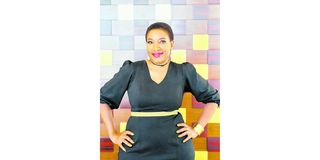 Hilda, director of the Lukiza Autism Foundation, recounts last year's experience as a huge milestone that was embraced through life's highs and lows.
"One of my biggest milestones was turning 50, and just like the icing on the cake, my sons turned 18 and 16. I truly felt blessed. However, work kept me so busy that I did not appreciate life aside from my career. The first goal of 2023 is to create a work-life balance that will enable me to explore both parts," she says.
She plans to also set aside time for herself, as this will enable her to practice self-care while connecting with other people.Her second goal is to lose at least eight kilogrammes before the end of this year, so she has joined a running team to keep on track.
She currently weighs 88 kilograms and wants to cut it down to 80 kilograms. "Amongst the reasons I want to shed some weight is because in my family, we have a history of heart conditions that are often associated with weight gain. Also, I am getting old and I want to keep a healthy weight as I keep ageing."
Her third goal is to take a course on directorship that will elevate her career-wise. "I want to expound every corner of this role, and this will help me to grow this foundation." She founded the Lukiza Autism Foundation after giving birth to an autistic son. For a long time, she pushed self-care out the door and; "Now that things are falling into place, I feel like I owe it to myself to take better care of myself," she says.