Betty: With hard work, no role is too big to be attained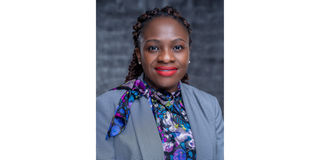 Summary
For women to achieve the unachievable in the field of banking, they should not be afraid to put themselves out there
Dar es Salaam. Betty Rupia is the Head of Corporate Banking at Diamond Trust Bank Tanzania PLC. She started her career as a credit analyst and now has over 10 years of experience in corporate banking.
Through hard work and determination, she progressively moved up to relationship management and account acquisition, where she is still happily involved.
Growing up, she always wanted to own and run an office and be the ultimate call maker. Her parents viewed banking as a safe and respectable career for a woman.
"I am glad I listened because this has been a truly blessed journey filled with more successes than failures," says Betty.
She says that for women to achieve the unachievable in the field of banking, they should not be afraid to put themselves out there, even for roles that might seem unattainable.
"We tend to limit ourselves for various reasons, but ultimately it is the fear of rejection. Many companies are constantly looking for women, but the application pool remains small when the market is filled with qualified individuals.
"These include management, executive, and directorship roles," says Betty.
She adds that young female leaders need to reach out to other women in higher roles for end-to-end mentorship and networking.
For women to become better leaders in the corporate world, she says the saying "If you educate a girl, you educate a community," and "If you educate a man, you educate a family," should be embraced.
She says women take their time to calculate and assess situations before making decisions.
She notes that since the majority of women are family-oriented, this makes it very easy for women to become better leaders.
"We are inherently family-oriented, and mentorship comes more naturally to us than it does to men.
"Therefore, we are hard wired to produce more leaders, whereas men are hard wired to produce doers," says Betty.
Commenting on the challenges she faces in her career journey, especially when she starts scaling up the leadership ladder, she says she wants to prove her worth in a role that is predominantly male-dominated.
She says that she is playing her part because of the role that she has in the industry and that she has done this for over a decade, and she thinks she rightfully deserves her flowers.
She says culturally, women are expected to be quiet, soft-spoken, and not aggressive. When you are not, it is perceived negatively and taints your image, which is contrary to how men are perceived on the same basis of comparison.
"I strongly believe that a lot of senior female workers in the industry are compensated significantly lower when compared to male workers. Gender income disparity is something women have to endure," adds Betty.
However, she says for all those tough days, she picks herself up, knowing the fresh new sunrise comes with forgiveness for yesterday's mistakes and the brightness of today's new chances.
Describing her leadership style, she says it is a mix of transformation and firmness.
Being in credit, she says she is constantly faced with decisions to make pertaining to client credit requests, which if delayed, carry a negative impact on both the bank and the client's business.
"It's imperative for leaders to know when to stand up and take the lead for final decisions. Leaders should also be transformative to be able to motivate people to do their best and be the best.
"I also allow room for diplomatic decision-making so as to give each individual permission to stand behind their decisions, which allows them to take full responsibility," she says.
She advises women leaders to set standards to bring about changes in their leadership positions. She says there are various standards that are integral for a woman to have as a leader who stands out.
For her integrity, humility, and fluidity in learning new traits and experiences that could propel their careers to greater heights.
Betty joined DTB Tanzania in 2011 in the corporate banking department. She was appointed to the position of Head of Corporate Banking in September 2017.
She holds a Bachelor of Arts in Finance and International Business Management from Portland State University, Portland, United States of America.
She has also attended training on credit management at the National Institute of Bank Management (NIBM) in Pune, India.