Collaborative approach makes for a more cohesive team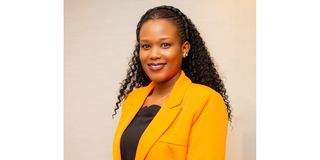 Summary
Maruma says she has attained career success due to her focus on learning what it takes to get the job done in the right way along with networking
Dar es Salaam. Esther Maruma is among the few women setting the pace in Tanzania's financial services sector, making a positive contribution to the country's economic growth. She is the Director of Global Markets, Corporate and Investment Banking at Absa Bank, Tanzania.
Her vast experience in the banking industry has exposed her to different tasks at different financial institutions, winning awards along the way.
Maruma's journey began at the Sokoine University of Agriculture where she studied environmental science and management.
With her curiosity and desire to find a job, she was able to see a job advertisement, which was a graduate-trainee programme at Stanbic Bank. Over 400 people applied for the opportunity, and as destiny would have it, she was among the four selected candidates for the position.
The job demanded her to rotate at all the bank's departments for the purpose of learning the different functions in retail and business banking. This meant she had to work long hours through the third rotation on global markets.
"It took me some time, at first, because I wanted to be ready in case anyone asked me questions. But, over time, as I gained understanding, I transformed the daily report from a transaction tracker, to a report that also covered productivity and team performance," she says.
The long working hours turned out to be worth the effort when a full-time position opened up, and Maruma was the first choice because she knew more about trading and she was able to continue with the steady pace and workflow based on the experience she had gained.
Explaining how she has managed to find success, Maruma says she has attained career success due to her focus on learning what it takes to get the job done in the right way. This goes along with the power of networking as well as sourcing for mentors to coach her.
Her resilience and consistency opened more doors for her, and she was later recognised as one of the top female financial services sector leaders in Tanzania.
Maruma says even though some people might consider her lucky, she says her triumphs are purely a result of hard work and preparations.
Commenting on what motivates her, she says she considers two factors: whether the role is a promotion with more challenging responsibilities that are in line with her development, and whether the organisation and its values are aligned with hers.
When asked how she conquered the male-dominated trading floor, she says gender has never been a barrier in her career. She is only focused on being relevant and reliable in her career choice, despite cultural beliefs and differences.
Commenting on the challenges that inhibit women from making it to the top managerial level in their careers, Maruma says that the fact that women have multiple roles both at work and at home restrains them from tapping into their full potential. She says that the best way to go about this and manage to excel is to create a support system that will rally around them when the going gets tough.
"I have a team of incredible people at home and at work. I have a best friend who supports me and can step in if I am away. The things I will never compromise at home are homework, discipline, and bedtime reading. These are my tasks even when I am away," says Esther.
With her Executive Committee role, her leadership style is servant leadership. This means delivering on promises on time through people. She volunteers her time for projects and initiatives, even when they are outside her role.
"I am hungry for more knowledge and intellectual stimulation. I need a diversity of thoughts and ideas. I appreciate my team for what they bring to the table. I have lowered to release pressure off them and create a friendly environment to allow us learn new things together," says Maruma.
According to her, this collaborative approach makes for a more cohesive team, is recognised as the hallmark of female-led departments, and makes a strong case for more women in leadership.