Consistency and discipline key to career advancement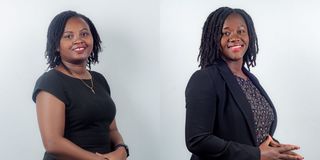 Summary
Judith defines hard work as gaining new knowledge and devoting more time to a specific line of work
Dar es Salaam. Consistency and self-discipline are among the golden yet unspoken values that enhance an individual's ability to ascend their career ladder. It is through these values that Judith Chambua and Penina Kituku are able to graciously wear their managerial hats, whereas Judith is a tax manager and Penina is a finance manager at Barrick Tanzania.
Penina began her career ladder after she finalised her Advanced Diploma in Accounting at the Institute of Financial Management (IFM).
"Three months before my graduation, I was in a dilemma about what I wanted to pursue as a career. One of my friends advised me that I should be prepared to either find a job or not. One of my friends shared this opportunity with me, and I applied. A short while later, I began my career journey as an Accounts Payable officer at the Tulawaka Gold Mine," she narrates.
Penina's contract was initially set for six months since she was replacing another person who was on maternity leave; however, it was extended to a permanent one after they began to perceive her as an asset to the company.
"While I was working as an Accounts Payable Officer, I was also learning the ropes of accounting from my fellow experienced accountants during my free time because I was keen to expand my understanding beyond the work that I was doing. A role came up in the accounting department, and since I already knew how to do it, I was able to get the position," she explains.
In 2010, Penina was moved to the North Mara Gold Mine and two years later, she was promoted to Accounts Supervisor manager. In 2015, she was promoted to section leader in Accounting.
"Four years later, I was promoted to Finance manager and my primary role is to oversee the whole department. My career transitions through the different roles I have served paved the way for me to get to where I am. The higher I climbed my ladder, the more challenges and lessons I was able to pick up. It has been an exciting ride," she details.  
Over the years, she has mastered teamwork and integrity, which have both guided her through her work.
"Among the things that made me consistent in my career journey are the love and respect I have for my job. These two have enhanced my ability to work harder without second thoughts," she says.
For her part, Judith joined Barrick Tanzania in 2015 as a section leader. She describes herself as a go-getter who does not hesitate to work for the things she wants to achieve.
Her career journey began at PwC, which she joined after she finalised her Bachelor of Commerce and Accounting at the University of Dar es Salaam. 
"When I was on maternity leave, a friend shared an advert with me that had details on the position. I applied and got the position. I became a section leader, reporting to the Tax and Treasury Manager in South Africa. In November 2022, I was promoted to the position of Tax manager which I have held to date," she says.
At PwC, Judith worked with clients who were involved in different sectors and projects, including mining; however, she did not have a mining client.
"With that, I did not have a mining background. When I joined background, I had to learn about the sector from scratch because there are certain kinds of taxes that are applicable only to specific industries. I was lucky to get people who were willing to help me understand the sector in its totality," she says. 
Like Penina, Judith upholds integrity, and she explains that it has helped her understand her colleagues and her work in their totality and depth.
"My work is crucial and sensitive. You have to be certain of every number and piece of information before disclosing it," she explains.
Judith advises young people to put extra effort into making their capabilities visible to other people.
"To grow, they have to put themselves in the spotlight that will influence their recognition before other people's eyes. This will give someone a reason to either vouch for you or promote you. Young people have to make other people see the value they bring, and such value comes from them going the extra mile," she details.
Judith describes hard work as acquiring new knowledge and investing more time in a particular line of work.
"Young people have to be self-disciplined in a way that they should always seek progress in their work. They also have to learn how to perceive challenges as lessons that give them a chance to improve on their work," she says.
As for Judith, she says that she believes in God and says that her faith has taught her to embrace everything that she has gone through, including achievements and challenges.