How skin problem helped Ismat start cosmetics business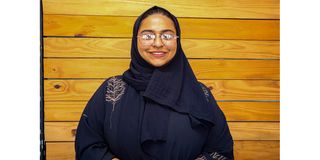 What you need to know:
Ismat's management style involves open communication and interaction, and she prefers to hear their suggestions and viewpoints that could promote business growth
Sometimes an opportunity to create a real, sustainable business that can improve one's life and the lives of others comes as a result of experience.
Ismat Rajabali, cofounder of Sugarberry, a cosmetics business for natural products began her entrepreneurship journey after she developed a skin condition.
"I was first interested in making candles to the extent that I joined an online class to learn the skills. I sourced the materials locally. After the course came to an end I began making small candles to be used at home. It made me happy that I learned new skills," she says.
She adds that at around the same time, puberty came and every product recommended did not work on her skin condition.
The recommended products such as honey, which worked perfectly on her friends' skins, gave her allergies that would take days to disappear from her skin. Another challenge was that the products that showed her good results cost a fortune since she used to order them online.
"My family was at the time struggling to rebuild everything since my father lost all of his wealth on the MV Spice Islander Incident that happened on September 10, 2011. He was at the time one of the biggest importers in Zanzibar. I grew up seeing the way he had to restart his business and it gave me courage that I can do any business and make it work," she narrates.
At the age of 10, her parents had gifted her a laptop and with the help of her uncle, Ismat had learned graphic designing and began earning money from it. This interest grew up when she saw her friends bringing to school different kind of stickers
"I began to make labels that were glued on the packages of different products like achari, peanut butter and honey. I saved the money for about a year and at the same time, I enrolled in a course on skin care products to learn more about the various skin types and how they should be treated in terms of sensitivity and appropriate remedies," she says.
Ismat who is now 21 years old started with making body lotions and body oils. When her mother tried some of it on her skin, she complimented her and encouraged her. She then joined a SIDO workshop that certified her work.
"I was able to network with different people at the workshop where we were taught how to source raw materials and how to adhere to good standards in the production of cosmetics. When my business started, I made a batch of products to sell. It was at first difficult because most people were not used to organic ingredients and products that are chemical free. I recall making 10 soaps that took almost four months to be sold but that did not stop me, I knew better than to give up," she says.
She then unlocked her savings that amounted to about sh6 million and decided to go all in on her business.
In August 2019, Ismat opened up the first physical shop for the business and the beginning was great, until when covid 19 pandemic hit the world.
"Some of the materials used in the products were being sourced from United Kingdom (UK), China and United States of America (USA) and when corona pandemic happened in late 2019 and lock downs became effective in these countries, there was scarcity of materials, we had to close down the store because we could no longer make products," she notes.
In November 2020, she took her business online using Facebook and Instagram platforms. This enabled delivery of products to customers' door steps, she narrates.
Around the same time, Sugarberry began giving free skin consultations which enabled Ismat and her team to analyse the skin type and skin conditions of their customers and recommend the kind of products that are suitable. Her team is now made of 14 people, nine women and five men.
"Our online consultations with our clients created even more engagement around our work. Our spotlight increased and it had to do with the advice we started giving out to people before they purchased any of our products. Most of our customers are middle aged people who seek natural beauty through organic products such as scrubs, soaps and oils," she describes.
Working with her team, Ismat explains that her management style involves open communication and interaction, and she prefers to hear their suggestions and viewpoints that could promote business growth.
"I believe I am in the right place because I had always wanted to become a business owner even though I did not know the kind of business I wanted to run at the time," she says. Aside from her customers, Ismat tends to mentor individuals who want to learn and understand her business.
"I would advise young people to follow their dreams and not settle for less in any part of their career because by settling in places they do not belong, their growth becomes dull. They have to want more and seek opportunities that would help them in sharpening their talents," she noted.