Jacqueline, Sophia and the quest to transform farming
Summary
Their managerial roles and leadership acumen have significant in helping the Tanzania Agricultural Development Bank finance the whole farming chain
Dar es Salaam. Over the years, it has been known that agriculture is the backbone of the country's economy. A lot of efforts have been put in place to increase productivity.
Tanzania Agricultural Development Bank (TADB) plays a great role in transforming the agricultural sector through financing farming activities around the country.
The Citizen had a chat with two of TADB's Senior Business Development Officers Sophia Sokoni and Jacqueline Mnyanga who explained how they got be where they are; doing what they do today.
Sophia's career journey started about ten years ago.
She says that working in a bank is something she wanted from the beginning.
"I liked working in the banking sector. I admired bankers' capacity to transform people's lives and businesses through various loan schemes," says Sophia.
She is a certified expert in financing the agribusiness value chain from Strathmore University, executive certified in agriculture finance (ECAF) from Kenya School of Monetary Studies, and certified expert in project management from the SADC Development Finance Resource Centre.
She holds BA in Economics science (Money, Banking and Finance) from Université Abderrahmane Mira - Bejaia, in Algeria. Before coming back to Tanzania she worked at Banque Exterieure d'Algeria for a year.
When she came back she worked at Equity Bank (T) Limited as a Credit Manager. She was responsible for providing leadership to the credit appraisal team in charge of Credit Analysis unit and as a member and secretary of the Branch Credit Approval Committee (BCAC).
She says, her role at TADB is to transform agricultural sector from substance to commercial as the bank finances the whole agricultural chain from production, aggregation, packaging, distribution and up to final consumer.
Sophia has managed to transform youth and women through Financial Education (FE programme) in budget, savings and debt management. The FE programme has reached 10,399 beneficiaries.
"I have managed to support Coordination of MOU's, matching grants with the DFI's for financial support and liquidity to exhaust the government mission of transforming farming from subsistence to commercial agriculture through Integrated Value Chain finance (IVF)," says Sophia.
Commenting on how she overcomes the challenges at work she says, challenges are part of life and that the most important thing is to live one's mission and stay focused.
Asked what derails women from excelling in their career she says: "Naturally, women are hardworking but they lack confidence. Fear is an added factor. It is therefore important to overcome the fear by being confident on what they do."
Apart from being a career woman Sophia is also an entrepreneur and a farmer. She is a founder of Sosmissy Fashion Boutique. She is a modern poultry farmer.
"I inspired my mother to start poultry farming as a commercial activity and now she has 5,000 layers with capacity to produce 133 tray of eggs per day with the plan to expand," she says.
Some of her areas of speciality include integrated value chain financing, financial analysis, collateral, facilities structuring, and reports preparation and presentations.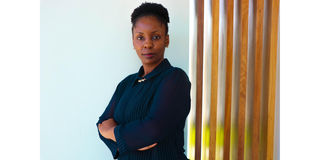 Jacqueline's strength is in multitasking
For Jacqueline, multasking has always been her secret in achieving career goals for more than nine years in the banking industry.
Part of her roles are to educate clients on how to access available agricultural credit opportunities.
She explains herself as a manager who is always ready to support others and make sure they accomplish their career goals. She is also eager to learn new things everyday.
Before she joined TADB she worked with some commercial banks.
Her roles were to deliver outstanding client service by executing financial transactions in accordance with bank policies and procedures.
Commenting on what derails women from scaling up to the leadership positions Jacqueline says there is a very huge gender bias in many organizations.
As a result men seem more competent than women even when they all have the same qualifications.
The fact that many organisations are led by men means that women have no one to look up to as a role model.
"It is important for women to invest in acquiring new skills, while working, as a way of spicing up their careers and be able to overcome whatever work challenge they are likely to face," she says.
She adds that companies should create flexible schedules for women to grow and have work/family balance.
This is because in many households women are the principle caretakers of children, the elderly and the sick.
Jacqueline has her three guiding principles she can never compromise.
Open communication, integrity and respect for others is key. She says, respecting each other at work builds trust and improves effectiveness.