The cost of breast cancer treatment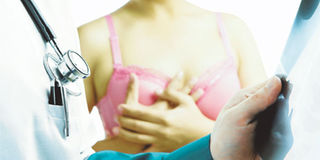 Summary
Managing the costs of cancer treatment is a daunting task for many African families
Breast cancer has been an issue affecting women across the globe. This disease that has no apparent cure but can only be treated upon early detection has claimed lives of many women. And until today, thousands still succumb to the disease.
When we profile survivors, we talk of journeys that were characterised with hope and resilience, but even as these survivors win the battle against breast cancer, they'll tell you that the strain of overcoming the disease is not only physically draining, but also financially costly.
Tanzania and the rest of the world observe October as breast cancer awareness month. Each year, different activities are carried out with an aim to raise breast cancer awareness. Today, health stakeholders in Tanzania are taking a walk around Dar es Salaam as part of a campaign to raise breast cancer awareness.
Hospital statistics from Ocean Road Cancer Institute (ORCI) show an increase in number of breast cancer patients. Statistics show that in the year 2013 more than 400 new cases were reported – which represents 10 per cent of all women affected by the disease countrywide.
Ten years ago, the disease affected women in their 50s, however, in recent years statistics show that women at early ages are also affected by the disease. Acknowledging the financial strain caused by breast cancer, Woman shares with you associated costs of the treatment as well as sharing stories of breast cancer survivors.
Dr Crispin Kahesa is a director at the Ocean National Health Insurance Fund; he says that, the increase of cancer cases in Tanzania prompted the establishment of the cancer screening department at Ocean Road Cancer Institute in 2002.
 "We saw the need to start the department as most of the cancer cases received were in the final stages and were thus untreatable, " says the head of early cancer detection, Dr Kahesa. Adding to that he says, "due to lack of information, majority of Tanzanians cannot access basic facts about the killer disease. That's why part of the activity being conducted by this department is raising awareness so as to prompt more people to go for early detection because 70 per cent of breast cancer patients can be treated upon early detection."
"Our population is over 40million people and only 22,000 people have attended clinic; you can imagine the number of people who do not know their health status. 11,000 of those who went for check-up were diagnosed with breast cancer while 21 had cervical cancer," he says.
According to Dr Kahesa, in the process to bring about positive results on breast cancer patients who are undergoing treatment, a lot is involved. There are indirect and direct costs. There is prevention part, and there's also advocacy.
Explaining the direct cost he says; this includes registration, diagnosis, procedural costs and follow up care. And indirect costs include fare to and from the hospital, accommodation, food, caregiver expenses, etc.
Three years ago, Fatuma Mwinjuma, 36, was pregnant with her second child. On her second trimester she noticed some hard swelling on her left breast. She thought it was just one of the pregnancy complications.
"I was taking a shower and realised some new changes on my left breast. I was shocked, I massaged the right breast and realised there was nothing similar to the other breast," says Fatuma.
She immediately informed her husband, he told her not to worry, and suggested they wait for monthly check-up. When they visited the clinic, her gynaecologist referred her to Muhimbili National Hospital for more check-up.
She said that, getting her results was a cumbersome process due to well-known corruption tendencies at the hospital. When she finally got her results, it was revealed that she had cancer.
 "I spent almost a year at the Ocean Road Hospital struggling to get treatment until my condition necessitated a mastectomy in order to prevent the cancer from spreading to other parts of my body," says Fatuma.
She said that, lack of facilities and the flow of many patients to the hospital makes it hard for majority of women to get treatment soon after they are diagnosed with cancer.
Fatuma had a happy ending with her battle against cancer. She is now cancer-free but her life has completely changed. "I had to stop working as a teacher so as to give my body enough time to heal," she says.
Commenting on the financial cost of the treatment, Fatuma says her family spent roughly sh15million for the entire process of her treatment. Due to such high costs, it is evident that majority of Tanzanians, who are low income earners cannot afford to pay for breast cancer treatment. As a result, most of them end up succumbing to the disease.
Juma Nassoro, 58, lost his wife to breast cancer in 2012. He says that if he had enough money to pay for medical treatment of his wife, she would still be alive today.
In 2012, he brought his wife to Dar es Salaam to undergo further cancer treatment. Coming from Ulanga District in Morogoro Region, he knew that his wife's best chances of surviving lied in Dar es Salaam. He had to leave behind a family of five children and two grandsons who depended on him. In an effort to save her health, Juma had to sell his stocked harvests for which he received Sh1.5million. This catered for chemotherapy treatment but there were other required treatments he couldn't afford, so as a result, his wife died. 
He calls upon the government to help reduce costs for cancer treatment for people with low income. He urges the government to make treatment easily accessible. Also, he requests for more training of health workers and provision of enough medical facilities to hospitals in rural areas. This will enable people to easily access treatment without travelling from upcountry to Dar es Salaam.
He further says that, his wife did not realise that cancer was still circulating in her body after receiving initial medical attention in Dar es Salaam; this was due to lack of funds to go for periodic check-ups in the city after every three months. If there was a health centre in Ulanga that could perform the check-up, perhaps his wife would have won her battle against breast cancer. 
More government involvement needed
Commenting on the challenges faced in the fight against cancer, Dr Kahesa says; "dealing with cancer is very challenging as we lack political will. Our government is not doing enough efforts to raise awareness among our community as a result people remain unaware of the disease."
Adding to that he says, very few people are aware of cancer disease compared to HIV. If more effort is invested in transmitting awareness to the masses, then people will become cautious and hence go to clinics for check-up. Such a move by the government could save lives of many Tanzanians.
Among other issues that contribute to low participation in cervical and breast cancer screening are cultural issues (as both cervical and breast cancer involve private parts), lack of partner support, misconception, poverty as well as poor health systems.
Though the department had outreach programmes, they could not be sustained due to very limited funds.
For the past five years, more than 1,291 breast cancer cases have been reported. Average age of presented patients is 45 years and only 1 per cent is male. The estimated number of new breast cancer cases per year in Tanzania is 1,307, according to the 2008 Globocan report.
Additional notes by Mpoki Thomson