The tale of FGM cutters who shelved their knives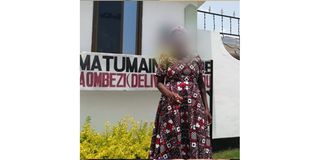 Fatina (not her real name) is a resident of Kitarunga Village in Mara Region, and a former female genital mutilator (FGM) who quit the practice six years ago.
The 57-year old "Ngariba" called it quits following sensitisation on the adverse FGM effects. It was also time for her to make peace with the girl-children in the village who feared and hated her so much.
She says children would run away fast as their legs could carry them whenever she passed by.
"When I visited some households in the neighbourhood, some girls would scream out of fear and hide. Others would run away and some would even pee in their pants when they saw me. Children feared and hated me," shares Fatina.
Children had every reason to fear Fatina for, apart from performing a ritual that caused pain to an untold number of girls during her 30 years of practice, the tall, thin, dark-skinned former cutter really looks scary. There is something about her eyes that is so terrifying that even I, an adult, felt uneasy when interviewing her.
The mother of nine says many parents used to send their daughters to her for the cut because she was considered to be among the best Ngaribas.
"I used to be a good cutter and, therefore, I used to make a lot of money during the cutting season. I used to charge between Sh20,000 and Sh25,000 per girl and I would cut anything up to 300 girls in a day. I cut a lot of girls in my village and beyond," says Fatina, whose two daughters also underwent FGM. She is grateful that none of the girls that she cut died from the operation.
The former Ngariba says she regrets the pain and trauma that she caused the girls. She feels sorry for the girls who bled to the point of loosing consciousness.
Fatina, who is a widow received awareness training on the effects of genital mutilation through Hope for Girls, a non-government organisation that works towards ending female genital mutilation. After the training, she vowed to never cut any more girls.
The visit was made possible by African Women Development and Communication Network (Femnet) media to amplify, document stories on Sexual Reproductive Health and Right (SRHR) and to advance African Human Rights, Bodily Autonomy and Integrity (BAI) that increase media awareness visibility and public awareness on SRHR issues including FGM, ending child marriage and early forced marriage.
Dropping the practice came with lots of challenges from the community. The elders with whom she used to share her earnings were not happy with her decision. She used to give them Sh10,000 for every girl that she cut. Their threats on her family forced Fatina to relocate to Mugumu town centre in Serengeti District for safety.
Community members were not happy, too. Some even stopped talking to Fatina - but this did not bother her. Whe her husband died in 2016, people attended his funeral in droves believing the kind gesture would make her change her mind on FGM. Last year when she lost her grandchild, only a handful of the community members showed up to console her and her family. "As I speak, sometimes when the police officers go around the village during operations to arrest Ngaribas or during campaigns against gender-based violence (GBV), some elders accuse me of conspiring with the police."
To-date, there are people who still scorn Fatina, saying FGM would go on with or without her, as no one can kill the tradition.
Since she stopped performing genital mutilation in 2015, Fatina has been able to influence three other Ngaribas to stop the practice. She is optimistic that if government, NGOs, and the community join forces, the fight against FGM will bear fruit.
She urges parents and Ngaribas still engaging in the practice to stop it because it is an outdated cultural belief that shouldn't be entertained by anyone.
Rachel (not her real name), 54, is one of the Ngaribas that Fatina influenced to quit cutting. A resident of Merenga Village in Serengeti District, Rachel decided to put down the knife in 2016 after attending the International Women Day celebrations, where she watched various plays, videos, songs and testimonies on the effects of FGM.
Despite originating from a clan that is popular in performing FGM, the testimonies by the young girls at the Women's Day celebrations made Rachel promise to never engage in the act again. She has not done so.
Before the change, nothing could stop Rachel from performing the ritual. Not even the risk of losing a life in the process. Her 12-year old daughter, for example, cheated death after losing a lot of blood following the cut. Despite this, Rhobi continued cutting the girls.
"I almost lost my daughter due to excessive bleeding. I had to rush her to the hospital where she was given an injection to stop the bleeding. I would have lost her if I hadn't sought medical attention," she shares.
Mara Region's Assistant Commissioner of Police, Longinus Tibishubwamu, says about 187 girls ran away from home to avoid being mutilated last year.
The police chief says between 2018 and 2020 four Ngaribas were brought before the court where three were sentenced to between seven and 20 years in prison for engaging in the unlawful practice. In 2020/2021 five Ngaribas were arrested, out of which two were jailed for seven years and one for ten years.
Director of Hope for Girls, Rhobi Samuel says she established the centre to help girls fleeing early marriage and harmful practices such as FGM.
When she was 11 years old, her friend, Sabina, died from too much bleeding after FGM. Her body was thrown into the forest to be eaten by wild animals because it is believed to be a curse burying a girl who died after being cut.
Rhobi's mother wanted her to undergo the cut after completing Standard Seven. When Rhobi asked her mother if she wanted her to die like her friend, her mother said Sabina had died because her parents had not chosen a good Ngariba.
Rhobi tried talking to her aunt hoping she would talk sense into her mother but it did not work. She considered running away but when she thought of the risks especially given that she did not have a place to run to, she decided to stay.
So when the time came, Rhobi, together with 15 other girls, was cut. One Ngariba was specifically assigned to her since she was very scared. She passed out after the cut and was unresponsive for over five hours. Rumours went around that she had died.
When she regained consciousness, she heard one of the Ngaribas explaining how she had been unconscious for a long time, and how she was not sure if her brain would continue functioning normally. It's this near-death experience that made Rhobi establish the centre to shelter girls running away from FGM.