Truck driver by day, family lady by night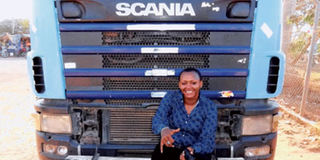 Summary
Georgita Mashanga also known as Abdallah, braves the dangers of long-distance trips to put food on the table
As I arrive for the interview, I find her in a blue and black long-sleeved shirt tucked inside black corduroy pants and firmly held to her lower waist with a matching black belt. White socks are peeping from shiny black sharp shooters.
If it were not for her feminine look, the big silver chain on her neck and bracelet on her right arm, this tough-looking lady would pass for a man. Georgita Mashanga is a heavy cargo truck driver. She travels to landlocked countries including Zambia, Democratic Republic of Congo, Rwanda and Burundi.
Due her tight schedule, it took me almost two months to meet her. I found Georgita last week outside her office located on the third floor of Furniture City Centre building in Chang'ombe, Dar es Salaam.
After waiting for about an hour, a polite voice welcomed me inside the office. I was eager to know more about her and before I threw in my questions, she had started narrating what her ambition was when she was growing up.
"I always liked Mathematics and science, but I hadn't thought about a career in driving until my family suggested it to me," she said. She thought about it and decided that she could do anything.
Georgina, a.k.a Abdallah or sister Dullah as she is fondly referred to by fellow drivers, started driving in 1986 at the age of 16. She was in Form One.
"I remember the first time I took the family car, I did it without the consent of my parents. It was a canter. A little argument with my friends that I couldn't drive a car was the driving force behind my sneaking out with the family car," she said.
To prove that she was capable of driving, she took her friends to her parent's home and drove off with them in the 3.5 tonne-vehicle. 
"After taking off, my brother started chasing after me with another car, wondering how and when I had learned to drive; but the truth is I had been watching other drivers start and stop their cars," the 43-year-old woman recalls, saying that from then, her family was convinced that she could drive.
Georgita likes driving and she made it her main source of income. She fell in love with the steering wheel right from day one. Now, she owns two companies.
"I'm now the director of two companies; GG Enterprises Company and GG Car Dealers," she says.
The first time Georgita drove a long distance truck was in 2002 when she travelled to Zambia. She met Peter Nkoma, a resident of Zambia, who offered her two vehicles (a canter and Rav4 he had ordered from Japan) to drive from Dar es Salaam to Zambia.
Georgita had to find another driver for the canter as she took on the Rav4. 
"After arriving at Tunduma check point, some drivers were wondering who I was and where I had come from. I noticed that they were not sure if I were a woman or a man. When one of them approached me, he asked my name. I told him I'm Dullah," says the-mother-of-one.
From that day on, people were talking about her and within a short time two Congolese men approached her for a love affair.
"Then I had dreadlocks. I decided to cut them off because that was the only way to hide my real identity and protect myself from thugs," Georgita says.
Women who work in male-dominated fields always meet hurdles somewhere along the way. One of Georgita's ways of tackling these challenges is to dress like a man. She has four dresses only, which she bought recently during her daughter's wedding.
"The nature of my job dictates that I wear men's outfit from head to toe. Sometimes I wear vests or shirts, shorts or trousers, boxers and boots, just to look like them and keep them away from temptation. I have only four dresses for parties and outings," she says.
Keeping her friends close
Knowing the dangers that women drivers are exposed to on the road, Georgita has to be very careful. However, she is clever enough to befriend male drivers, so that they can protect her in case of danger.
"While on the road, there are a lot of challenges; being raped by thugs is one of them. I have managed to avoid this by making other male drivers my best friends. They are always there for me whenever there is a problem on the road," she explains, adding that whenever she bumps into a broken truck, she returns the favour.
Georgita has to adapt to challenging circumstances on the road and at work. Language is her other arsenal. "Speaking the language of the youth makes them feel that you're a part of the club," she says.
In order to drive heavy duty trucks, one must be physically strong. And this is why some women do not understand how she can be a mother and wife and be on the road, instead of spending more time in the kitchen.
"I ensure that I speak with my family before I travel in order to ensure that everything is well with my husband and when I am at home, I always cook for them," said Georgita, who is inspired by Hilda Ringo, a pilot at Virgin Nigeria Airways and Halima Mdee, the Kawe MP (Chadema).
"I don't have many female friends. And because of that, some of them think that I am a lesbian. But that is not a problem with me as I know what I am up to," she says, adding that she is very proud of her job because her dreams have come true.
"I dreamed of getting a husband. Now I do and I'm also blessed with a beautiful daughter. I am also a boss and I employ other people," says the fourth born in a family of eight.
Georgita's daughter, Neola, may take her mother's looks, but going by what she is currently pursuing, which is a course in procurement, becoming a professional driver is a far-fetched dream. All the same, you can see from the way they interact that their bond is a solid one and she loves her mother.
Noela calls her mother her best friend and fully supports her line of work.
"She is so dear to me that she is my best friend. Even when I go wrong, she would always stand by me," says the 22-year-old newly married woman.