Vivian: Overcome your fear of new career prospects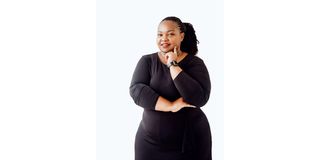 Summary
The corporate affairs guru believes that new opportunities help people overcome their inhibitions and build confidence
For most job seekers, the phrase "new job" is thrilling, but for those who already have one, it's intimidating due to the fear of facing new challenges, but also an opportunity to open new doors.
When it comes to Vivian Temi, the Corporate Affairs & Marketing Manager at Mwananchi Communications Limited (MCL), overcoming the fear of jumping into different jobs has opened new opportunities and enabled her to become the person she is today.
In her career journey, Vivian has never turned down a challenge. In 2008, she worked as a marketing trainee at Tanzania Breweries Limited; in 2013, she worked with Finca Microfinance Bank as a customer experience supervisor; she also worked as a customer account manager at Simba NET, a digital business manager at MCL, and she's held roles as a board member at the Publisher Association of Tanzania (PATA), a marketing strategist at Central Park Bees Limited, a country manager at Longham Publishers, and a board member at Karibu Tanzania Organization (KTO).
According to her, a person's career growth can be derailed due to the structure inherent in most organisations.
"At times, one has to leave a job so that they can grow. Moving into a different industry or company is also at times prompted by a company restructure, where some roles become obsolete and others are created. MCL didn't have a corporate affairs department, but they restructured, and now I have the role, so I came back," Vivian explains.
Working in different departments, companies, and organisations has helped Vivian become the person she is today. "Most people are unable to move because of worries about learning new things. I consider myself a fast learner, and I love learning new things. I always go for it because I'm a work in progress, and I'm not shy about saying this," says Vivian.
She has a degree in business management in finance from Bangalore University in India, a postgraduate diploma in the Global Program in Business Leadership from Tasmac in India, and a master's degree in business administration in marketing from the University of Wales in the United Kingdom.
She also took a board competence course under the Association of Tanzania Employers (ATE).
All these academic accolades have played a part in her ascendance; however, Temi says that regardless of the progress that gives hope that society today is less tolerant of inequality and injustices, there remain multiple challenges women face to become leaders.
On her journey to success, Vivian has experienced some challenges that have built her sense of resilience and made her more determined to become successful. She was pushed by one of her colleagues to aim for bigger things.
"Back then, I felt like it was so difficult, but he was actually building the Vivian we are seeing today. It felt like I was doing his job, but it felt like he was not acknowledging my efforts, and he never credited me. But all this tough love worked to my advantage," she recalls.
Later, when her mentor left the company, she got his role, ushering in her first step into leadership.
Another challenge that she has faced in her career is managing people and dealing with stakeholders. Vivian says that all this is because she got into a leadership role while she was still young.
"Dealing with stakeholders was one of the most difficult tasks because most people used to tell me that I come from college and so I don't have enough experience. It felt like I was not accepted," says Vivian.
She further clarifies that not believing in women is what leads them to go the extra mile so as to prove people wrong.
The more Vivian was rejected, the more she proved people wrong, manifesting that she can do anything no matter the situation.
Luckily for Vivian, she has always had the support of her family. Her parents were the first coaches and mentors when she felt like she couldn't move on. Born into a family of three girls and five boys, Vivian's parents have never let her down.
Vivian also credits her achievements and continued ability to break the glass ceiling to constant learning, especially from mentors and online.
"I have been using premium LinkedIn because it provides me with free training to make sure I upskill myself. I'm not afraid to say I don't know, but if you think I'm the one to do it, then I can do it," she says.
Vivian adds that sometimes people are mentored subconsciously. This happened when she was mentored by John Ulanga.
"For a year, I wasn't aware that I was being mentored; back then, Ulanga didn't look like he was mentoring. But it finally dawned on me after I was selected to serve a bigger role," says Vivian.
The corporate affairs expert wishes to see every woman end their sentence with "I can do this" when they speak about themselves for self-motivation.
"In the past, I wanted to introduce myself by saying, "My name is Vivian Temi, and I can do anything." I wish to see other young girls and women have the same confidence," she says.
When it comes to having women as leaders in an organization, Vivian believes that the company can perform better.
"By nature, women are multitaskers, which is good. We are also kind, which means we listen. Having women also increases inclusivity in the organization," she says.
As founder and CEO of Hold a Sister's Hand (HASH), which empowers career women to discover and pursue a path to a fulfilling career, Vivian encourages women to be open-minded in order to grow.