Work hard and never give up, Jennifer, Susan advise women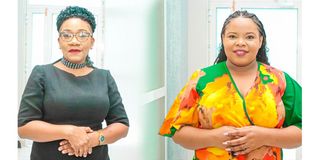 What you need to know:
Jennifer has worked with UBX Tanzania Limited for more than 20 years, and thanks to her dedication, she has held numerous top positions
Dar es Salaam. If you are wondering where you can learn loyalty by working for the same firm for many years, it is time to pay a visit to UBX Tanzania Limited, formerly known as Business Connexion (T) LTD.
Ms Jennifer Tunginie, the Corporate Affairs and Compliance manager of UBX Tanzania Ltd, is a highly seasoned professional who has worked for the same company for over two decades.
Ms Jennifer's career began in 2002, when she joined the organisation as an administrative assistant.
She then rose through various ranks, including head of Logistics and Administration, manager of Public Relations and Administration, manager of Administration and Human Resources, to her current position.
Along with her is Ms Susan Ndee, the head of Human Resource Management and Administration at UBX Tanzania Limited.
She is responsible for all human resource management functions and administrative aspects of the company.
Ms Jennifer is well-versed in Tanzania's labour laws and has attended various professional development seminars on industrial relations, human resources, and customer service training.
"The seminars helped me deal with fellow colleagues and matters related to employees and employers overall. They also helped in achieving the Organisational objectives or goals assigned to me as an employee, but also as a leader in various roles I was given," she adds. Her expertise in these areas has enabled her to provide efficient and effective administrative support, develop and implement policies that promote the well-being of employees and clients, and ensure that the company complies with all applicable regulations and laws.
Commenting on what has motivated her to work with UBX for more than two decades, Jennifer says: "I have constantly desired to add my valuable contribution to the corporate as a whole, especially because I started with UBX when it was a start-up with seven employees. As of now, it is a corporate enterprise with over 70 employees. Offering a broad range of IT services and products."
She says that, back in the days when she was climbing up the corporate ladder as a woman leader, the cultural and traditional mindset did not believe in women taking up leadership roles.
However, a recent trend shows there is a shift in leadership opportunities to accommodate women after they have proven their capability in leading.
When asked about her advice to the women struggling with career growth, she says: "They should not give up but keep working hard and keeping dreaming to live their dream so that they achieve their goals and ultimately their organisation's goals, which will lift them up."
As for Ms Susan, she has five years of experience in human resource management and describes herself as a result-focused leader who delivers talent acquisition, retention, and motivation solutions that help companies harness the full power of one of their most valuable assets—their people. According to Ms Susan, the greatest accomplishment of her career to date is the contribution she made in building a sustainable corporate culture that is widely considered to be outstanding and has helped UBX Tanzania Limited secure a spot as Tanzania's best financial technology company.
She points out another remarkable achievement on how she spearheaded the adaptation of the HR system and policies to the local context soon after UBX Tanzania Limited exited the Business Connexion (BCX) Group.
She explains her "feel at the office attitude", and how it is driving positive results in her career. She says work attitudes do more than brighten (or darken) a day at the office. They affect the entire workplace, impacting everything from morale to productivity to job satisfaction.
'Feel at home in the office', means "welcome, relax, no pressure here.
"With this kind of attitude, I am sure that the energy that I transmit to internal or external customers will ultimately create a conducive environment," Susan adds. Commenting on her leadership style, she says she is more of a democratic leader, whereas before making a decision I tend to accommodate my team members' opinions.
"To ensure I never go wrong in the decisions that I make, I came up with several techniques, such as knowing each of my team members' strengths and weaknesses, asking for feedback, and lastly, observing my mentors as they solved various challenges," she says.
Sharing on how she uses her title to motivate female employees to climb up the corporate ladder, she says she inspires her team members, who are all women, by telling them their weaknesses and strengths and she rewards her team members for their efforts.
"With such an attitude, I inspire my teammates to believe they also can climb up the corporate ladder and make significant changes and improvements where necessary, either in UBX or somewhere else, she adds.
She is now working on the preparation of the Human Capital Management Program, which will be embedded into UBX's five-year strategic plan.
Commenting on how the program will impact the lives of women, she says: "I am lucky that I work for a company that believes in women's empowerment and also their abilities.
That can be seen by the number of women leaders in the management position; we have 7 women heading departments at UBX," says Susan.
She says with her heading the HRM department, more women will get an opportunity to be employed by UBX and more will climb the corporate ladder.
For example on job adverts we tend to advertise; these adverts accommodate more women in comparison to men. "So, if you are a woman out there with good talents and abilities, UBX is a place to be," she adds.