Young, Famous, and African: It is all about the drama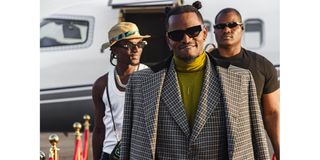 Africa's rich and famous are back on our screens in the drama galore reality television show 'Young, Famous, and African.'
The reality TV show has brought new faces, relationships, and a heftier spoonful of theatrics in its second season.
The show is unapologetically African and the first of its kind. It follows a group of famed, affluent young media stars from across the continent and their exploits in Johannesburg, South Africa; their relationships, families, work lives, and much more are explored in a real-life soap opera.
It takes fans through the lives of some of the continent's elite, from fashion designers to musicians and actors to social media influencers; the cast is a diverse mix of talent and ambition.
In the new season, returned cast members include Bongo Flava superstar Diamond Platnumz; alongside him is his baby mama, Ugandan socialite Zari Hassan; South Africans Khanyi Mbau; Nadia Nakai; Andile Ncube; Quinton aka 'Naked DJ' Masina; Kayleigh Schwark; and Nigeria's Annie Macauley Idibia; and Swanky Jerry.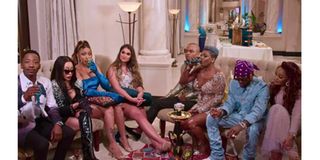 To make it messy and spicy, the nine stars are joined by some new talents ready to stir things up, including Queen B herself, Bonang Matheba, socialite Sebabatso Motsibi, Ghanaian-American musician Fantana, Namibian-born entrepreneur and former Bib Brother Africa housemate Luis Funana, and model Rosette Ncwana.
"When watching Young, Famous, and African, I pause and take a couple of minutes to scream into the air, then resume," writes a fan on Twitter.
This reaction comes as no surprise, as luxury, success, and lots of ego are still on the menu of the popular Netflix reality TV series.
The nine-episode reality show is filled with many conversations and small situations in each episode that shouldn't have even been blown out of proportion. But that is the kind of drama that viewers crave.
"I've been watching Young, Famous, and African on Netflix and can't decide who is the most toxic out of Swanky, Bonang, and Zari. Yoh, they are a lot!" Morgan adds Morgan to the same thread.
"Must you know everything about your friends? The way people don't respect boundaries in this young, famous, and African is so disturbing. I'm worried for my friend only because it's gossip. Terrible lots…" writes Zaza Ibobo.
The mixture of old and new cast members has perhaps created a recipe for the perfect disaster.
From the clothes to the cars they drive, it is all glitz, glamour, and drama, but we also get a grip on the real lives of African celebrities, their struggles, cares, and characters.
In a 30-minute episode runtime, some viewers are left heartbroken by the story of how "worldly" things cost the Namibian Luis Munana a relationship with his family.
"I come from an extremely religious background," he shares during a conversation with co-star Andile Ncube.
"Upon coming out of the Big Brother house, I got excommunicated from the congregation," adds Luis.
The Golden Boy, as Munana calls himself, was excommunicated from his family's religious organization following a previous stint with reality TV on the ninth season of Big Brother Africa, where he had an intimate relationship with a housemate.
Since then, Munana has been barred from speaking to his family, friends, and other members of the religious organization unless there are exceptional circumstances.
"Seven years later, he hasn't seen his family. These people make Christianity look so bad; no wonder people are steering further away from it. Christ was love," sympathized a fan.
Inside the show, Munana admits that he does miss them, and there is a lot he wishes to share with them.
Watching the nine episodes, one might envy their riches. 15 of Africa's A-list celebrities have beauty, wealth, brains, and whatnot, but basic decency isn't on their plates.
The ladies, terming themselves 'Queens', fight over a man who has the least interest in either of them.
"Young, Famous, and African is just back-to-back drama! I'm like, Lawd, y'all can't have one decent conversation," commented Diana Nae.
Wherever they go, drama follows, and they fight and scream out their lungs whenever.
"This guy, Andile, is the peacemaker in this group and the most mature of them all. I rate him 100 percent," says a social media influencer.
Season two is good; some dynamics change, and the longer season order gives room for everyone to grow with each situation they face.
The drama can be excessive, but it's so funny to see what they say to each other and how they treat each other when they have an issue. Each cast member has a strong personality, and audiences can learn from them.
"Young, famous, and African makes me want to visit South Africa," says Emmanuel K online.
Another noticeable impact is on Chibu Dangote. Diamond Platinum's improvement in English has left many of his fans and followers amazed in the second season.
"I'm here for Diamond's English improvement," one fan by the name of Maggie comments.
Known for his hit songs, including 'Iyo', 'Waah," and many others, Diamond's first season was, however, met with criticism of his English as he struggled to make sentences.
But Simba came bigger and better in the second season. Showing fans that he did attend his classes and achieved something.