Sudan becomes battleground for foreign fighters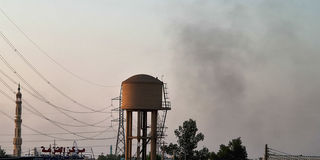 What you need to know:
Armed "fortune seekers" are flooding into the fight from across Africa's Sahel region including Mali, Chad and Niger, UN special representative Volker Perthes has said, warning that "their number is not insignificant"
Khartoum.  Sudan has long sent mercenaries abroad, but now the country itself has become a battleground for foreign fighters and shadowy military backers lured by money and gold, experts say.
Armed "fortune seekers" are flooding into the fight from across Africa's Sahel region including Mali, Chad and Niger, UN special representative Volker Perthes has said, warning that "their number is not insignificant".
Sudan's army chief Abdel Fattah al-Burhan has accused the rival Rapid Support Forces (RSF) of recruiting fighters from troubled nearby countries, including "mercenaries from Chad, the Central African Republic and Niger".
Sudan's army has claimed to have killed "a foreign sniper" in the ranks of the RSF, and witnesses in Khartoum say they have heard some RSF paramilitaries speak French, the language of neighbouring Chad.
For the past month, Sudan has been rocked by deadly battles between de facto leader Burhan and his former deputy, RSF commander Mohamed Hamdan Daglo, also known as Hemeti.
The RSF under Daglo, a former camel trader, emerged out of the notorious Janjaweed militias which from 2003 pillaged villages in the Darfur region where they were accused of widespread atrocities and war crimes.
In recent years the RSF has sent guns for hire into the Yemen war, on the side of Saudi Arabia and the United Arab Emirates against Iran-backed Huthi rebels, and to Libya, in support of different camps including eastern-based general Khalifa Haftar.
Washington and Brussels charge the RSF has ties with Russia's Wagner mercenary group, which is fighting in Ukraine and has long been active in multiple African countries, including Libya where it backed Haftar.
Wagner boss Yevgeny Prigozhin recently insisted that "for two years, not a single Wagner... fighter has been present in Sudan. And today there is none".
Cameron Hudson, of the Center for Strategic and International Studies, said that "the Wagner group is not fighting in Sudan, but they have technical advisors".
The European Union in February imposed new sanctions against Wagner, accusing it of human rights abuses in Ukraine as well as Sudan, Mali and CAR.
After major fighting erupted in Sudan in mid-April, US Secretary of State Antony Blinken voiced "deep concern about the engagement" of Wagner there, charging that the group "brings more death and destruction" wherever it operates.
Western diplomats have reported seeing groups of mercenaries frequently passing through Khartoum's airport and hotels since the CAR government in 2018 called on Wagner to help repress a rebellion.
Daglo's family has long controlled gold mines in Darfur and elsewhere in Sudan, Africa's third-largest producer of the precious metal that has also attracted the attention of Wagner.
The US Treasury has accused Prigozhin of operating shadow companies in Sudan that were awarded gold-mining concessions, and the latest EU sanctions also targeted gold companies linked to Wagner in Sudan.
For Daglo, gold has provided a revenue stream to pay fighters, said Andreas Krieg, associate professor of security studies at King's College London.
"The fact that Hemeti has access to quite a lot of gold wealth and avenues to bring it to market means he can pay salaries in a way that many in sub-Saharan Africa or the Sahel cannot," Krieg told AFP.
"We had people from Chad join the RSF as well over the years looking for salaries."
'Boutique' security firms
Hemeti hails from western Darfur's pastoralist Arab Rizeigat people and has family roots in Chad, with which Sudan shares a long and porous border.
Sudanese militias have long padded their ranks by offering "Chadian Arabs access to Sudanese citizenship and land abandoned by displaced non-Arabs", the Small Arms Survey research project found in 2017.
The RSF in its recent social media campaign has published videos of fighters in Chad and Niger voicing their support for them.
While the RSF can draw on fighters from Chad and elsewhere, it is believed to receive weapons from Libya, analysts say.
Krieg said that areas under Haftar's control are now a likely "hub and node to deliver arms and supplies to the RSF". Weapons sent there in the past by the UAE "could now be proliferated with plausible deniability to the RSF", he said.
Sudan specialist Alex de Waal said that money and fighters "are interchangeable currencies in Sudan's political marketplace, and Hemeti trades in both".
"The RSF is now a private transnational mercenary enterprise," de Waal wrote in a recent analysis. "It's a gold-mining and gold-trading operation and the enforcement arm of Hemeti's ever expanding commercial empire."
If the RSF wins, de Waal predicted, "the Sudanese state will become a subsidiary of this transnational venture".
Meanwhile Sudan's conflict has also fuelled another business line for professional soldiers, who have offered desperate foreigners with the means of a chance to flee the country, said Hudson.
For those who could not get a spot on mass evacuations, he said, "a number of small 'boutique' private companies, mainly retired British special forces operators, were evacuating people for a large fee, up to $20,000-50,000."