A brighter future beckons as Africa's Standard Bank Group marks 160 years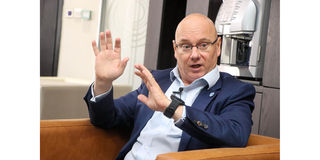 Summary
Standard Bank Group is celebrating a remarkable milestone by marking 160 years of operations. In Tanzania, the Group trades as Stanbic Bank. In an exclusive interview with The Citizen, Stanbic Bank Chief Executive, Kevin Wingfield talks about the bank's history, current role, and future prospects.
Q: As Standard Bank Group celebrates 160 years of operation, give us a bit of a highlight about the role Stanbic Bank plays in Tanzania's financial services market.
A: Stanbic Bank has had a very strong corporate investment banking franchise for a number of years. But we are now deliberately moving into other areas that we can support; we are trying to position ourselves better in order to connect more with the country and become more relevant to a broader spectrum of customers, not just corporate customers but also business, enterprise, and retail/consumer customers. Our focus is very aligned with the opportunities that exist and are emerging in Tanzania, as well as with what the government is trying to achieve from a policy perspective.
We have played a key role in agriculture processing and mining. Looking ahead, the emerging energy sector is critical for us, and I believe we've demonstrated in many other markets that we have the capability to support it.
Your operations in Tanzania aim to empower the financial success of both the people and businesses. What is your competitive advantage in the market, and what are some of the biggest milestones in the years you've been operating in the country?
We have been in Tanzania since 1995, and we recognize that in many of the markets we operate, the SMEs and traders are almost the heartbeat of many of our economies. We, as a bank, are really committed to supporting local content and driving the growth of SMEs.
I think some of the other areas I'd like to mention are trade and supporting some of the big infrastructural projects that are currently ongoing in Tanzania. We have the necessary skills and experience both in the country and through leveraging our Group capabilities to support key growth sectors of the economy, including energy, mining, and agriculture. We are the leading Corporate and Investment Banking franchise in the country and were recently awarded "Best Investment Bank in Tanzania" by Euromoney.
We believe we are well positioned to support the government's agenda and really create an effective trade corridor from Tanzania into some of those neighboring countries like Malawi, Zambia, the DRC, Uganda, etc. where we have presence as a Group.
As a key sector player, what would you say inhibits the growth of small businesses in Tanzania?
The reality is that starting a small business anywhere in the world is not easy. On the continent and in Tanzania, there are certain challenges that one has to navigate. A lot of discussion on access to finance comes up regularly. But I think a big part of it is access to skills. What we are trying to do as an entity is provide access to skills that are going to support those businesses as they're trying to scale up. We recently set up our incubator, which has already provided access to skills development for a number of SMEs.
But still, access to finance is really important. We are putting in place some specific funds that we've ring-fenced to support small businesses as we take those businesses through our incubator.
Stanbic Bank rebounded from a Sh4.68 billion loss in the first half of 2021 to garner Sh14 billion in net profit in 2022. What factors have contributed to the turnaround, and what are your future plans as you continue with your second century of operations on the African continent, specifically in Tanzania?
There are a number of factors. In 2021, we were still going through the spillover effects of Covid-19, which put a lot of pressure on businesses, and as a consequence, there were pressures in terms of being able to meet repayment commitments to banks. We had high levels of non-performing loans coming into 2021. So we took very deliberate steps to spend our time strengthening our internal capabilities and working with our customers to rehabilitate where we could. As a result, we restructured a lot of customers' debts and gave them a longer time to repay their loans. Generally across the industry, the levels of non-performing loans were very high, and they still remain quite high, but they have significantly improved.
Back to 2022, we're in a much better position, and we're seeing very positive growth in our customer deposits. What has been a clear focus for us as a bank is going back to basics and emphasizing deposit and transactional business by really focusing on making sure we can deliver solutions to customers that allow them to transact in a seamless way.
We've also seen a very strong performance in our global markets and investment banking businesses, for which I think a lot of credit should go to the government, because what we are seeing is that a lot of our customers are looking to invest and grow.
We've also had a very big focus on cost, making sure that we look at our costs in a really disciplined way.
Q: Digital facilities are now an integral part of service delivery in the financial services sector. How has Stanbic been able to keep up with these changes and converge with online-based facilities?
Digital services have become a huge enabler for our business. The more we can get our customers to transact anywhere, anytime they want, it creates convenience for them.
Digital facilities also help us manage our costs better. The reality is that having physical points of sale and service where everything needs to take place is quite an inefficient model to pursue.
As we move forward in the digital world, we are gradually moving away from calling ourselves a bank and looking to become a digital organization.
What has guided Stanbic's decisions towards a prosperous future?
The first thing that defines how we think about the future is what our customers are telling us. I think we really need to continue to be laser-focused on what our customers require of us.
For Stanbic Bank, success means being very clear about which customers we want to support and then really engaging with and listening to them to know what we need to build to partner with them as they grow their businesses and conduct their daily activities in the consumer space.
Q: How does Stanbic Bank invest in its staff and help build capacity?
One of the things that we're really working hard at is our culture and supporting our people in terms of their growth. We invest a significant amount in building our employees' capabilities by giving them access to training and opportunities. I strongly believe that in an industry like ours, your people are your biggest asset, so you need to ensure you have the best people and invest in them.
We are also focused on how we support diversity. When it comes to women, we have a number of programs in the Group and in our business in Tanzania that support the development, upskilling, and creation of opportunities for our women.
As you celebrate 160 years this year, what will define the banking industry for the next 160 years in Tanzania, Africa, and globally?
Digital will remain a strong theme. I think what's happening is that the banking industry is having to reinvent itself because there are a lot of nontraditional players coming into what was traditionally a fairly protected industry.
By way of example, we're seeing pressure from fintechs, big tech, and mobile financial services operators.
As a banking group, we need to evolve our business model, so we are busy building platforms and actively entering into various partnerships with different players to support our customers. We have also identified particular ecosystems, like trade and agriculture, where we believe there is an opportunity to deliver solutions to players in these ecosystems through building platforms. We will work to be the curators of these platforms.
If given a chance, what is the one thing that you would advise the government to improve in the financial services sector?
I think we've made significant positive strides. We touched on Stanbic Bank's results, but what we didn't talk about was the industry results. I think the industry numbers are looking a lot more positive, and shareholder returns are beginning to improve.
This is the result of the economy beginning to gain some momentum, credited to a number of initiatives that the government has been putting in place.
I think some of the things I would like to see specifically from an industry perspective are improving levels of engagement, especially on policy and regulations. We must continue to work together to ensure that policy and regulation enable growth and sustainability in the sector.
Another area is consistency among policymakers and across regulatory bodies. We sometimes encounter different frameworks and conflicting policies and regulations, and this creates an environment where compliance becomes difficult, which results in higher costs and inefficiencies.