CFAO Motors to offer enhanced services to car owners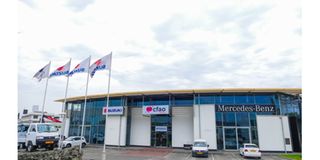 Dar es Salaam. CFAO Motors Tanzania has partnered with car insurers to provide enhanced services and convenience to car owners.

The move seeks to streamline insurance processes and ensure a hassle-free experiences for customers, according to CFAO Motor's aftersales director, Mr Munir Ladak.
As part of implementation of the move, CFAO Motors recently organised a collaborative meeting that brought together insurance companies and brokers to showcase their services and capabilities.

"Car ownership is not just about the initial transaction but also about the ongoing support and services that car owners require. By collaborating with reputable insurance companies, we aim to simplify the insurance process and ensure that our customers receive seamless services throughout their ownership journey," said Mr Ladak.

The meeting, which served as a platform for CFAO Motors Tanzania to showcase and highlight its offerings to insurance companies and brokers, witnessed participation from key industry players.

Representatives of insurance companies commended the proactiveness to initiate synergies and joint strategies for delivering top-notch insurance services.

"This meeting is a good starting point for synergies between us as insurance companies and CFAO Motors Tanzania to deliver the best services to our customers," said one of the participants from insurance companies.
Through this collaboration, CFAO Motors Tanzania aims to create a unified ecosystem where car owners can access a range of reliable insurance options tailored to their specific needs.
By working closely with insurance providers, the company seeks to minimise the administrative burden for car owners when it comes to insurance claims and related services.

The collaboration between CFAO Motors Tanzania and car insurers marks a significant step in the automotive industry, emphasizing the importance of comprehensive services beyond the initial vehicle purchase.
The company believes that by leveraging the expertise and capabilities of insurance companies, customer's overall car ownership experience is enhanced, offering peace of mind and support in case of unforeseen events.