Government seeks Barrick support in energy transition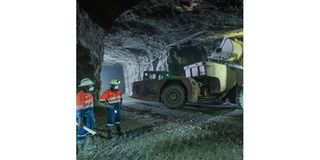 Summary
The deputy minister for minerals says rather than just focusing on gold, the firm might look into strategic and important minerals like lithium, nickel, and graphite as well as gases like hydrogen and helium
Bulyanhulu. The government has sought the support of Barrick in ensuring strategic and critical minerals play a significant role in the country's energy transition.      
Energy transition refers to the global sector's shift from fossil-based systems of production and consumption, including oil, natural gas and coal, to renewable sources like wind and solar, as well as lithium-ion batteries.
The increasing penetration of renewable energy into the energy supply mix, the onset of electrification and improvements in energy storage are all key drivers of the energy transition with critical minerals playing an important role.
However, the consumption of critical minerals could increase sixfold by 2050, according to the International Energy Agency. 
The trade in energy-related resources will consist largely of critical minerals, and by value, the market could top $400 billion, exceeding the value of all the coal extracted in 2020. Following the minerals' significance, the deputy minister for Minerals, Dr Stephen Kiruswa has sought the assistance of Barrick in the area of research.
"The company has a comprehensive base in the issues of mineral research and extraction. They have been doing so all over the world and since the shift to clean energy and initiatives is the current global demand, I thought Barrick as an important stakeholder in the field could widen its research," he said.
"Instead of concentrating on gold alone, they could research strategic and critical minerals such as lithium, nickel, graphite as well as gases such as hydrogen and helium. These minerals are found in Tanzania in large amounts, Barrick could also participate as a home company," he added.
He said Barrick attended the recent meeting on energy transition that was held in Saudi Arabia, something that demonstrates the companies' interest in clean energy development. Dr Kiruswa also asked Barrick to share technology with the Geological Survey of Tanzania, after the advancements they have made in the laboratory area.
"They should also give the government the opportunity to take its executives to their modern laboratories for training whenever there are new things to learn," he said.
He asked Barrick to also actively participate in developing the skills of local experts by allocating some budget for scholarship opportunities annually in order to enable them to acquire important knowledge on issues like artificial intelligence (AI).
Barrick's Mark Bristow said significant progress has been recorded by North Mara and Bulyanhulu since the company resumed operational control in 2019.