Oil, gas executives inspire UK Alumni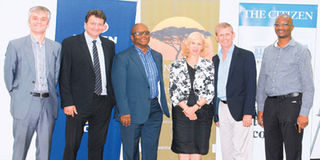 What you need to know:
For professionals, the downstream sector offers a range of careers in the refining, manufacturing, marketing, transportation, supply and trading of crude oil, petroleum, petrochemical products and related services.
Dar es Salaam. The exciting opportunities offered by two critical parts of the oil and gas sector were presented at an event organised by the UK Alumni in Tanzania (UKAT) at the British Council in Dar es Salaam last week.
Downstream oil and gas were fittingly represented by Mubita Akapelwa, Managing Director of Engen Tanzania Limited, whose company's links with the nation go back 18 years. Mr Akapelwa explained how the downstream sector covers such functions as the refining of petroleum crude oil and the processing and purifying of raw natural gas. The sector also covers the marketing and distribution of products derived from crude oil and natural gas. These range from gasoline or petrol to petrochemicals. Tanzania is an important source of supplies for landlocked countries such as Malawi, Rwanda, Burundi, Uganda, Zambia and the DRC.
Engen Tanzania's Managing Director highlighted the rising significance of the Africa-based energy company in this part of the continent, and explained, "We are working across the region from Burundi down to Zambia."
Mr Akapelwa, a graduate of King's College London, went on to highlight the importance of the 'service centre' side of the operation and how this retail channel side is expanding to service even more motorists and truckers in Tanzania. "We aim to develop that side of the business," explained the managing director who described how the company has now become the retail market leader in South Africa and holds over 25 per cent of the business. Indeed, for such companies, the forecourt has now also produced a 'business within a business' as an innovative range of goods and services are rolled out in stations across the globe.
The second-largest oil marketing company in Sub-Saharan Africa considers Tanzania as an aggressive growth market. As Mr Akapelwa explained, "Engen bought parts of the Chevron business in this part of the world and we are certainly here to stay."
For professionals, the downstream sector offers a range of careers in the refining, manufacturing, marketing, transportation, supply and trading of crude oil, petroleum, petrochemical products and related services. There are also various business roles ranging from administration to accounting.
Upstream oil and gas interests were presented by Mr Richard Tainton, Vice President International of Wentworth Resources Limited. The Swaziland-born executive offered a presentation aimed at young professionals in the audience with the hope that some of the experiences he shared from his decades in the business would inspire them to plot a career in the sector.
Mr Tainton, who graduated with a mining engineering degree from South Africa's University of Witwatersrand, explained how his 25-year career has covered everything from rig work in Britain's North Sea to the rehabilitation of a power plant in Afghanistan. He also recalled, "I returned to South Africa after Mandela took power to help develop water and electricity supplies in rural areas." Now Mr Tainton is working on gas exploration and monetization projects in Tanzania and Mozambique. The leader of Wentworth Resources in these countries observed that this diversity of work in part explains the exciting nature of a career in oil and gas.
The respected oil and gas executive went on to encourage Tanzanian professionals to consider working in the oil and gas sector, remarking: "There are opportunities for a wide range of professions in the industry." He elaborated on this by highlighting engineering openings in the mechanical, petroleum, reservoir and chemical sections of the upstream business. Geologists were singled out as crucial for the sector: "They have a high status in our industry. Everyone listens to every word they say! We are all about finding resources and ensuring the well location is the correct one," said Mr Tainton.
In addition, he also discussed the special disciplines within the upstream industry for advocates, accountants, human resource managers and economists.
Mr Tainton then pointed to the wide range of enterprises in the economy that can be connected to the sector by saying: "It mushrooms out to all the industries serving this prime industry."
Independent oil companies (such as BG Group and Shell) engage a variety of companies to provide upstream support. These include: wire line logging; well services; legal assistance; and mud specialists. There are also offshore services to ships and rigs; shipping and haulage contractors, services to offshore drill ships and rigs. "This is exciting work, at the forefront of technology," said Mr Tainton, "but it is not necessarily easy to enter the industry. One has to try a number of avenues."
A brief overview of the nation's upstream oil and gas developments were then offered from the perspective of Wentworth Resources starting with the Songo Songo gas discovery in 1974. Moving to the present day, Mr Tainton explained how gas was now being supplied to Dar es Salaam for power generation and industrial usage. The company's role in Mnazi Bay was then explained, charting the initial gas discovery in 1982, through to well development by the former Artumas Group in the Ruvuma Basin and their local gas commercialisation work. Mr Tainton also described how large offshore gas discoveries, up to 2,000 metres deep, would take up to eight years to be commercialised. The scale of East Africa's natural gas potential were outlined, by discussing the key discoveries in Kenya (12 trillion cubic feet); Northern Tanzania (26+ tcf); South Tanzania (up to 40 tcf); and North Mozambique (130+ tcf).
The impact of new gas supplies to the country was illustrated through Wentworth's operation in the Mnazi Bay area that helped provide Mtwara with a power station (opened in 2007) that transformed electricity supply from seven hours per day to 24/7 availability. Moving forward, Mr Tainton chronicled the rise of the Mtwara to Dar es Salaam pipeline, describing it as, "An exciting development to commercialise the gas in Mtwara. It will have a huge impact on the economy mainly because it will redress the cost of generation." He noted that at present the cost of generation is more than Tanesco receives from their tariff. Under the new project, Mr Tainton noted: "Tanesco will get affordable power at a sustainable price."
Mr Tainton concluded by identifying various gas monetisation alternatives, including the production of fertiliser, methanol and other commodity chemicals from natural gas. Investment costs, however, remained a key challenge to establishing these businesses. The presentation concluded with a reception sponsored by Engen Tanzania, Wentworth Resources and Serengeti Breweries Limited. The Citizen, media sponsor for the evening, was represented by Mr Bakari Machumu, Executive Editor of Mwananchi Communications Limited, who commented: "The Citizen is delighted to act as media sponsor for this forum to help bring critical information from the emerging oil and gas sector to Tanzanian professionals working in our commercial capital."
UKAT membership is available to any graduate from a UK university who resides in Tanzania. The organisation has an exciting range of events throughout the year.