Lorries stranded at Namanga after system change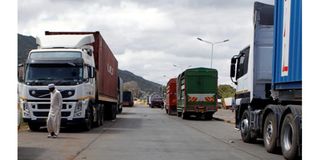 Namanga. At least 200 trucks ferrying maize into Kenya are stuck at Kenya-Tanzania Namanga border after the Tanzania authority stopped issuing exportation permits.

Some of these trucks have been stuck at the border-Tanzania area of jurisdiction, for the last one week.

Traders are said to be counting colossal amounts of losses especially those who had hired trucks to ferry the grains into Kenya.
A spot check on Wednesday indicated dejected traders. Trucks ferrying the rare commodity were parked at the yard with more trucks streaming in by each hour.

Maize traders and clearing agents paralysed activities at the border point demanding clearance of the stuck trucks, bringing customs offices on both Tanzania and Kenya to standstill.
Some of the traders sat pensively at the parking lot pavements after failed frantic efforts to have their consignments cleared. Trucks drivers were seemingly tired and hopeless with some threatening to offload the cargo at the parking lot.
Mr Sammy Mwaura-Brotherhood Transporter from Nakuru told Nation he has been held since Tuesday last week. He was ferrying 100 bags of maize from Katesh in Tanzania but he was informed he could not be cleared by Tanzania authority.
"I have been stranded for the last one week with no hope of clearance. We are incurring colossal amounts in losses daily. Let the two governments ensure a seamless cross border trade," he said.

A trader with several trucks of maize at the border, who spoke in confidence, told Nation he had bought maize worth Ksh10 million with hope to make a tidy profit in the Kenyan market.
"I had an order to supply maize to a local miller. Am not unable to supply despite having borrowed the capital from a local financial institution," he said bitterly.

Kenya International Freight & Warehousing Association (KEFWA) Namanga secretary Zachary Mwangi said the new measures by Tanzania authority was to be effected from July.

Mr Mwangi said Kenyan traders are on the verge of losing hundred millions in case the stalemate will not be solved amicably.

Tanzania's ministry of agriculture said last month that it had issued directives to formalise trading of crops for the benefit of the country, farmers and local and foreign traders.

The government said restrictions imposed on the purchase of agricultural crops, especially cereals, directly from farmers do not target any country, emphasising that compliance was required by traders from all countries buying produce from Tanzania.

Agriculture minister Hussein Bashe told The Citizen last month that Tanzania has not banned export of agricultural crops and that foreign traders were allowed to purchase the produce under outlined procedures.
"Tanzania is formalising the trading of agricultural crops. Today, I can't go to Kenya, enter the farms, purchase crops and cross the border back home.

"Countries that purchase crops from Tanzania including Rwanda, Uganda, Kenya, Democratic Republic of Congo (DRC), etc, are equally required to follow outlined procedures," he added.

Mr Bashe said traders from foreign countries are allowed to buy agricultural crops through locally registered companies or firms established in the country by foreign traders.