Prime
NCBA in a new corporate financing campaign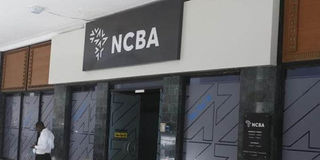 Dar es Salaam. NCBA Bank Tanzania has initiated a strategic campaign to finance corporate customers so they can support businesses and the national economy at large.
The lender, through its 'Maisha ni Hesabu—Numbers that Matter' campaign, aims to deliver an unparalleled banking experience to its corporate partners.
"We understand that your numbers are not just data points; they are the lifeblood of your operations, the heartbeat of your enterprise. This is why we at NCBA Bank Tanzania have taken it upon ourselves to be the catalysts of your success, to become the bedrock upon which your financial aspirations thrive," said the NCBA's chief executive officer, Mr Claver Serumaga.

He said the bank aims to become a key strategic partner for corporate businesses in the country, bringing in a synergy of expertise and an unwavering commitment to their financial prosperity.

"We continue to build on our digitally innovative products as a testament to our commitment to innovating financial services. We believe in harnessing the power of technology to make banking accessible and seamless for all."

NCBA's Head of Corporate Banking, Mr Godson Biyengo, said the bank understands that through a strategic partnership with its corporate clientele, they will be able to support Tanzania's economic development efforts.

"This is an ongoing campaign because we want to cement our position as a bank that meets the financial needs of every Tanzanian," he said.

He said the bank had also been supporting personal financing needs through partnerships with mobile money service providers.

"This has expanded our reach because even in interior areas where there are no block branches, one can access financial services through their mobile phones anywhere in Tanzania," said Mr Biyengo.