Prolonged drought affects Tanzania meat exports overseas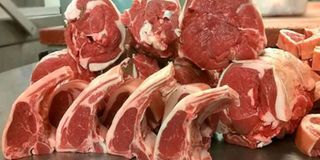 Summary
Export of meat from Tanzania to foreign countries has been on the decline due to decreased meat quality resulting from dry spells being experienced in most parts of the country
Dar es Salaam. A critical drought calamity is increasingly impacting Tanzania's meat exports to foreign markets as traders fail to find quality meat to serve overseas markets.
The monthly value of meat exports decreased to $2.9 million in October this year compared to $3.8 million recorded in the same period last year, according to the Tanzania Meat Board, which also indicates a drop in the volume of meat from 958,015 kilograms to 631,756 kilograms.
The data shows that Tanzania's meat exports rose by 25 percent in September 2022 due to a rise in demand in foreign countries.
Speaking to The Citizen yesterday, the operations manager of Tan Choice Limited, which owns a modern slaughterhouse and meat processing plant, Dr Sero Luwongo, said the current weather, in which most parts of the country are experiencing dry spells, has deteriorated the health of livestock.
"The price of livestock has dropped because they do not meet the quality requirements of the foreign market," Dr Luwongo explained.
The company that exports meat operates under the Export Processing Zones Authority in Kibaha.
Dr Luwongo said most livestock keepers failed to take into account the education given to them on how to cope with the current environment, leading to losses.
The Tanzania Meat Board registrar, Dr Daniel Mushi, said they were currently looking at how to address the situation and do well in the market.
He said after noticing that pastoralists do not pay attention to preparing fodder that will be used to feed livestock during the dry season, they have decided to disperse youths from Sokoine University of Agriculture (SUA) to various centres to educate farmers.
"Youth know what the market needs right now, and they can make changes that will help address quality issues and meet foreign market demand," Dr Mushi said.
The government has allocated Sh4.6 billion to establish a breeding centre for livestock fattening to increase the quality of meat. Assistant director of policy and Planning in the Ministry of Livestock and Fisheries, Mr Mbaraka Stambuli, said the project has already started in Mwanza, Tanga and Kagera regions.
"A total of 240 youths will receive breeding lessons from eight centres," he said, adding there is huge demand for meat in Qatar, Oman, Bahrain, and Kuwait.