Rostam's Taifa mining acquires stake in Williamson Diamonds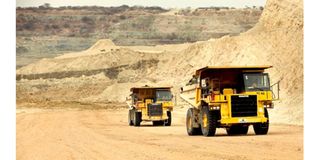 Dar es Salaam. Petra Diamonds announced yesterday that it has entered into definitive transaction documents that give effect to the Memorandum of Understanding (MoU) that it signed with Caspian Limited, now Taifa Mining and Civils Limited two years ago.

On December 15, 2021, Petra made the announcement in relation to its entry into a non-binding MoU with Caspian Limited.

The deal involves the sale by Petra of 50 percent less one share of the entity that holds Petra's shareholding in Williamson Diamonds Limited (WDL) and a prorated portion of shareholder loans owed by WDL 1 for a total consideration of $15 million (about Sh35.9 billion), according to the press release availed to the media yesterday.

"Petra has entered into these transaction documents with Pink Diamonds Investments Limited (Pink Diamonds), a company nominated by and affiliated with Taifa," reads a part of the statement.

Pink Diamonds' payment of the $15 million purchase price will be satisfied through payments owed by WDL to Taifa for past technical services, dependent on WDL's ability to meet these obligations.

It is expected that these payments will be received by Petra in installments over the next five years.

WDL is the operator of the Williamson Mine, and is currently 25 percent owned by the government of Tanzania and 75 percent owned by Petra, with Petra having acquired its majority interest in WDL in 2009.

Petra entered into a Framework Agreement with the Government of Tanzania in December 2021, in which it was agreed that Petra's effective interest in WDL would decrease to 63 percent, with the government of Tanzania's interest increasing to 37 percent.

Upon completion of the transaction and the framework agreement, Petra and Pink Diamonds will each indirectly hold an effective 31.5 percent interest in WDL, with Petra retaining a controlling interest.

The completion of the transaction is subject to the parties obtaining the necessary regulatory approvals, including approvals from the Tanzanian Mining Commission and the Tanzanian Fair Competition Commission.

The parties are targeting to complete the transaction by the end of fiscal year 2023.

Petra intends to use the $15 million proceeds from the transaction to continue strengthening its balance sheet.

As noted in the company's fiscal year 2022 Annual Report, the book value of WDL's gross assets as of June 30, 2022 was $140.5 million, with WDL recognising a profit before tax of $41.1 million in fiscal year 2022.

The chairman of Taifa and a director nominated by Pink Diamonds, Rostam Aziz, commented, "Taifa Mining is a wholly Tanzanian-owned company."

He said Taifa has been the contractor of choice for most mines in Tanzania and has maintained long and successful relationships with companies such as Petra, De Beers, Barrick and AngloGold Ashanti.

"As a company, we are committed to adopting and adhering to the latest internationally recognised standards throughout all aspects of our business," he said.

"We have been contracting at the Williamson Mine for over 20 years and as such, we are particularly pleased to enter into this next phase of our involvement at the mine as co-owners."

Petra Chief Executive Richard Duffy commented: "Our partnership with Taifa places Williamson on a stronger basis for the future."
Adding: "This new structure will reduce our equity interest in WDL, limiting our exposure in line with our stated objectives while retaining control and maintaining a share of the upside."