Prime
What BoT is doing to boost forex services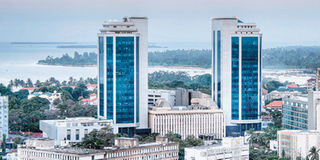 What you need to know:
BoT plans to lower the capital requirement for bureaux de change and  also allow major tourist hotels to provide foreign exchange services.
Dar es Salaam. As part of the ongoing review of the 2019 Foreign Exchange Regulations, the Bank of Tanzania (BoT) plans to lower the capital requirement for bureaux de change.
Also in the pipeline is the introduction of a mechanism that will allow tourist hotels to provide foreign exchange services to their customers.
These amendments, according to BoT governor Emmanuel Tutuba, aim at attracting more investors to the money markets and improving service delivery to cater for growing demand.
He said the threshold of Sh1 billion capital for bureaux de change resulted in a few shops, limited accessibility, or absence of this service in some areas where there is a need for it.
"As of June 2023, there were 37 commercial banks with a network of over 900 branches across the country that have continued to offer these services and there are eight licensed foreign exchange bureaus, with 36 branches nationwide," he said.
"Despite this situation, there is still the challenge of foreign currency exchange services not being available during times they are most needed, particularly after 3pm in the evening, on weekends (Saturday and Sunday), and on holidays," said Mr Tutuba.
He added that in collaboration with the Zanzibar government, the central bank also met with hoteliers in the country's archipelago in January of this year to discuss among other things the accessibility of exchange services in the hotel sector.
"We are exploring the possibility of introducing a special window to provide licences to hotels which receive foreign currency and register them for enhanced monitoring and data for the central bank," said Mr Tutuba.
With regard to the ongoing foreign currency shortage, he said it is true for Tanzania same as other several countries around the world, however, the shortage has not reached a level of concern as some stakeholders have described.
Mr Tutuba said several factors have played a part in the ongoing war between Russia and Ukraine, the recovery from the Covid-19 pandemic, Europe and America's monetary policies, demand driven by economic growth as well as climate change.
"However, despite global headwinds, the current situation in Tanzania is promising with foreign reserves to cover more than four months of imports," he said.
Mr Tutuba revealed that the country's foreign exchange reserves stood at $5.55 billion by July 14, 2023, enough to cover five months of imports.
He said BoT will continue to collaborate with law enforcement agencies in the country to combat those involved in unauthorised trading of foreign currencies without a valid license issued by the central bank.
Mr Tutuba also urged stakeholders in this sector to cooperate, including reporting any instances of unofficial foreign currency exchange activities they come across.
"The central bank will continue to provide public education on financial literacy, including the risks associated with unofficial foreign currency exchange services," he said.