Why MSMEs may succeed in the agricultural sector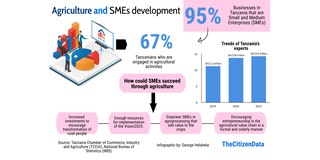 What you need to know:
Tanzania's medium-term goal is to transition its agricultural sector into a diversified, semi-industrialized economy
Dar es Salaam. Tanzania's agriculture, which is currently undergoing a transition, presents a goldmine-like opportunity for the expansion of micro and small businesses along the entire value chains for crops.
Tanzania aims to develop a diversified, semi-industrialised economy out of agriculture in its medium-term vision (Vision2025).
MSMEs (Micro, Small, and Medium Enterprises) could play the role of the midwife in bringing about such an economy.
However, for this to occur, the government and other stakeholders must implement the proper plans and make sufficient investments to support rural residents' transition from subsistence farmers to small- and medium-sized business owners.
The Vision2025 was developed at a time when agriculture was so lagging behind and the industrial infrastructure was virtually nonexistent, and it placed a strong emphasis on industrialisation.
The lives of policy makers were made difficult as a result.
Financial resources were scarce, and other priorities such as creating the fundamental transportation network and offering public social services took precedence. Decision-makers learned that there were not enough resources left to carry out the Vision 2025.
The emphasis on industrialization in Vision 2025 was likewise unrealistic.
The true focus should have been on agriculture and SMEs due to the agricultural sector's backwardness and the lack of a strong SMEs basis.
This is because achieving industrialisation required first and foremost that agriculture be transformed and made commercially viable.
Additionally, choosing between industries and agriculture was necessary due to the restricted budgetary resources. Industries were supposed to "wait" until agriculture was completely developed.
In order to achieve both objectives—industrialisation and modernization of agriculture—some policy shortcuts were used to draw significant investment—primarily foreign investment—into both sectors.
Although SMEs (small and medium industries) were highlighted in the Vision2025 and other policy initiatives, the reality was quite different. The country's leaders realized that Tanzania's industrialisation could be sped up by asking major manufacturers to come and establish factories there.
The Mini-Tiger plan served as a guide in the development of concepts like Export Processing Zones.
Although there had been much discussion about empowering smallholder farmers in agriculture as well, time and effort were instead put into trying to draw in big, commercial farms.
However, Tanzania is still a long way from being a real middle-income, semi-industrialised country with three years left till Visions2025's goal.
Even if there isn't much time left, paying attention to SMEs in both areas could lead to a solution.
The government should maintain its plan to commercialize smallholding subsistence agriculture by keeping international markets open.
The government and other stakeholders should create cutting-edge market information systems that will enable more affordable transportation of agricultural products from the breadbasket regions to consumers by taking advantage of the advantages of enhanced regional and rural road networks.
High higher incomes for farmers will definitely encourage them to invest in improving productivity and to formalise their farming practices to make them bankable small and medium ventures.
As it keeps borders open the government can slowly but steady turn into value addition as opposed to exporting raw crops.
Instead of selling maize grains, the government could enable the creation of SMEs in agroprocessing that add value to the crops before they are shipped across the borders and to consumers in other parts of the country.
Transforming subsistence farming into small and medium commercial undertakings and creation of small and medium agroprocessing ventures can facilitate the needed interface between agriculture and industrialisaiton close to what is envisaged by the Vision2025.
It might not turn out the Vision2025 had targeted and might take longer, but it might swallow in less budgetary resources while at the same time drastically reduce income poverty in rural areas and create more employment opportunities.
While the focus on developing SMEs this way will need more patience and stamina from policy makers it might prove to be worth it in the long term.
Large commercial agriculture and big foreign industrialists have their special place in the economy, but encouraging entrepreneurship in the agriculture value chain in a formal and orderly manner enable linkages between the local economies and the big players.
Frankly speaking this is exactly what President Samia Hassan Suluhu government is doing. Deliberate efforts are underway to help farmers become entrepreneurs.
There is a project being implemented by the government that is entitled Strengthening MSMEs' capacity to improve competitiveness in domestic, regional and international markets for selected value chains (EIF Tier 2).
The project is for palm oil in Kigoma Region. This project which is implemented by the government seeks to enable small farmers reach domestic, regional and international markets.
The Small Industries Organization (SIDO) has also embarked on the Farming As Business project, in which women and the youth are imparted with entrepreneurship smills. It also involves the construction of small processing factories for value addition of palm oil.
Tanzania is a net importer of palm oil for its industrial use while the Kigoma region has a lot of potential for palm oil growing. The government wants to reduce importation of palm oil through heavy involvement of MSMEs in Kigoma region.
If this kind of a project is replicated for other crops in other regions it could help unleash the potential of MSMEs in the agriculture sector.
The President Samia's government has also facilitated the establishment of agricultural-industrial investment parks for certain crops, wich enables smallholders cum outgrowers to produce for large nearby estates.
The parks also involve the participation of small entrepreneurs in the value chain. Such parks have been established in Morogoro (Dumila Sugar Park) and Singida (Kitaraka Sunflower Park). The aim is to ensure self-sufficiency in sugar and edible oil production in the country. The parks are at various staged of development.
Their successful implementation can enable replication in other regions for other crops.